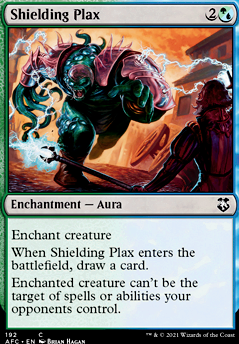 Legality
3 weeks ago
Hello! May I step in to give you some recommendations? Since you're on a budget, all cards suggested are 2 dollars or less.
Part 1: Ramp
In: You probably want aura ramp and cost reducers over standard land ramp: Wild Growth, Transcendent Envoy, Hero of Iroas, Jukai Naturalist and Stenn, Paranoid Partisan (choosing Enchantment). These will allow you to storm through your deck casting Auras ad nauseam.
Out: Elvish Mystic, Farhaven Elf, Arcane Signet, Nature's Lore and Cultivate are all great ramp cards, but you can do better (and more thematically) with the cards I mentioned above.
Part 2: Card draw
Just as important as ramp is card draw: Galea won't always be available to you.
In: Sage's Reverie, Enchantress's Presence, Satyr Enchanter, Mesa Enchantress.
Out: Coiling Oracle, Curious Obsession (unreliable), Curse of Verbosity (unreliable), Eel Umbra.
Part 3: Removal
Swords to Plowshares is GREAT, no doubt. But, in this kind of deck, you can spice it up with the great Auras that has for removal.
The objective is, then, to use the cheapest Auras that can hit more than one permanent type, with emphasis on "loses its abilities" in the text box.
In: Mortal Obstinacy, Ossification (synergy with your basic land fetchers).
Out: Reclamation Sage, Swords to Plowshares.
Part 4: Boardwipes
In: I believe you should run more boardwipes that leave your board mostly untouched. Austere Command is one such example. You almost always will clean all artifacts and the half of creatures that are more dangerous to you. Curse of the Swine is another selective wipe.
Out: Time Wipe (not one-sided), Plains.
Part 5: Protection and Evasion
In Voltron, tempo is crucial.
Now to the Auras:
Following the same logic as with removal, I'm using auras over instants to protect the Voltron.
Part 6: Tutors
Without Hammer of Nazahn, Nazahn, Revered Bladesmith is just a more expensive Open the Armory.
In: Open the Armory, Heliod's Pilgrim, Moon-Blessed Cleric, Light-Paws, Emperor's Voice and Invasion of Theros  Flip (bonus that all those tutors also change your library's top card).
Out: Nazahn, Revered Bladesmith, Celestial Archon, Heliod's Emissary, Hypnotic Siren, Curse of Unbinding (7 mana is a lot for an Aura).
Part 7: Win Conditions
In: Since you're going all-in with auras, All That Glitters and Ethereal Armor do wonders.
Out: Bruna, Light of Alabaster is slow and telegraphed in this build. People won't let her stick to the field. Nissa, Steward of Elements is tough to protect in a Voltron build, while she only offers scry, which your lands can already do.
Part 8: Lands
In:
Out:
If you read this far, congratulations! Here is the list of the deck with all the suggested alterations, in case you want to test it: Galea, Menacing Aura. Good luck and have fun!
4 months ago
I love the idea, so +1 to that!
A couple notes, though, with regards to your choice of commander.
First, you have a lot of mono-colored spells on the list. In fact, only 15 multicolored spells for the deck, while also having 10 colorless spells. That won't get 5 counters on Ramos very quickly, and the longer he sits the greater the chance he will be removed before he can pop. Ramos is one of those kill-on-site type of commanders.
Pertaining to that, a lot of your Mono-colored spells are in your instants and sorceries - particularly draw spells. And, obviously, your colorless spells are mana producing artifacts. What I would do would be to find multicolored spells that draw cards or produce mana and swap them.
Arixmethes, Slumbering Isle, Faeburrow Elder, and Leyline Prowler are all good multicolored mana producers. And Ilysian Caryatid is mono-colored, but at least puts a counter on Ramos, which a colorless artifact won't (and, on top of that, is just really damn good).
For draw spells, I really like Brokers Charm for Ramos. Some good repeating draw engines are Chulane, Teller of Tales, Aesi, Tyrant of Gyre Strait, Mask of Riddles, Jori En, Ruin Diver. A couple more single use draw spells are Diabolic Vision and Shielding Plax (which doubles as protection for Ramos).
A lot of this will potentially raise your mana curve a bit, so keeping a few of the 2-drop mana rocks wouldn't be bad, and maybe keeping Brainstorm, for example, wouldn't hurt. However, you'll be surprised how much more quickly and repeatedly you can get Ramos up to 5 counters if you include some of the stuff I've listed.
Sorry for the thesis, hahaha. I've just been playing Ramos a lot in the past few years, and I feel like I have a pretty solid understanding of how to play him.
Good luck, and happy gathering!
5 months ago
+1 just because I love Mutate! Hahaha, don't even know if this deck is good or not, but it definitely could be, and looks fun as hell either way.
I can make some suggestions, but take them with a grain of salt. I really believe that I would have to actually play the deck to determine what it needs, what it doesn't need, and what might be helpful to add or cut in order to improve it.
First, here's a list of cards that are generally good for a Ramos deck:
Shielding Plax - gives Ramos Hexproof, puts two +1/+1 counters on him, and draws a card.
Maelstrom Nexus - Puts five counters on Ramos with one spell, grants free casting.
Corpsejack Menace - Speeds up access to Ramos's mana ability.
Zacama, Primal Calamity - Castable using Ramos's ability, and in my experience one of the best things to do so with.
Horned Kavu - Two colors for feeding Ramos, allows you to recast something, and has the added bonus in this deck of possibly allowing you to re-mutate stuff.
Next, I think that you need more early ramp. Here are some suggestions for that, starting with the most obvious choices:
To help facilitate some of these inclusions, here are some suggested cuts:
Thrun, the Last Troll - You have enough targets to Mutate without this, and removing him lowers your mana curve.
Lore Drakkis - Yeah, I know, that would make one less Mutate trigger, but it really doesn't do much of anything else for you. You don't have many instants and/or sorceries.
Krenko, Tin Street Kingpin - I understand why you may want him (he generates blockers, and you are vulnerable to go-wide strategies), but I think he's just unnecessarily raising your curve. By the time you can cast him, you'll probably have a lot of other spells you'd rather cast with that mana. If your meta dictates that you require defense against go-wide, there are better choices. Crawlspace, Lightmine Field, Silent Arbiter/Dueling Grounds.
Fertilid - Absolutely a waste of mana. There are a million things you're better off with than this.
Geist of Saint Traft - I'm actually torn on this one, but I really believe that it falls into the same category as Thrun. You'll likely have other good targets for mutation, though the Flying and Hexproof combination is a good one. I'd still consider your mana curve when deciding whether to keep it.
The Ozolith - Other than Ramos and Crystalline Giant, I really don't see how this is incredibly useful. It's genuinely a good card, but I don't see enough here to justify its inclusion.
Zendikar Resurgent - Too high of a cost. By the time you can cast it, this deck shouldn't need it. If you want to keep the draw effect, you're better off with Chulane, Teller of Tales.
Windgrace's Judgment - Pure jank. I take it your meta is mostly multiplayer? Even so, you'd probably benefit much more from some kind of cheaper, targeted removal. However, if you're so inclined, Decimate for one less mana, or Ruinous Ultimatum for a much more beneficial effect.
Finally, your land base could use an upgrade. That's probably obvious, and likely due to budget restrictions. I get it, land can be what makes a deck expensive to build, and casual decks sometimes aren't worth the money. However, you have a lot of lands on your list that ETB tapped, and that is disconcerting. Pain lands and check lands are the cheapest way to remedy this problem (albeit, the check lands are way more effective if you have shock lands and/or triomes, and furthermore aren't exactly inexpensive either).
I hope I didn't explode your brain, hahaha. If anything, take all of this as proof that I really want this deck to be awesome!
Cheers!
6 months ago
I have a Ramos deck, but mine is based on Cascade, so there's a lot of cards on that list that are only good because of the theme. Also, it is absolutely not budget friendly. However, here's a link if you'd like to look it over for ideas.
---

Commander / EDH Epicurus
SCORE: 23 | 20 COMMENTS | 1658 VIEWS | IN 9 FOLDERS
---
I've also made a few changes and haven't updated the list. Maybe I'll go through it and make the appropriate edits tonight. It's basically 80%+ of the cascade spells that exist, plus cards that bounce my creatures back to my hand so I can recast them and cards like Ancestral Vision that only work if I hit them on a cascade. So, again, I don't know how much it will help you.
One thing you might consider, though, is that I've intentionally used some less powerful spells simply because they're more than one color. For example, Mythos of Nethroi is absolutely better than Bedevil, but I use the latter because it gets one more counter on Ramos. Or Mask of Riddles over Rogue's Gloves, Shielding Plax over Swiftfoot Boots, etc.
6 months ago
The fewer mono-colored spells, the better. I feel like you have too many of them in here. If you had more two-colored spells, I'd say add Niv-Mizzet Reborn. However, if you keep it at as many three-colored spells as you have or more, add Meeting of the Five.
A few other cards I can suggest (don't really have it memorized how expensive they are):
On a final note, if you want a five-colored deck to be at all competitive, you'll really need to spend a decent chunk of money on the land. It's pretty much unavoidable. Too many lands that ETB tapped will really put you a lot of turns behind.
10 months ago
Auras are a legal target for spells and abilities, unless otherwise specified by an effect (like hexproof on the aura itself).
In this case, you'll gain control of Aspect of Mongoose, and it'll stay where it is. Now when the game looks at Mongoose, it'll see that it's enchanted to a creature, and nothing will happen. It'll stay attached, and you will still be unable to target the elf.
This next section is just extra information about other cases
1) Some auras, like Aspect of Lamprey, say "enchant creature you control". When Becket gains control of it, the game will see that you control an aura that wants to be attached to a creature you control. When it looks at the creature it'll see that you don't control it, and so that aura will fall off and go to the graveyard (because it's illegally attached).
2) If an enchantment says "enchanted creature has hexproof". When you gain control of that aura, the game will still give the enchanted creature hexproof. Hexproof says "Can't be target of spells or abilities opponents control". Since you are an opponent of the controller of the creature, you will still be unable to target the creature.
3) There are a few cases where an aura has something similar to hexproof, but not quite. The one off the top of my head is Shielding Plax. This gives essentially hexproof, but it's based off the enchantment's controller, not the controller of the creature. Since you are the controller, you can now target the enchanted creature.
This was a lot, but I hope it was helpful
11 months ago
Good suggestions, nocknock! Dropping Kiora's Follower for Needlethorn Drake maybe? I have a feeling the card was only there because of a Kiora theme. Lorescale Coatl is really good in this deck. Your opponent has to deal with it before you can put Shielding Plax on it, or else kill you quick. As fun as that combo looks, I wonder if it's a win more?
At the moment I'm thinking more of including Siren Stormtamer to help protect any Coatls that might get on the board. Again, I'd probably drop the Followers.
1 year ago
Nice deck! All I want to add is something you might already know. Shielding Plax doesn't exactly give hexproof, since if you play it on an opponent's creature, it doesn't gain hexproof but instead they won't be able to target their own creature, while you can.
Now this is something that might happen once in every 1000 games or probably even less, but still something that might be good to know. (This is the same kind of effect that Vines of Vastwood has). Sorry if you already knew this, I just like to pass this on to people who play these cards and might not know. Good luck for your games, I hope you'll have some nice scores with this deck!
Load more