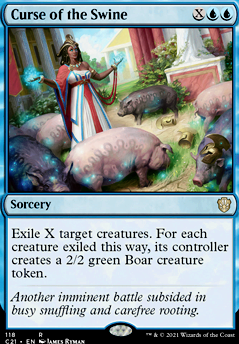 Curse of the Swine
Sorcery
Exile X target creatures. For each creature exiled this way, its controller creates a 2/2 green boar creature token.
Curse of the Swine Discussion
1 week ago
I got in two more games today as part of a club I lead. 1v1 unfortunately, but it was up against a fairly controlling
Ranar the Ever-Watchful
deck with flyers and was a good matchup, and I still feel like I learned a bit about how the deck works and what some key cards are.
I must not have re-optimized mana well after the previous session because I only drew three lands over the course of the entire first game. That being said, I still won! Even with only three mana and Giada the curve allowed me to do most of what I wanted to do and put most of my angels out, so the curve and the deck's ability to put up a board state quickly even with limited resources is great. The all-star of the first game was Crashing Drawbridge, which, as I suspected, is great in this deck. I finished by playing out Serra Avenger and Angelic Curator (with plenty of counters) and then swinging with them and all of my other angels for lethal because of drawbridge. It helped me close out the game before my opponent could stabilize and hit me with a wipe, which would have set me way back due to my lack of lands. Another great combo was Righteous Valkyrie which is every bit the powerhouse you'd think it would be in this deck and Resplendent Angel, which ensured that tokens were bolstering my army and that my life total was more than padded.
The second game was much more evenly matched and could have gone either way, but I pulled that one out in the end as well. This would not have happened if Eerie Interlude hadn't saved my cast angels from Curse of the Swine, attesting again to the importance of board state protection in this deck. Quite critically, interlude was the only thing in my deck currently that would have saved me from that (other than Lapse of Certainty, so I was glad to have it! The absolute all-star in this game was Thorough Investigation. Wow! What a card! I thought it might be good, but the whole enter-the-dungeon mechanic seemed a bit cute to me and I was ensure if I would want to pay to sac clue tokens. The answer is yes! I amassed so many tokens from Investigation (as well as a couple from Angelic Sleuth when I blinked it with Interlude) that I knew I could refill my hand at any point, which I did! I'm going to put this card in all of my aggro decks- its a hidden treasure! Angelic Skirmisher is also a must-run in the deck. Everyone plays Lyra Dawnbringer but some don't play this card, which I feel like is better. While the life-link aura is the thing in this deck and two copies of it was great, I definitely experienced the utility of the first strike aura when I wanted to swing with Valkyrie Harbinger but was afraid to lose it to a large flying blocker. First strike made it so that he didn't want to block! Vigilance is also great, and Thraben Watcher was already making sure I wasn't in danger on the crack back in this matchup, but Skirmisher could situationally help with that as well. I finished it out by clearing away all of his blockers (including some absurdly large creatures) with Winds of Abandon. He put 13 lands onto the battlefield, but died to my Angelic Armada.
In both of these games, as with in the previous ones I've reported on, the life gain was real and powerful! I finished the second game with 98 life and the first one with life somewhere in the 70s, so this deck works amazingly well that way. I also played a turn one Soul Warden the first game and was quite thankful for it. I wasn't totally sure about the soul sisters in this deck, but I think I am glad for them. Another huge success in several games so far are the Angelic Accord effects. Having four of them makes it a consistent subtheme, and even a couple of free giant angel tokens goes a long way to killing opponents. I think my issues with card draw aren't that I don't have draw or that it doesn't work, just that this deck is hungry for more of it, which I will address in the first revision coming soon. I've already ordered some more cards based in part on suggestions I've received here from some of you, so thanks for those! I will post the revisions once they are made and my reasoning for them. I'll also update the primer and the acknowledgements to offer credit where credit is due!
3 months ago
Doing quite fine, paper magic is still ramped down to only a few select game nights per year in my playgroup, tho.
Haven't started an own brew, yet. Hinata - No No No looks like a decent starting point. Currently considering if Hinata will receive the ban hammer like Golos did or "resolve" in the EDH format. Hinata would definitely enable a few brutal effects, like a one sided artifact and enchantment boardwipe with Heliod's Intervention, mass creature removal with Curse of the Swine. You could also flood the battlefield with tokens and finish off your opponents with Comet Storm. In addition all your spells and permanents automatically have Ward 1. Still wrapping my head around this commander and deciding if I will give it a go.
6 months ago
Stuff I'd consider in no particular order.
Steelbane Hydra - this one in particular has what you're looking for in enchantment hate, but I'll have a section specifically for that too.
Hydroid Krasis - a little above your price range, but a fantastic hydra.
Lifeblood Hydra - just under 10 bucks, definitely a solid upgrade.
I'd also consider looking up all the different duals that show up in sultai and picking up some of the cheaper ones? I google "word for the color identity of the deck I'm playing and dual lands" and theres a few sites there generally with prices. Also going up like, 3/4 more lands since 33 seems slim and you don't have a lot of mana rocks/dorks to shore that up.
enchantment removal I've used/like/I think would be good here.
As for stuff I'd cut.
Edge of Autumn - theres better ramp cards and I suggested a few above
Grow from the Ashes - see above
Font of Fertility - see above
Frontier Siege - this seems kinda medium if all were doing with it is adding 2 extra mana, I like that it's modal but you're never going to pick that mode since we don't have a lot of flyers in hydras.
Icy Blast - I see where you're coming from with this, and I think it could definitely put in work, but I also feel like theres probably either hard removal that you could play for the same amount of mana that would make this useful, or something similar.
Personally I'd also cut the counter spells for more stuff that draws/removes but I understand why they're here.
I hope this helps, sorry if it's long winded, and good luck with the list!!
6 months ago
The philosophy of blue cards like Pongify and Ravenform is that they do not destroy, they merely transform permanently, and destroying and replacing with a token is the mechanically best suited way to do so. Like Turn to Frog, but permanently. They've found flavorfully better ways to do it by auras like Ichthyomorphosis, enchanting the target to change its shape, but that enchantment can be broken, the transformation isn't permanent. When you lay down a Curse of the Swine, you lose the soldiers and gain the pigs, there's no way to get the soldiers back from the pigs. Ever since Polymorph this has been a blue effect, and only recently it is moving into red, with Transmogrify and Lukka, Coppercoat Outcast.
8 months ago
Looking for more cards like Kenrith's Transformation for my wonky transmog deck
so far I have Beast Within, Dance of the Skywise,Gift of Tusks,Mordenkainen's Polymorph,Ovinize,Polymorphist's Jest,Pongify,Rampage of the Clans,Rapid Hybridization,Snakeform,Startling Development,Turn to Frog,Frogify,Ichthyomorphosis,Lignify,Curse of the Swine,Transmogrifying Wand,Oko, Thief of Crowns and Terastodon in my main deck and
Here's a Link to my deck in case you need it Transforming Oneself . PS. if you think of clever or funny name for this let know as well
8 months ago
Guardian of the Swamps
Creature- Leech Horror
Add to your mana pool
Creature you control have fear
1/3
Make either a good mono green board wipe since green doesn't have a wipe or mono blue board wipe so people can use an alternative to Cyclonic Rift (though I guess Curse of the Swine counts?)
Load more