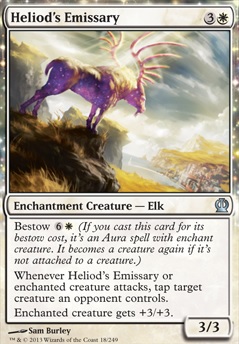 Legality
Rules Q&A
4 months ago
Hello! May I step in to give you some recommendations? Since you're on a budget, all cards suggested are 2 dollars or less.
Part 1: Ramp
In: You probably want aura ramp and cost reducers over standard land ramp: Wild Growth, Transcendent Envoy, Hero of Iroas, Jukai Naturalist and Stenn, Paranoid Partisan (choosing Enchantment). These will allow you to storm through your deck casting Auras ad nauseam.
Out: Elvish Mystic, Farhaven Elf, Arcane Signet, Nature's Lore and Cultivate are all great ramp cards, but you can do better (and more thematically) with the cards I mentioned above.
Part 2: Card draw
Just as important as ramp is card draw: Galea won't always be available to you.
In: Sage's Reverie, Enchantress's Presence, Satyr Enchanter, Mesa Enchantress.
Out: Coiling Oracle, Curious Obsession (unreliable), Curse of Verbosity (unreliable), Eel Umbra.
Part 3: Removal
Swords to Plowshares is GREAT, no doubt. But, in this kind of deck, you can spice it up with the great Auras that has for removal.
The objective is, then, to use the cheapest Auras that can hit more than one permanent type, with emphasis on "loses its abilities" in the text box.
In: Mortal Obstinacy, Ossification (synergy with your basic land fetchers).
Out: Reclamation Sage, Swords to Plowshares.
Part 4: Boardwipes
In: I believe you should run more boardwipes that leave your board mostly untouched. Austere Command is one such example. You almost always will clean all artifacts and the half of creatures that are more dangerous to you. Curse of the Swine is another selective wipe.
Out: Time Wipe (not one-sided), Plains.
Part 5: Protection and Evasion
In Voltron, tempo is crucial.
Now to the Auras:
Following the same logic as with removal, I'm using auras over instants to protect the Voltron.
Part 6: Tutors
Without Hammer of Nazahn, Nazahn, Revered Bladesmith is just a more expensive Open the Armory.
In: Open the Armory, Heliod's Pilgrim, Moon-Blessed Cleric, Light-Paws, Emperor's Voice and Invasion of Theros  Flip (bonus that all those tutors also change your library's top card).
Out: Nazahn, Revered Bladesmith, Celestial Archon, Heliod's Emissary, Hypnotic Siren, Curse of Unbinding (7 mana is a lot for an Aura).
Part 7: Win Conditions
In: Since you're going all-in with auras, All That Glitters and Ethereal Armor do wonders.
Out: Bruna, Light of Alabaster is slow and telegraphed in this build. People won't let her stick to the field. Nissa, Steward of Elements is tough to protect in a Voltron build, while she only offers scry, which your lands can already do.
Part 8: Lands
In:
Out:
If you read this far, congratulations! Here is the list of the deck with all the suggested alterations, in case you want to test it: Galea, Menacing Aura. Good luck and have fun!
4 years ago
So I'm trying to make a deck for my friend for his birthday and he likes Greek Mythology, specifically Poseidon, Hades, and Zues in this order. I'm wanting to stay in the Theros block and have 3 deck ideas but I need some advice and criticism because I don't want to make him a weak deck.
Here are what I've made:
The first one is using Heliod because I made this first and forgot there is a god that looks like zues but in MTG Heliod is the "Leader" or Highest ranking or whatever.
The second one is using Keranos and white humans so its 4 colors instead of 3.
The third one is sticking to the block and theme but also sticking to heroic and scry.
I have always been bad about including a safe amount of land in my decks so that is something i really need help with. I also wasn't sure if this was the best way to show the decks or if i should've just copy and pasted each text.
Thank you!
Sorry for the long post. Wasn't sure how to do this.
5 years ago
-37 lands in a bit short for EDH : advice is 40 to avoid issue plus aprox 10 carads for card advantage. In your setup, i would recommand more creature cards that ramp lands and that you can sac like Yavimaya Elder and Wood ElvesExplore cards migth also be very usefull to pull out more lands from the deck and filling your Graveyard.Deadeye Tracker, Jadelight Ranger, Merfolk Branchwalker, Path of Discovery, Tomb Robber
Cards to cut :Grim Guardian , Heliod's Emissary, Leafcrown Dryad : not impactfull enoughHermit of the Natterknolls Flip : Not an enchantement, does not do a lot for the deck
Sheoldred, Whispering One & Vorinclex, Voice of Hunger : Those guys are dangerous, Not sure if your deck can manage to show them in play or in the graveyard and survive the focus tou'll get. I personally stoped playing them for this reason.
Bear Umbra, Curse of Bounty -> What do you do with the untaps ???
Exsanguinate, Genesis Wave, Profane Command -> You dont have mana to make those game-ending, would replace with fixed cost spell or creatures
Overwhelming Stampede -> Quite situationnal, Craterhoof will do a better job beeing a creature you can bring back. If you are looking for a lethal finished, Triumph of the Hordes is more effective
Candidate to add :
Skybind -> retrigger ETB
6 years ago
Thank you for the upvote!
What is your definition of a "budget" build? When I began building decks I tried to keep them within a $20 range, but now that my income is more generous "budget" for me is ~$100. I understand that "budget" is different for everyone, so that would be a good starting point. That being said, here are a few suggestions.
I hope you were able to find some of this useful!
6 years ago
Cards I think could easily be cut:
Web- worst of the reach cards
Auramancer- Better options, see below
Heliod's Emissary- not worth the mana
Nyxborn Rollicker- not useful
Restoration Specialist-have to sacrifice only hits single one
Angelic Gift- flying worse than anything else, draw is unnecessary
Brilliant Halo- nice recursion, but not that great
Eternal Warrior- doesn't do enough to include
Forced Adaptation- too slow
Gift of the Woods- too niche, point is to not be blocked
Instill Energy- haste is eh, untap is basically vigilance, not really necessary
Knightly Valor- CMC too high
Ordeal of Purphoros- slow for what it does
Regeneration, Savage Silhouette, Serpent Skin, Trollhide- Most wraths get around the regeneration anyway, you can afford to lose anyone to spot removal except your commander... which is already hexproof.
Venomous Fangs- your chump blockers don't need it, Uril's gonna be huge already
Vigilance- not enough in this deck
The Three Vows- Irrelevant as they can still block your guys. Maybe one if you do a lot of multiplayer.
Entangler- high CMC
Vigilant Martyr- same issues with regeneration, at the very least replace with Dawn Charm
Venom- meh all around
Open the Vaults- replace with Retether/Second Sunrise
Cards that are on the verge:
Auratouched Mage-higher CMC, but it does open up more expensive auras
Conviction- Better than Brilliant Halo, still not that great
Fists of Ironwood- Superfluous
Hammerhand- meh card
Lifelink- Nice art, unless you're getting a lot of direct damage, not that helpful
Lightform- Looks okay, too many non-creatures though
Oath of the Ancient Wood- Faster than the ordeal cards, no other benefits though
Shape of the Wiitigo, Shield of the Oversoul, Hyena Umbra, Glaring Aegis- You have to cut something
Indrik Umbra-Keep if you can find something else to go easily.
Cards you should consider adding:
Retether- Bodiless Auramancer but better
Second Sunrise- Get passed their wrath effects, not a first choice though
Lightning Bolt- Spot removal is nice
Dawn Charm- See above
7 years ago
CanadianShinobi : I'm 2 months late but I don't give a damn. As I said I mainly wanted to have the opinion of more people on the subject (I've read a ton about it already). Now I've got yours. An a new debate is born. See? :)
And since you like to quote people, you didn't answer those questions : "The real reason I'm creating this thread is that I want to have your opinion on the format and where you think it's going? If you ever played Eldrazi, do you enjoy it? Or did you just join the dark side of the force because "if you cant beat them, join them" ?" ;)
ninjaclevs13 forgot to include that good ol' Simian Spirit Guide in there, thanks! :)
kanokarob "Yes, WotC likes to make its customers miserable by intentionally printing unbalanced cards.". I never said that was their intention. Ever. All I said is their first objective is to make money (it's a company you know, stakeholders and stuff...).
You can't deny the fact that Magic is mostly a game of money. You cant have a 15 dollars Restoration Angel or a 10 cents Heliod's Emissary. 4 mana each, both white, but well... So if they print cards that fit so well together that they can own in standard, in modern and be decent in legacy, I kinda think there is a slight lack of balance somewhere, don't you think? :)