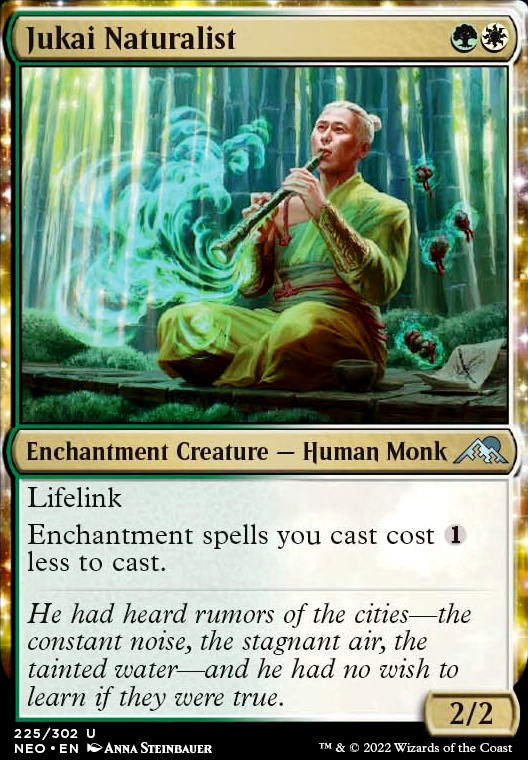 Legality
1 month ago
Hello! May I step in to give you some recommendations? Since you're on a budget, all cards suggested are 2 dollars or less.
Part 1: Ramp
In: You probably want aura ramp and cost reducers over standard land ramp: Wild Growth, Transcendent Envoy, Hero of Iroas, Jukai Naturalist and Stenn, Paranoid Partisan (choosing Enchantment). These will allow you to storm through your deck casting Auras ad nauseam.
Out: Elvish Mystic, Farhaven Elf, Arcane Signet, Nature's Lore and Cultivate are all great ramp cards, but you can do better (and more thematically) with the cards I mentioned above.
Part 2: Card draw
Just as important as ramp is card draw: Galea won't always be available to you.
In: Sage's Reverie, Enchantress's Presence, Satyr Enchanter, Mesa Enchantress.
Out: Coiling Oracle, Curious Obsession (unreliable), Curse of Verbosity (unreliable), Eel Umbra.
Part 3: Removal
Swords to Plowshares is GREAT, no doubt. But, in this kind of deck, you can spice it up with the great Auras that has for removal.
The objective is, then, to use the cheapest Auras that can hit more than one permanent type, with emphasis on "loses its abilities" in the text box.
In: Mortal Obstinacy, Ossification (synergy with your basic land fetchers).
Out: Reclamation Sage, Swords to Plowshares.
Part 4: Boardwipes
In: I believe you should run more boardwipes that leave your board mostly untouched. Austere Command is one such example. You almost always will clean all artifacts and the half of creatures that are more dangerous to you. Curse of the Swine is another selective wipe.
Out: Time Wipe (not one-sided), Plains.
Part 5: Protection and Evasion
In Voltron, tempo is crucial.
Now to the Auras:
Following the same logic as with removal, I'm using auras over instants to protect the Voltron.
Part 6: Tutors
Without Hammer of Nazahn, Nazahn, Revered Bladesmith is just a more expensive Open the Armory.
In: Open the Armory, Heliod's Pilgrim, Moon-Blessed Cleric, Light-Paws, Emperor's Voice and Invasion of Theros  Flip (bonus that all those tutors also change your library's top card).
Out: Nazahn, Revered Bladesmith, Celestial Archon, Heliod's Emissary, Hypnotic Siren, Curse of Unbinding (7 mana is a lot for an Aura).
Part 7: Win Conditions
In: Since you're going all-in with auras, All That Glitters and Ethereal Armor do wonders.
Out: Bruna, Light of Alabaster is slow and telegraphed in this build. People won't let her stick to the field. Nissa, Steward of Elements is tough to protect in a Voltron build, while she only offers scry, which your lands can already do.
Part 8: Lands
In:
Out:
If you read this far, congratulations! Here is the list of the deck with all the suggested alterations, in case you want to test it: Galea, Menacing Aura. Good luck and have fun!
2 months ago
I think cards like Jukai Naturalist and Weaver of Harmony are not great additions for the deck. The enchantments exist to support the walkers, but supporting the supports isn't a winning strategy when deckbuilding. Resourceful Defense on the other hand seems great, filling the roll of support that you want. It's actually a card I've never heard of bc I tend to skip the commander sets mostly. I am unsure if its good enough here because it only stops destroy effects, which super common for walkers, but doesn't help when they are destroyed by damage, which removes their loyalty counters. It's probably worth trying out and seeing how it impacts games in which it's played.
4 months ago
Thanks for the question! My opinion is no, it doesn't qualify for the Enchantment hub. If it's built around one single card, unless it's important that it's an enchantment and not any other card type, I'm going to push toward Combo, other relevant hubs, but not Enchantment. As an example, I would not put the Enchantment hub on a deck that uses the Sanguine Bond + Exquisite Blood combo, unless there was also significant support for enchantments in general (e.g. Idyllic Tutor or Jukai Naturalist).
7 months ago
Thanks Balaam__! I still have a lot of development to detail about how I constructed this deck, but yeah the maybeboard is a great way for us to discuss my thought process. I have thought about this process previously, but the joy to base it around a Magus really tied it together for me.
Outside of using the Magi, I admittedly might go for in order to provide maximum control state. Although, I'd rather go for Enchantment Johnnies in would be much more my style. Sterling Grove is arguably one of my favorite enchantments for the synergy it could provide with this build.
Same could be said for Jukai Naturalist, Generous Visitor, Kami of Transience.
7 months ago
Esika, God of the Tree  Flip, Dynaheir, Invoker Adept, Kethis, the Hidden Hand, Cadric, Soul Kindler, Ratadrabik of Urborg, Jukai Naturalist, Enlightened Tutor, Worldly Tutor, Idyllic Tutor, Lithoform Engine, Strionic Resonator, Weatherlight, Legacy Weapon, Paradox Haze, Starfield of Nyx, Calix, Destiny's Hand, Hall of Heliod's Generosity, Minamo, School at Water's Edge, and lastly all the signets sense they're about as good as they get when it comes to color fixing
11 months ago
Okay dann hier erstmal alle Karten die ich gefunden habe, die was sein könnten:
Jukai Naturalist ist geil, wenn möglichst alle Entchantsments mindestens 1 farbloses kosten. Turn 1 könnte man dann theorethisch noch für taplands nutzen.
Kami of Transience wird genau wie Jukai Visionary und Generous Visitor momentan im Standard in Runes gespielt. wächst schnell und ist super nervig, weil er immer wieder aus dem Graveyard zurück kommt. Allerdings wären mit Ihm, Generous Visitor und Archin of Sun's Grace schon 12 Karten drin, die selber keine Entchantments sind, aber nur durch Entchantments triggern, das würde das Deck deutlich unkonsistenter machen..
God-Favored General zwar selber auch kein Entchantment, aber produziert immerhin welche und könnte so im lategame weiter trigger auslösen. Allerdings musst du ihn erstmal getappt bekommen und mit 1/1 ist er ziemlich mickrig und stirbt quasi an allem, also vermutlich eher Nichts :/
Setessan Champion Der ist dafür Bombe! Gibt es auch auf Arena, soweit ich weiß. Gleichzeitig Drawengine und wachsende Kreatur in einem. Leider leider selber kein Entchantment.
Season of Growth wäre nett, wenn du mehr Auren spielen würdest, aber ich glaube in die Richtung soll das Deck nicht gehen, oder? Falls doch ist Sentinel's Eyes ne Aura, die du wieder verwerten kannst. Manakosten beißen sich aber mit Jukai Naturalist.
Was auch noch sehr viel versprechend aussieht, ist Kruphix's Insight. Mit genug Entchantments einfach ein 3-Mana Draw three. Aber natürlich auch ab und zu weniger, vorallem wenn du viele Archons, Visitors, Kamis und Champions spielst.
Wie wäre es mit Sigil of the Empty Throne? Ist nur 1 Mana teurer als der Archon, schwerer zu removen, macht dickere Tokens und ist selbst ein Entchantment. Gibt es übrigens auch auf Arena.
Mana Bloom sieht auch interessant aus. Du brauchst den Ramp zwar nicht, aber du könntest es theorethisch jeden Turn auf 0 spielen, einfach nur um jeden Turn nen Entchantment zu casten. Allerdings wären 2 auf der Starthand tendenziell schon game over, also am besten nur 1 mal rein, wenn überhaupt.
Dann noch banishing light tauschen gegen Touch the Spirit Realm macht das gleiche, für das gleiche Mana, hat aber noch ne andere Option, mit der du deine eigene Kreatur beschützen oder nen Token günstiger killen kannst.
Cuts: Shapers Santuary ab ins Sideboard, ist zu oft ne tote Karte. Destiny Spinner auch ins Sideboard, der Effekt ist auch zu selten gut fürs Maindeck.
First Iroan Games auch raus, viel zu langsam für dein Deck, das kann deutlich explosiver sein.
All that Glitters würde ich tatsächlich auch cutten. Es kann zwar ne sehr gefährliche Karte sein, aber wie fast alle Auren hat die Karte das Problem, dass wenn dein Gegner in Reaktion darauf nen Removal für die entsprechende Kreatur hat, du einfach 2v1 getauscht hast, ohne dass die Karte was getan hat. Außerdem bietet dir Michikos Reign of Truth den gleichen Effekt (wenn auch nur 2 Turns) ohne die gleichen Risiken zu haben und macht sogar am Ende noch ne Kreatur.
Länder: Könntest Scattered Groves als tapland spielen, das kannst du im Lategame immerhin noch cyclen, wenn du keine Länder mehr brauchst. Wenn dir das die 1,50 wert ist, dann go. Fortified Village kommt potenziell untapped, vorallem mit scattered groves als anderes dualland, da es auch die subtypes hat, und kostet quasi nichts, also aufjedenfall mit bestellen.
11 months ago
councilofautumn - thank you! Academy Rector is always fine but not important for the deck to function, and I keep trying to reduce the number of reserved list cards in my decks.
Jetmir, Nexus of Revels puts a win condition in the command zone and is probably a much better commander overall. However, I think I'll probably leave Samut, Voice of Dissent as the commander for now. Her haste-granting ability is still quite important for sudden death attacks with several of the token swarms, and I really enjoy the complicated untapping puzzles that arise when her activated ability becomes relevant in this deck. Damage prevention is not a problem I've personally come up against, but Skullcrack definitely seems great if that's a strategy in your local meta. You could also play Leyline of Punishment if you want to stick with the enchantment theme.
Other recent cards I'm considering for this deck: Jukai Naturalist, Witty Roastmaster, Eiganjo Uprising and Shigeki, Jukai Visionary.
Load more