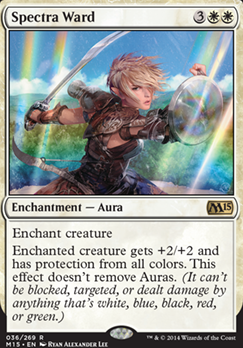 Legality
| | |
| --- | --- |
| Format | Legality |
| 1v1 Commander | Legal |
| Frontier | Legal |
| Vintage | Legal |
| Modern | Legal |
| Casual | Legal |
| Legacy | Legal |
| Duel Commander | Legal |
| Unformat | Legal |
| Pauper | Legal |
| Commander / EDH | Legal |
Spectra Ward
Enchantment — Aura
Enchant creature
Enchanted creature gets +2/+2 and has protection from all colors. This effect doesn't remove Auras. (It can't be blocked, targeted, or dealt damage by anything that's white, blue, black, red, or green.)
Have (13)
Fiolek , Lucretian ,

j

h

T

h

e

M

a

n

9

9

,

p

s

k

i

n

n

0

1

,

C

y

r

k

, Supremespeed , NobleSlay3r , EliGjerdingen , geazykagar , mziter501 , philktoken8998 , Unlife , MattN7498
Want (0)
Spectra Ward Discussion
2 days ago
Looking nice so far!! Here are some suggestions from my experience, fellow Kaalia player :)
Hopefully these suggestions help! I've said it a lot, but play whatever you think will be the most fun for you! Good luck in the building process- I'll be following along to see how it goes! :)
6 days ago
Another tutor option if you randomly need it could be Academy Rector, but without a reliable way to get him off like Animal Boneyard, probably not worth the time. There's also Time of Need and Chord of Calling.
Land Tax is great for ramp, though I'm sure it's already been recommended. Primal Growth is also an option, as is Traverse the Ulvenwald
Spectra Ward is nice, though the cost is probably prohibitive for this deck. Speaking of costs, Herald of the Pantheon could help, though the build wouldn't leverage it that well. If against high defense that Sigarda can't break, Bonds of Mortality could be another option besides the exile you already run.
If against high destruction, there's always Karmic Justice, but that probably will never be necessary in duel. Another possible bit of extra insurance, is Greater Auramancy. I know you mentioned countering as a concern. Prowling Serpopard might be a good response.
Only other thing that comes to mind is Nature's Will
Really nice deck!
1 week ago
I was considering most of those, and had some of them in as well. I'm a bit wary of adding the tutors, especially Three Dreams - could be too powerful. Same deal with the likes of Spectra Ward, as Bruna is already hella good and has evasion. I'll put in the land and probably Cyclonic Rift as well, at least.
Thanks for the feedback!
1 week ago
Would love to match up against this deck with one of mine :D
Some suggestions that would fit if you want to go deeper into the aura theme:
and Glacial Fortress (Since you can have up to 2 Rare Lands)
a must-have for blue decks:- Cyclonic Rift
I have a Azorius Deck too, but I focused more on the blink-theme
---

---
1 month ago
Ok well your best bets for closing out the game are going wide with tokens and maybe a few anthem effects or going combo for combo or you can always Voltron with Brago. I did forget to mention Voltron.
For a while I used to run Sovereigns of Lost Alara to get Eldrazi Conscription which does work but usually if I pulled it off I would kill one player and then someone would stop me so I cut from mine, but sticking some aura's on Brago and swinging a few times while no-one can do anything does the trick. If you decide to try out Voltron style check out Heliod's Pilgrim as well. You can actually develop a pretty legit little package for it as there are quite a few good Aura's in U/W and some with good ETB's as well.There are a few aura's you can run that will both help to protect Brago and buff him to make him a decent clock like Spectra Ward.
1 month ago
Debt to the Deathless is yet another huge bomb, the biggest problem with your deck that I see, is a high curve, and not vary much ramp.
Ramp cards I like to color fix (that you aren't running) are: Shard Convergence, Kodama's Reach, Cultivate, Coalition Relic, Prismatic Geoscope, Bloom Tender, Sakura-Tribe Elder, Yavimaya Elder
Atraxa, Praetors' Voice is a good way to get more counters, Sovereigns of Lost Alara can be quite useful if you add a couple more auras, for example: Spirit Mantle, Indestructibility, Spectra Ward, Unquestioned Authority, and Holy Mantle are all great aura's that you should add, maybe even add the new Bloodforged Battle-Axe
2 months ago
QKNARWHAL- I used to run Alexi's Cloak as a pseudo-counter to targeted removal the turn I play Bruna. However, I didn't like how I couldn't equip Lightning Greaves or Swiftfoot Boots on the same turn if I used it and was then weak to sorcery-speed boardwipes. If I get to my attack phase, I've found Spectra Ward to be enough protection from targeted removal that also gives a nice p/t boost. I'm not sure that Diplomatic Immunity gives me anything more than the cloak would since most players target the bigger enchantments with their removal anyway in my experience, or they have mass bounce or permanent-wipes to hit all enchantments anyway.
Boseiju, Cavern, Fow, and Pact would all make the cut if I had any extras to spare (or any period for some of them!). Pact especially would be great in this deck since the turn I cast Bruna is usually the turn I have the least mana available to protect her. I have a set of Caverns that I swap between Modern elves and slivers, so I could swap a copy in here for certain if I come across another control deck.
I'm unsure if the card disadvantage from Chrome Mox would be worth the ramp in a multiplayer game. I know it's great 1v1, but it always seems like someone is good at destroying artifacts/enchants in the pods I play in. If you have experience otherwise, let me know and I'll consider it since I have a copy.
Load more