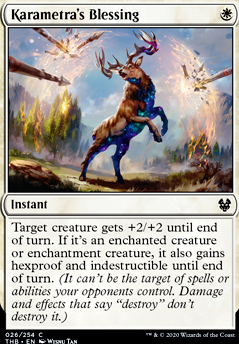 Legality
Karametra's Blessing
Instant
Target creature gets +2/+2 until end of turn. If it's an enchanted creature or enchantment creature, it also gains hexproof and indestructible until end of turn. (It can't be the target of spells or abilities your opponents control. Damage and effects that say "destroy" don't destroy it.)
4 months ago
Hello! May I step in to give you some recommendations? Since you're on a budget, all cards suggested are 2 dollars or less.
Part 1: Ramp
In: You probably want aura ramp and cost reducers over standard land ramp: Wild Growth, Transcendent Envoy, Hero of Iroas, Jukai Naturalist and Stenn, Paranoid Partisan (choosing Enchantment). These will allow you to storm through your deck casting Auras ad nauseam.
Out: Elvish Mystic, Farhaven Elf, Arcane Signet, Nature's Lore and Cultivate are all great ramp cards, but you can do better (and more thematically) with the cards I mentioned above.
Part 2: Card draw
Just as important as ramp is card draw: Galea won't always be available to you.
In: Sage's Reverie, Enchantress's Presence, Satyr Enchanter, Mesa Enchantress.
Out: Coiling Oracle, Curious Obsession (unreliable), Curse of Verbosity (unreliable), Eel Umbra.
Part 3: Removal
Swords to Plowshares is GREAT, no doubt. But, in this kind of deck, you can spice it up with the great Auras that has for removal.
The objective is, then, to use the cheapest Auras that can hit more than one permanent type, with emphasis on "loses its abilities" in the text box.
In: Mortal Obstinacy, Ossification (synergy with your basic land fetchers).
Out: Reclamation Sage, Swords to Plowshares.
Part 4: Boardwipes
In: I believe you should run more boardwipes that leave your board mostly untouched. Austere Command is one such example. You almost always will clean all artifacts and the half of creatures that are more dangerous to you. Curse of the Swine is another selective wipe.
Out: Time Wipe (not one-sided), Plains.
Part 5: Protection and Evasion
In Voltron, tempo is crucial.
Now to the Auras:
Following the same logic as with removal, I'm using auras over instants to protect the Voltron.
Part 6: Tutors
Without Hammer of Nazahn, Nazahn, Revered Bladesmith is just a more expensive Open the Armory.
In: Open the Armory, Heliod's Pilgrim, Moon-Blessed Cleric, Light-Paws, Emperor's Voice and Invasion of Theros  Flip (bonus that all those tutors also change your library's top card).
Out: Nazahn, Revered Bladesmith, Celestial Archon, Heliod's Emissary, Hypnotic Siren, Curse of Unbinding (7 mana is a lot for an Aura).
Part 7: Win Conditions
In: Since you're going all-in with auras, All That Glitters and Ethereal Armor do wonders.
Out: Bruna, Light of Alabaster is slow and telegraphed in this build. People won't let her stick to the field. Nissa, Steward of Elements is tough to protect in a Voltron build, while she only offers scry, which your lands can already do.
Part 8: Lands
In:
Out:
If you read this far, congratulations! Here is the list of the deck with all the suggested alterations, in case you want to test it: Galea, Menacing Aura. Good luck and have fun!
1 year ago
You might like these: Not of This World, Simian Spirit Guide, Lotus Petal, Rite of Flame, Strike it Rich, Benevolent Blessing, Karametra's Blessing, Red Elemental Blast, Lapse of Certainty, Abolish, Fury of the Horde, Reverent Mantra, Angel's Grace, Chance for Glory, Tithe, Mistveil Plains
2 years ago
Karametra's Blessing states it can only target creatures, and you shouldn't be using auras on your creatures in this deck.
2 years ago
Disenchant would be useful if i want to get rid of artifacts/enchantments. I think Disallow would be even more useful in that sense. I think Karametra's Blessing would be extremely useful for my enchanted creatures, but would it protect my enchantments as well as creatures, even if it's like High Alert ? Or does it have to work on only auras, like Gauntlets of Light ?
Load more