Featured Deck

---
L

a

b

M

a

n

i

a

c

_

D

a

n

Tier list brought to you this week by Zac Pinales

Features Meta 06/26/2017 by EverythingIsK

Rothgar13 with the start of a brand new series, on competitive play of all flavors.
6 minutes ago
And Claim / Fame is great here. Even if Death's Shadow isn't in your graveyard, when you use it to target Kiln Fiend, it gets a total of +5/+0 because of the cast trigger on Fame. In the right situation, that card is going to be able to win games outright.
6 minutes ago
I like the idea. I'm trying a similar build with red but I think the blue is potentially strong as well. The one thing I've discovered is that you need not just cheap cycling, but free discard outlets. Key to the City is an all star. It gives you a free discard outlet that gives you the option to draw cards. And then it gives your guys unblockable, and that's pretty sweet. It really does everything the deck wants.
I do think the deck will need some form of interaction\ removal- otherwise you'll get rolled over trying to get to the Fiend. You could just play the tried and true Grasp of Darkness, or Fatal Push if you have the budget. Or the discard friendly Just the Wind.
I've had a hard time with the sniper. He's ok removal, but if you're paying mana to dish out counters you aren't playing new spells... and he's only a 1\2, hardly able to pressure the opponent. The Vizier and negate might be better served as the above removal.
The other card that I think might be really good here- and go with me on this one- Forgotten Creation. I've toyed around with him, but I haven't been able to find the right build. In theory he should be INSANE in a deck like this... discard all your cards? Draw that many? Play Shadow of the Grave? Return those cards to your hand? Look at all the creatures you have with effects when cards are cycled or discarded? He could be pretty broken.
I'd probably swap out the Snipers and the Horrors for a 3\3 split of the key and creation.
Anyway, +1 from me. I'll likely build this on MTGO and try it out.
Hope this has helped.
17 minutes ago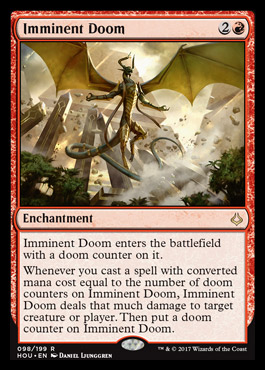 I might be stupid, but is this better than Dynavolt Tower?
.
Onahail I personally like the idea, but what would it replace?
18 minutes ago
I like this deck a lot, I really do. Skullclamp could be hilarious, but I don't know how will I fits into your casual meta. Cards that draw for attacking like Military Intelligence or Windreader Sphinx could be fun, same with Thopter Spy Network, but that is more with artifacts. Something that gives universal haste could also help.
21 minutes ago
How is the tron match up?