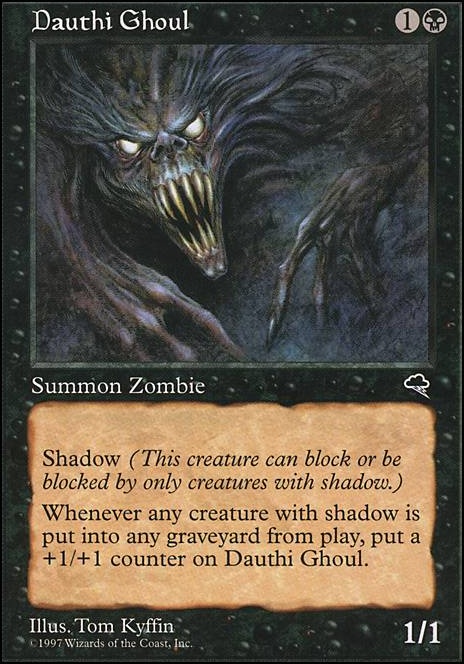 Legality
| | |
| --- | --- |
| Format | Legality |
| Noble | Legal |
| 1v1 Commander | Legal |
| Vintage | Legal |
| Casual | Legal |
| Vanguard | Legal |
| Legacy | Legal |
| Archenemy | Legal |
| Planechase | Legal |
| Duel Commander | Legal |
| Unformat | Legal |
| Pauper | Legal |
| Commander / EDH | Legal |
Dauthi Ghoul
Creature — Dauthi Zombie
Shadow (This creature can block or be blocked by only creatures with shadow.)
Whenever a creature with shadow is put into a graveyard from play, put a +1/+1 counter on Dauthi Ghoul.
Dauthi Ghoul Discussion
1 year ago
Intimidate/Skulk/Menace:
Accursed Spirit, Blind Zealot, Blood-Chin Rager, Brain Weevil, Cavern Lampad, Farbog Revenant.
Shadow:
Cutthroat il-Dal, Dauthi Cutthroat, Dauthi Ghoul, Dauthi Horror, Dauthi Jackal, Dauthi Marauder, Dauthi Mercenary, Dauthi Mindripper, Dauthi Slayer, Dauthi Trapper, Dauthi Warlord, Faceless Devourer.
Horsemanship:
Cao Ren, Wei Commander, Wei Elite Companions, Wei Night Raiders, Wei Scout, Wei Strike Force, Xiahou Dun, the One-Eyed, Zhang He, Wei General
1 year ago
You have a lot of weenies. This works well with unblockable but you may want to consider wipes and cards like Night of Souls' Betrayal or Elesh Norn being played early via some graveyard manipulation.
Also consider that they have blockers for your blockable creatures and removal for your unblockable ones. What is your gameplan then? If your blockable creatures aren't threatening to your opponent's creatures as well as the opponent, you may get stalled.
Consider some stronger creature options. Your low CMC is good for a faster clock, but can hinder you when the faster clock results in a slower gameplan.
CUT:
You are running 10 mana rocks which is quite a bit actually. I'd suggest cutting some, or swapping them. Try Worn Powerstone or Mind Stone for the Keyrune. Maybe work in an equipment subtheme?
Debate keeping wrexial.
POTENTIAL ADD:
EQUIPMENT:
Ninjas sometimes have a subtheme of equipment. Just figured I'd recommend a few if you go this route.
You'll want to avoid wipes since you rely on creatures a lot yourself, beyond things like Cyclonic Rift. If you find wipes to be troublesome, try something like Living Death or a mass return-to-hand-from-grave spell.
A draw package is optional. Ponder Preordain Brainstorm are the big three everyone loves to run. I don't know if they really fit this list though.
Lands to consider:
---
Here is an odd idea which might be appealing. Steal their creatures, attack, and ninjutsu your own in, bouncing their creature and putting yours into play.
If you want to go this way, I can suggest some big ones: