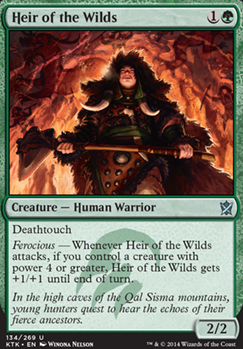 Legality
1 year ago
I like how the guy above this comment just casually strolls in and tells you to put in a bunch of moxen...
That said, warriors is one of my favorite tribes and I've made a ton of decks with them! Plus Najeela is such a badass commander! These are my suggestions that you haven't included and could serve as some better synergy with your deck than your non-warriors:
God-Eternal Oketra make huge 4/4 zombie warrior tokens on every warrior cast.
Oketra the True make warrior tokens and acts as a big beater itself.
Oketra's Monument tons and tons of warrior tokens.
Rush of Battle warrior themed overrun that gains you tons of life.
Herald of Anafenza gets bigger and makes warrior tokens at the same time.
Raiders' Spoils probably the best card draw you'll see for warrior tribal.
Gilt-Leaf Ambush elf warrior tokens with sometimes deathtouch.
Hunting Triad elf warrior tokens or modal +1/+1 counters.
Presence of Gond give a creature a tap for elf warrior token ability.
Lovisa Coldeyes more warrior lord buffs!
Obsidian Battle-Axe haste and auto-attach to warriors equipment!
Regna, the Redeemer and Krav, the Unredeemed act as a sac outlet and warrior token generation combo.
Lord Windgrace

deck filtering, color fixing, and generation of a ton of cat warrior tokens
Great Hall of Starnheim gets you a 4/4 angel warrior token in a pinch
Base Camp cheap 5 color land for warriors
Starnheim Unleashed make a ton of 4/4 angel warrior tokens!
Emeria's Call  Flip make angel warrior tokens and give your non-angel warriors indestructible or make it a land
Ascent of the Worthy pretty fun tricks on this.
Firja's Retribution make a 4/4 angel warrior token and give angels destroy and double strike.
Battle for Bretagard make warrior tokens, then make copies.
1 year ago
1: There are many weaker card choices. Not having access (or getting over time) is obviously apart of the collection-building aspect of the game; but your decks should avoid the weak cards that are not on theme. Focus on including cards that actively help or are benefited by your theme of heavy ramp with a secondary set of heavy draw. Cards such as Fblthp, Gurmag Drowner, Silumgar Sorcerer, and jace, are primary examples.
2: Finding cards that fit both themes: draw and ramp, is relatively easy and will increase the adaptability and efficiency of the deck. Commander's Sphere is the obvious example currently in the deck. Potential additions (that you should be able to more easily acquire) include Edge of Autumn, Explore, Krosan Tusker, and Seer's Sundial. Harder to get pieces would be Kiora, the Crashing Wave, Aesi, Tyrant of Gyre Strait.
3: This deck has 2 duplicates. Heir of the Wilds and Primal Empathy.
4: Having lots of mana is only useful it's spent casting scary game-winning threats. Threats you may not be aware of that might be fun for you to playtest: Soramaro, First to Dream, Prime Speaker Zegana, and Clockwork Dragon. The first and last cards specifically benefit from the amount of colorless mana you will generate with your general.
2 years ago
Hi Shayda!!!
Dude those dragons are doing so well (when no one wipes them)!
Did you want a similar deck? 'Cuz that's what you've got here... but I think you should lean into go-wide-aggro > midrange and play more 1-2 cmc creatures and move all your ramp to 2 (Rampant Growth, signets, etc).
I'd also recommend Golgari Charm, Boros Charm, and Heroic Intervention.
Tribal decks have so much flavor! Hope this helps, maybe we'll see it next weekend? :o
2 years ago
Coax from the Blind Eternities is an interesting card and seems really fun to build around it. However, your deck looks like it's trying to do a lot of stuff instead of focusing on the Eldrazi plan.
Sideboardwise, no reason to have those lands in there. Spawning Bed is just a bad and slow card. Shrine of the Forsaken Gods while not and amazing card, can help you cast some of your big eldrazi after fetching them from the sideboard. Maybe one or two on the main board should help.
Still regarding the sideboard, just cut out Endless One . If you're gonna get and Eldrazi from your sideboard, that Eldrazi must win you the game or enable you to win the game, and Endless One does neither. Speaking of winning the game, wouldn't it be better to search for some of the huge Eldrazi instead of Eldrazi Conscription . The conscription is a fabulous card that can definelty win you the game, but it's also easily removable by killing or ou bouncing the creature it's attached to and it provides no protection. Also, Garruk Wildspeaker should be mainboarded. It's an amazing ramp card and sort of is a combo with Shrine of the Forsaken Gods since you can tap two of these for 4 mana and untap with him for more 4 mana, which would really help to cast and Eldrazi.
Now, speaking of cards that win you the game. Spawnsire of Ulamog can be an option to fetch so you can cast all of your other Eldrazi without having to fetch with a sorcery. Kozilek, the Great Distortion can help you refill your hand and enables you to counter an opponent's spell if you can discard a card, which can be useful if you think your opponent has a Path to Exile or a card that could deal with an Eldrazi. Void Winnower just locks your opponents out of hopefully half of their spells and makes it easier to attack with your creatures.
Rampwise, replace Eyeless Watcher with Kozilek's Predator since the Predator has a bigger body, is the same cost and produces the same amount of mana. From Beyond is not a bad card since the tokens could, technically, block attacks for you. However, regarding mana ramp, Awakening Zone is better since it drops one turn earlier, but it more expensive moneywise. From Beyond can also have other uses but I'll suggest other things later. Deathcap Cultivator helps you toward your goal of casting big things, even enabling you to splash black in the deck, while can also get deathtouch thus helping you to block. Just cut Heir of the Wilds for Deathcap Cultivator .
I still have other things I can suggest but I'd like to see what you think of what I said before continuing.
2 years ago
Actually when I started brainstorming for this deck Wrangler was one of the cards I considered! So when I was piecing this together I wanted to have a solid playset of 2 drops to give me plays during the games I don't have a t1 dork. The three I considered were Kronch Wrangler , Heir of the Wilds , and Frost Walker . My very first iteration of this deck ran 4 Frost Walker and 4 Kronch Wrangler, a 2 drop P4 critter synergized well with Wrangler and kept my pressure up. However, Walker has alot of issues. It has basically 0 use on defense, can't be buffed by Scions or TBR, and cant be effectively protected by Stubborn Denial. Wrangler is another good card but suffers from AetherVial syndrome. You want to open with it but never want to topdeck it. Heir of the Wilds is just accross the board a phenominal card on offense and defense, and gives me 7 deathtouch bodies to push with Scions and Battle Rage. In fact with Scions he buffs himself and becomes a 5/3 fs/t/dt. The other slot went to Bonecrusher Giant. So much versitility for a 2.5 cmc critter
Load more