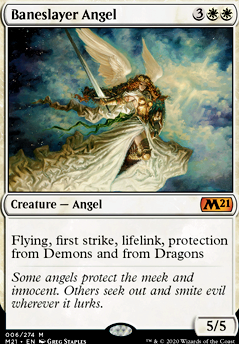 Baneslayer Angel
Creature — Angel
Flying, first strike, lifelink, protection from Demons and from Dragons ((Remember the acronym debt.) This creature can't be damaged, enchanted, equipped, blocked or targeted by Demons or Dragons.)
Latest Decks as Commander
Baneslayer Angel Discussion
1 month ago
Update!
In
Main
Side
Out
Main
Side
4 months ago
Some Angel Suggestions:
Herald of War (should help speed it up)
Linvala, Keeper of Silence hatebear
Baneslayer Angel (always has been one of my favs)
Spike Feeder and Walking Ballista have an infinite life/damage combo with Archangel of thune
Some more card draw and ramp
Nykthos, Shrine to Nyx (you have a lot of triple white)
A good Ramp package that should have you set up well to cast however you want (I use it in my UG list and I can pretty easily Finale of Devastation into a Blightsteel colossus)
Optional
Some Control options
5 months ago
This interaction is due to Baneslayer Angel 's first strike ability. Easy to miss among all those other words!
5 months ago
I was playing on mtga and my opponent attacked in with a 2/2 Hallowed Priest and some big Baneslayer Angel . I blocked his Hallowed Priest with a 1/3 Dawnbringer Cleric thinking that although the angel had lifelink all the damage would happen at the same time and the priest would still be a 2/2 when he hit my cleric. However, mtga showed me the angel hitting my face, lifegain, then the priest bumping up to a 3/3 to kill my cleric. Is this an error with mtga or does damage go sequentially like that? If it does, who decides the order that it goes in? Thanks for answers.
Load more