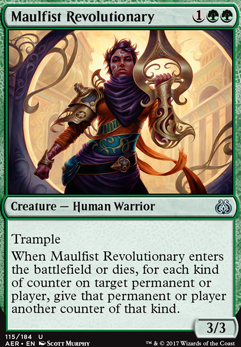 Legality
1 year ago
I like how the guy above this comment just casually strolls in and tells you to put in a bunch of moxen...
That said, warriors is one of my favorite tribes and I've made a ton of decks with them! Plus Najeela is such a badass commander! These are my suggestions that you haven't included and could serve as some better synergy with your deck than your non-warriors:
God-Eternal Oketra make huge 4/4 zombie warrior tokens on every warrior cast.
Oketra the True make warrior tokens and acts as a big beater itself.
Oketra's Monument tons and tons of warrior tokens.
Rush of Battle warrior themed overrun that gains you tons of life.
Herald of Anafenza gets bigger and makes warrior tokens at the same time.
Raiders' Spoils probably the best card draw you'll see for warrior tribal.
Gilt-Leaf Ambush elf warrior tokens with sometimes deathtouch.
Hunting Triad elf warrior tokens or modal +1/+1 counters.
Presence of Gond give a creature a tap for elf warrior token ability.
Lovisa Coldeyes more warrior lord buffs!
Obsidian Battle-Axe haste and auto-attach to warriors equipment!
Regna, the Redeemer and Krav, the Unredeemed act as a sac outlet and warrior token generation combo.
Lord Windgrace

deck filtering, color fixing, and generation of a ton of cat warrior tokens
Great Hall of Starnheim gets you a 4/4 angel warrior token in a pinch
Base Camp cheap 5 color land for warriors
Starnheim Unleashed make a ton of 4/4 angel warrior tokens!
Emeria's Call  Flip make angel warrior tokens and give your non-angel warriors indestructible or make it a land
Ascent of the Worthy pretty fun tricks on this.
Firja's Retribution make a 4/4 angel warrior token and give angels destroy and double strike.
Battle for Bretagard make warrior tokens, then make copies.
1 year ago
Last_Laugh I see you did some quick math.
So, since you are playing Sultai, some reanimation strategies and their creatures are really useful. Reanimate and Exhume are the best in the game, alongside Animate Dead and friends. The reason why these are good is because if you manage to reanimate a big threat quickly and start cloning those threats, even if the threat is removed you probably have a million copies of it.
Grave Titan is powerful, with the potential to end games by itself if left unchecked. If you have lots of copies, however, you could win in 2-3 turns easy.
Ulamog, the Ceaseless Hunger's mill ability is very strong, even in commander. A few clones and you got the game in the bag.
Baleful Force and similar cards are very good, giving you lots of card advantage.
Sower of Temptation just gets really mean with clones. (At the same time, it gets impossible to track who stole what, or, more accurately, what stole what. Now, where's my hat?)
Cloning a Gray Merchant of Asphodel will close a game.
Avatar of Woe can prevent your opponents from playing magic, and good ol' Blightsteel Colossus is going to lose you all your friends plus one.
Gilder Bairn, Maulfist Revolutionary and proliferate cards are very good with counters, getting scary quick. Heroes' Bane is such a cool card, and it's always funny seeing someone grow their hydra into mega thicc mode. I did this, and ran out of dice. I borrowed the store's dice, but they ran out too.
Finally, Branching Evolution and Primal Vigor are must removes.
Based on the comments above, I'm sure the deck will turn out to be very good, and you might even lose a friend or two when playing magic!
4 years ago
This looks like my jam. I read your blog post about having a hard time finding an archetype for UW and UG.
Turns out in Core2019 UW has an artifacts draft theme, also worth noting, Dominaria's "historic" draft archetype was also UW. Maybe there's something to that, since all artifacts are historic spells.
Have you considered counters to be a UG thing? Between energy, charge counters, proliferate, and fabricate there might be a definite deck here. Maulfist Revolutionary and Skyship Plunderer would be really cool here.
Load more