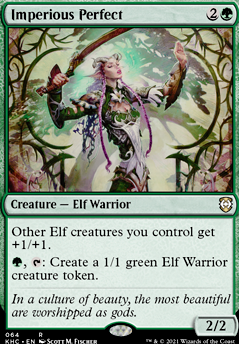 Imperious Perfect
Creature — Elf Warrior
Other Elf creatures you control get +1/+1.
, : Create a 1/1 green Elf Warrior creature token.
Browse Alters
View at Gatherer
Trade
Tokens
Legality
| | |
| --- | --- |
| Format | Legality |
| 1v1 Commander | Legal |
| Arena | Legal |
| Block Constructed | Legal |
| Canadian Highlander | Legal |
| Casual | Legal |
| Casual | Legal |
| Commander / EDH | Legal |
| Custom | Legal |
| Duel Commander | Legal |
| Gladiator | Legal |
| Highlander | Legal |
| Historic | Legal |
| Legacy | Legal |
| Leviathan | Legal |
| Limited | Legal |
| Modern | Legal |
| Oathbreaker | Legal |
| Tiny Leaders | Legal |
| Unformat | Legal |
| Vintage | Legal |
Imperious Perfect occurrence in decks from the last year
Rules Q&A
Imperious Perfect Discussion
3 weeks ago
I like how the guy above this comment just casually strolls in and tells you to put in a bunch of moxen...
That said, warriors is one of my favorite tribes and I've made a ton of decks with them! Plus Najeela is such a badass commander! These are my suggestions that you haven't included and could serve as some better synergy with your deck than your non-warriors:
God-Eternal Oketra make huge 4/4 zombie warrior tokens on every warrior cast.
Oketra the True make warrior tokens and acts as a big beater itself.
Oketra's Monument tons and tons of warrior tokens.
Rush of Battle warrior themed overrun that gains you tons of life.
Herald of Anafenza gets bigger and makes warrior tokens at the same time.
Raiders' Spoils probably the best card draw you'll see for warrior tribal.
Gilt-Leaf Ambush elf warrior tokens with sometimes deathtouch.
Hunting Triad elf warrior tokens or modal +1/+1 counters.
Presence of Gond give a creature a tap for elf warrior token ability.
Lovisa Coldeyes more warrior lord buffs!
Obsidian Battle-Axe haste and auto-attach to warriors equipment!
Regna, the Redeemer and Krav, the Unredeemed act as a sac outlet and warrior token generation combo.
Lord Windgrace

deck filtering, color fixing, and generation of a ton of cat warrior tokens
Great Hall of Starnheim gets you a 4/4 angel warrior token in a pinch
Base Camp cheap 5 color land for warriors
Starnheim Unleashed make a ton of 4/4 angel warrior tokens!
Emeria's Call  Flip make angel warrior tokens and give your non-angel warriors indestructible or make it a land
Ascent of the Worthy pretty fun tricks on this.
Firja's Retribution make a 4/4 angel warrior token and give angels destroy and double strike.
Battle for Bretagard make warrior tokens, then make copies.
2 months ago
There are a few cards making very little sense to me:
Primal Amulet - Right now you're running 4 instants & sorceries.

Library of Leng - Are you drawing that much? Is your meta that full of discard? Reliquary Tower would be a better fit unless your meta is really heavy on discard.

Grinding Station - You're playing few artifacts. I think I counted 13. Might be wrong though. Still, most of those artifacts are stuff you don't want to sac.

Tower Above + Bequeathal - Your commander gives shroud to most of your creatures. You don't want to target them 99.9% of the time. Considering your commander and the fact that people will try to get rid of it asap I might go with Myth Unbound.

Most of the lands coming into play tapped. Most of them are subpar.

Adaptive Automaton - Elves have more than enough lords. No need for a non-green creature.

Allosaurus Rider - Although I'm not against this card per se, I think you'll need to play more stuff to make it work. Blighted Woodland and Myriad Landscape + Kodama's Reach and whichever other mana ramp you can add to the deck.

Beast of Burden - There are elves that do this. Heedless One, Jagged-Scar Archers and Drove of Elves (which you're playing) are elves and they get shroud from the commander. The 1st has trample, the 2nd kills fliers and the 3rd has hexproof which is good when your commander is out.

Bloom Tender - This card belongs in multicolored decks. Preferably 3 or more colors. You have several elves that tap for G, costing 1 cmc. At 2 cmc you'll prefer Priest of Titania.

Fangren Marauder - High CMC, triggers on artifacts destroyed only and does something that comes natural to elves: lifegain. Wellwisher is way better.

Llanowar Mentor - You're not playing madness, I don't see anything to abuse cards from your grave... Freyalise, Llanowar's Fury is way better.

Mishra's Self-Replicator - Feeds Grinding Station, I know. Still, not that good, I believe.

Scattershot Archer - Unless you're seeing lots of x/1 fliers on your meta, this is pointless. Hurricane, Tornado Elemental, Whirlwind and so many other cards are better.

Shaman of Spring - Masked Admirers does the same, has the same cmc and is repeatable.

Silhana Wayfinder - I'd prefer Wood Elves.

Spire Tracer - Meh.

Weatherseed Elf - Might work if you find a way of turning your non-green opponents lands into forests. My fav way is Deepwood Elder.
Some cards you might consider:
3 months ago
I agree with some of the cuts you already did that were suggested by abby315 and Keqing420. I also think you don't need Elvish Champion instead of Ezuri, Renegade Leader. I believe Ezuri is more reliably going to finish games over the champion. Beast Whisperer is part of the deck's card advantage and card playing engine so should stay in the deck without a big overhaul of the deck. Besides being a replacement for Glimpse of Nature in the deck since glimpse isnt Modern legal.
Some more cuts I feel could happen are; Deleting Elvish Promenade. Both Collected Company or Chord of Calling would be better in this deck than the promenade. I understand that the copies of Primal Surge fulfills what either of those might provide for this deck. But they are both way better than the promenade because they can get you your combo pieces. I would consider replacing it maybe with Turntimber Symbiosis  Flip if you don't want to play either CoCo or Chord. Partly due to the fact it still puts brakes on your Surges and can serve as a land in a pinch. (Way not needed, I know). It gets more utility elves out like Coco and Chord so would make your gameplay more consistent. Or maybe Lead the Stampede instead?
I also agree that I would also cut the Fauna Shaman until you can get Craterhoof Behemoth. Without the behemoth, you just dont need anything else that badly to tutor up you won't be able to find with surge or your draw engine.
Also, I don't see any value from the copies of Elvish Clancaller. Your deck is more combo and going wide than needing anthem effects. It's activated ability costs way too much for just getting another clancaller. I would cut all 4 and see if your decks suffers at all. Or leave the fauna shamans and promenades and just cut those. Or replace them with copies of Elvish Champion even.
You also dont need anything in your maybe board except maybe Imperious Perfect. Though I would treat that as a slightly better card than the clancallers and wouldnt put them in the deck either. Helix Pinnacle is just picking a different win condition than the Ezuri/possible behemoth route. Metallic Mimic actually provides nothing the deck needs at all.
3 months ago
To make cuts, you'll need to pick a lategame plan. In theory, the strength of Elves is that you can snowball a bunch of small creatures which works for an aggro plan without much assistance, and those small creatures also contribute to a combo turn.
Right now you have several lategame payoffs: Ezuri, Renegade Leader; Primal Surge; Elvish Promenade; and Joraga Warcaller. Though you're a combo deck, you also have a few random tribal beatdown cards in Steel Leaf Champion and Elvish Clancaller that don't really fit with your main plan.
You should pick one top-end thing that you want to do and cut the rest. In most modern elf decks that's Craterhoof Behemoth or Ezuri. My suggestion is to cut every lategame piece except for Ezuri and Joraga Warcaller, and maybe add a Craterhoof or keep one Primal Surge (but just one so you can ensure you hit the whole deck). I would also shave Beast Whisperer to 2x.
The following cards I think are too slow or non-impactful for Modern: Imperious Perfect, Steel Leaf Champion, Marwyn, the Nurturer, Elvish Visionary. I also think Fauna Shaman is much worse if you aren't running Craterhoof.
That'd be my starting point for cuts. You can always look at other modern Elf decks for inspiration. GLHF!
6 months ago
You might like these: Flurry of Wings, Glare of Subdual, God-Pharaoh's Statue, Storage Matrix, Uba Mask, Tomorrow, Azami's Familiar, Mimic Vat, Proteus Staff, Empowered Autogenerator, Coalition Relic, Thraben Doomsayer, Imperious Perfect, Pride Sovereign, Steward of Solidarity, Selesnya Evangel, Mangara of Corondor (untap him while the ability is on the stack to use the ability multiple times before the effect resolves!)
7 months ago
First, play whatever cards you want or feel like. Your deck, your gameplay, and Have Fun!
The following are all friendly suggestions not in any way meant as criticism of your deck. But the singleton thing should get stopped. Figure out which elves work best for your local metagame and the decks you play against. Then go to 2 or 4 copies each of them. Cut the situational cards and put them in the sideboard for game 2 or remove them entirely. I would also follow abby315's list of suggestions and his suggestion of ditching weak pump spells and replace them with the various lords or creatures with a pump capability like others have suggested. Here is a list of cards that may be decent replacements or adds to your deck:
Ezuri, Renegade Leader is probably one of the better elf cards for aggro elves. Provides Regeneration for any other elves you have and Overrun at will. I would go to a 2 count
Imperious Perfect: Replace Wirewood Hivemaster with this card. The hivemaster produces insects so they wont bonus from your anthem/lord effects. Is not legendary so you can have up to 4 copies. Besides pumping all your other elves, they even produce them every turn. Worth 2-4 copies.
Reclamation Sage: Replace Deconstruct with this, maybe go to 2 copies main deck. But if the deck is for 1 on 1 put them in the sideboard for game 2.
Dwynen, Gilt-Leaf Daen: Replace Stream of Life with this guy, go to 2 copies of this maybe
Loxodon Warhammer, Rancor or anything like them: Replace your instants that boost creatures with permanents like these or similar instead. Or if you are going to have a combat trick in your hand then make it something like Overwhelming Stampede, Wrap in Vigor or Heroic Intervention like abby315 suggested. If it's not a permanent you want a card that is going to change the game state dramatically not just boost 1 creature for 1 turn. Remember, if you have a card like Ezuri, Renegade Leader or your Timberwatch Elf you can activate his ability at instant speed which surprises people if they lose track of what you have in play.
Return of the Wildspeaker: An example of a go big instant instead of cards like Giant Growth. Replace any instant you have with this card. Its modal to refill your hand or giant growth all of your elves. At instant speed.
Beast Within: If you want instant speed removal, use a catch-all card like this instead of 1 card for artifacts, 1 card for creatures, etc. It doesnt need to be this card specifcally but one that targets any permanent at instant speed. And run at least 2 copies of it main deck to always have an answer in your deck for your opponent's stuff.
Lifecrafter's Bestiary: Replace wurm's tooth with a copy of this card instead. It will accelerate your deck. 2 copies wouldnt hurt.

Some good utlity cards:
Bow of Nylea: Excellent all around support card. Does many things but the big one is giving your elves deathtouch so even when you attack with them when they are tiny, they kill stuff. All the other utility is amazing value.
Leyline of Abundance: Another mana ramp/anthem/lord option that has a chance of getting put into play on turn 1.
Nullmage Shepherd: This card is like repeatable Naturalize. Sometimes holding an instant in your hand is better, but sometimes repeatable wins games.
Titania's Chosen: Replace stuff like Wurm's tooth or Nomadic Elf, Norwood Ranger with cards like this or some of your other better creatures you should be running more copies of.
Masked Admirers: Another good elf creature that provides a repeatable benefit that can be used to replace other cards you arent thrilled about.
Creeping Renaissance: Following someone wiping the table, this card or Fresh Meat can get you right back into the game.

Planeswalker suggestions. Because they are resistant to removal and can add a lot to a game if it goes long. Multiple repeatable abilities are strong. They are expensive, and I would try to trade for them if possible. If interested:
Freyalise, Llanowar's Fury: She makes llanowar elves! And she basically does all the things in Green's pie. Makes lots of elves, destroys artifacts and enchantments at will and draws cards.
Nissa, Who Shakes the World: Not on theme for elves, but she is so strong that I would feel lame not mentioning it for a mono green deck. Her static ramps you crazy style and her ultimate can finish games.
Nissa Revane: Basically, her ultimate would put all 24 of your elves into play in one turn. If you do want to put copies of her in your deck, I would also suggest replacing some other elves with 4 copies of Nissa's Chosen for added value.
Vivien Reid: This is a well-balanced walker for any green deck. Built in card advantage, removal and flyer killing, and then her ultimate is an emblem better than almost any other lord/anthem effect you can put in the deck.
Garruk Wildspeaker: My lowest choice for the list, but he plays early and produces creatures.
Land Suggestions. You may not need them, being mono-green doesnt mean there arent a couple good lands for your deck:
Oran-Rief, the Vastwood: While this is in play, most every creature you cast will get a counter. Basically a free boost for a little tempo loss.
Rogue's Passage: Does what it says, sometimes you only need 1 more hit to win. And it taps for some mana.
Pendelhaven: As long as this is untapped, a shock spell wont kill an elf! Kind of situational but useful.
Treetop Village: A forest that's also a 3/3 creature when you need it.

Again, these are just ideas to get you thinking about ways to improve your deck. The most important thing is to focus on what you want to do with the deck. Then get 4 copies of every card in your deck that makes that happen. Everything else after that should provide support, advantage or acceleration for those main cards.
11 months ago
Hey, saw your post on reddit and couldn't help but check it out. I love me some elfball, so here's what I've got for you. Everything is of course my opinion and to be taken with ample helpings of salt. Hope it helps!
Lands: Mosswort Bridge is a trap, though I haven't tried it in elves yet. Reliquary Tower is a trap, when you fire off in an elfball deck you can usually cast what you draw. I'm okay with your tapped cycling lands bc they cycle, so that's fine, and Oran-Rief, the Vastwood is sneaky good. It's the only tapland I tend to run. Your best land by far is Nykthos, Shrine to Nyx and the best way to get it is Crop Rotation. When you already have it, you'll want to use it for an instant-speed Wasteland/Strip Mine or Wirewood Lodge. I don't usually run Ancient Tomb in elves but there's nothing saying you can't, and it helps when you have plenty of things with generic costs, as you do, along with some lifegain.
Potential Cuts and Swaps: Harmonize out, Growing Rites of Itlimoc  Flip in: Harmonize is a classic, but Growing Rites never disappoints. Even if it whiffs, you probably have a gaea's cradle at end of turn.
Overwhelming Stampede out, Finale of Devastation in: You already have the Ibex, and the Finale is far more versatile than the Stampede can ever be. Can grab all sorts of things instead of being a single pump and dump. Considering it could double Marwyn's mana output for a turn could earn its keep, though.
Wrap in Vigor out, Heroic Intervention in: Strict upgrade, figured I'd mention it.
Wellwisher out, Essence Warden in: Incidental lifegain, if you want to use it, might be more reliable than being able to tap the Wellwisher for its effect reliably. Also, the Warden triggers on all creatures, including opponents.
Reliquary Tower out, Thousand-Year Elixir in: This is pretty sweet and you need fewer lands than you think you do.
Desert of the Indomitable out, Veil of Summer in: This card is just too good. Also, 33 lands is too many (I know, but you'd be surprised!) and this one ETB taps AND cycles for 2 mana instead of 1, so I'd cut it.
Llanowar Tribe out, Wirewood Channeler in: I've never liked the tribe, it always seems clunky, and in your list specifically it is competing with Marwyn at the 3CMC slot.
Doubling Season out, Asceticism in: I'm not sold on Doubling Season here, honestly, as Hardened Scales could serve the same purpose in most cases regarding the way this deck puts +1/+1 counters on things one at a time (mostly). If you REALLY want to lean in on the token doubling from Lys Alana Huntmaster, Elvish Promenade, and Imperious Perfect then it might could stay.
Genesis Wave out, Kindred Summons in: This counts tokens...it is ridiculous and casting it when you only have 3 or 4 elves out still feels great, whereas if you flip Praetor's Counsel with a nasty Genesis Wave you're a sad panda.
Dwynen's Elite needs a home here, its 2 mana for 2 counters on Marwyn, among other benefits. Not sure on what to pull out, but I've never been a big fan of Dwynen, Gilt-Leaf Daen herself, really. You don't want to stack too deep on lord effects when its so easy to tutor them out or draw them for an explosive growth instead.
The last thing I will note, is that any non-Elf REALLY needs to earn its keep. Each and every elf in your list makes it stronger, be it with more mana, more tokens, more counters, all of those things.
The reddit thread has some great recommendations on cards to check out as well, so you've got a lot to sift through. Good base though!
Rhys Up is my current GB list, there might be some ideas for you in the main and maybe boards. The deck is mostly green but plays my favorite black stuff, and most of the cost difference between these two lists lies in the manabase.
Load more