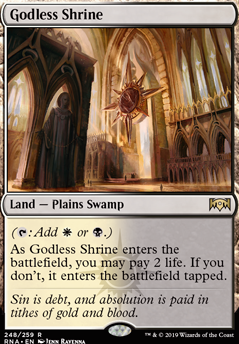 Godless Shrine
Land — Plains Swamp
(: Gain or .)
As Godless Shrine enters the battlefield, you may pay 2 life. If you don't, Godless Shrine enters the battlefield tapped.
Browse Alters
View at Gatherer
Trade
Have (5)
CompleteWaste ,

A

z

d

r

a

n

a

x

,

T

h

e

A

n

n

i

h

i

l

a

t

o

r

, gildan_bladeborn ,

F

o

r

k

b

e

a

r

d

Want (17)
invalidscreenname , Urbanizer , Corruptions_Desire , gardyourself , Volchonok ,

m

e

t

a

l

m

a

g

i

c

, necroman1313 , SniperCego666 , OziDeck , ByDes19n , Darui , Orzhov202 , DowlingxA , niot5 , Satwire , KillKid20095 , pksword1
Legality
| | |
| --- | --- |
| Format | Legality |
| Historic | Legal |
| Unformat | Legal |
| Casual | Legal |
| Vintage | Legal |
| Limited | Legal |
| Duel Commander | Legal |
| Modern | Legal |
| 1v1 Commander | Legal |
| Canadian Highlander | Legal |
| Leviathan | Legal |
| Arena | Legal |
| Pioneer | Legal |
| Block Constructed | Legal |
| 2019-10-04 | Legal |
| Oathbreaker | Legal |
| Legacy | Legal |
| Commander / EDH | Legal |
| Highlander | Legal |
| Tiny Leaders | Legal |
Latest Decks as Commander
Godless Shrine Discussion
1 day ago
Assuming you still would like help, here are my thoughts just going off what you already have (so your mainboard and sideboard).
First of all your land situation needs to be sorted out. You have an insanely high average cmc (4.74) so you're going to be looking at about 40 lands without the very pricy ramp cards. 30 lands is in the range that decks with an average of about 2cmc or lower run. Here's a quickly made list of your lands that I'd use:
You almost always want to prioritise lands that can come in untapped over ones that always enter tapped. This is because auto-tapped lands basically set you back a turn, so it's often better to just run a basic over something like Sheltered Thicket. The exception here goes to the Triomes because they offer three colours and more importantly can be picked up by your fetchlands.
As for the rest of your cards, here's what I recommend cutting:
And add in their places, assuming you're running 40 lands:
Hopefully that helps, and let me know if you have any questions! These are just suggestions after a brief runthrough of course, so feel free to take them or leave them!
3 weeks ago
Post reland slivo fetch and shock
Primordial Hydra > Farseek
Reyhan, Last of the Abzan

> Nature's Lore
Arcane Sanctum > Arid Mesa
Darkwater Catacombs > Bloodstained Mire
Opulent Palace > Breeding Pool
Sandsteppe Citadel > Flooded Strand
Skycloud Expanse > Godless Shrine
Sungrass Prairie > Marsh Flats
Vivid Creek > Overgrown Tomb
Vivid Grove > Temple Garden
Vivid Marsh > Watery Grave
Vivid Meadow > Windswept Heath
3 weeks ago
Ahh, thank you so much for taking the time to check out my deck!! I'm working on getting those Shocklands, so far I own a single, sad Godless Shrine, but I do know a friend who's got one or two, and I'm hoping to trade with them for those soon. Creature matchups work out pretty well, and I usually find myself in good blocking/attacking situations. I have noticed that I need more removal, and I've been looking into that lately, so I'll be updating the deck soon with more interaction. Again, thank you so much for acknowledging my request! I hope you have a good day/night/evening/whateverelse!
3 weeks ago
Hey there! Maybe consider some of the following for your manabase
3 weeks ago
Hey there! I think I can help a bit regarding your mana base. Let's take a look at that.
You have 26 lands, out of 100 cards, but your average mana cost is 3.72!!!! Usually you run about 30-32 if your mana cost is even at 2.20, so in my opinion, your deck needs A LOT more lands, and ramp. Let's take a look at lands first!
Lands
Ok, so there are MANY MANY lands you should use that you are missing. Our goal should be for you to include at minimum 33 lands. I understand it will be hard to find cards to take out but trust me- you need at least 33 otherwise it'll be very difficult for your deck to even function. You should include the following.
Shock lands. If you need mana THAT turn, they can come in untapped! If you don't want to take the damage you don't have to, but you'll always have the option to which makes them so good. They can also be used with fetch lands, but more on that later

Fetch Lands! These are pretty much the best lands in magic. You can look for ANY colors you need, if you have the shock lands I just mentioned. The fetch lands can search for the shock lands, allowing you to get WHATEVER COLOR YOU NEED. They can also search for basics which is less helpful but still possible. They can also search for Savai Triome. (They search for anything that has a subtype they specify)

Bloodstained Mire (Budget: Rocky Tar Pit)

Fast lands! These are extremely useful the first couple turns, and they help you set up your board quickly so you can have a good start!

Filter lands! You have the red/white version- but not the rest! Add all three! They can give you any combination of the two colors they supply, which is extremely useful! They are also very cheap with double masters out- so get them soon!

Pain and Horizon Lands! These are AMAZING because you can always rely on them for mana, without worrying if they come in tapped- at the expense of only ONE LIFE. Remember your life is a resource- if you win at 1 life it's the same as winning at 40. Getting good mana is much more important than paying some life.

Sulfurous Springs or [No Card Exists Yet]

Check lands. Now these I would recommend not using, but if you have a budget and you want to improve your manabase, these are much better than what you have now.

Battlebond/C Legends Lands! Some of these aren't out yet, but be sure to get them if you normally play with multiple players!

Vault of Champions (COMES OUT SOON)

Spectator Seating (COMES OUT SOON)

So in the end, these lands are VERY VERY VERY helpful and make your manabase much faster. There are also a BUNCH of single lands that are even better than some of these! Try to include as many as you can of the following:

So again, I would try to include many of these, and trust me- aim to have 33-35 lands in your deck. A lot of your lands come in tapped- slowing you down and making your manabase worse. Take those out. A couple lands could be replaced with better things. (Temple of the False God for Ancient Tomb). Take those out. You also have some good lands that don't relate to your deck. I get Boseiju, Who Shelters All and Eiganjo Castle (Etc) are cool, but they don't really make sense in your deck, and could be replaced with cards I mentioned before. To make a good deck you need a good mana base, and I recommend making that mana base, and definitely adding more lands in general.
If this helps be sure to check out and support some of my decks like Double Trouble EDH and A Deal With the Devil EDH! if you have any questions about what I wrote, want more help, or want some ideas, feel free to ask me on my wall or just tag me here, I'd love to help! Anyways, I hope this helps, good luck on your deck, and have a great day!!! Happy tapping!
4 weeks ago
Now it's just a matter of streamlining and optimizing the deck. Crypt Incursion is good for sideboard. Not every deck benefits from graveyard so you're not gaining value every match besides gaining life. I would swap those for 2 removal cards, I've already gave you some examples of those on my first comment.
I would drop Sorin for another Archfiend. Sorin is very costly, enters late and the effects aren't that amazing for the time it enters imo. The first one is very good for you, but again, it comes in late game. Archfiend is 1 mana cheaper, you can attack with it and controls the board of your opponents. Grim Tutor is cheaper than Diabolic Tutor, and the 3 life loss isnt that much of a concern to you. I will send you a list by PM of other cards that might be good here. Also, don't forget to keep stacking dual lands as much as you can: Godless Shrine, Isolated Chapel, Caves of Koilos and Fetid Heath
1 month ago
Nice deck and nice story! +1 from me!
I think your deck could use a little upgrade on the land section. The average mana cost for your deck and the number of lands don't really seem to fit, so I would recommend changing some of the lands you have now, and adding around 2-3. Here are some options I would recommend.
Fast Lands:
Pain lands:
Dual Fetch Lands: (They can search for shock lands like Godless Shrine)
Filter Lands
Battlebond/Commander Legends Lands
Single Lands

In my opinion, you could cut all the temples but those could stay and be effective. You don't run enough artifacts for Spire of Industry or Buried Ruinto work the majority of the time so that should go too. Path of Ancestry should DEFINITELY go, you don't run enough creatures for it to be good, Mistveil Plains could be replaced with something beter that I mentioned, and the same goes for Scavenger Grounds, Temple of the False God, and Nomad Outpost.

In the end you don't have to listen to any of these suggestions, but I would certainly add some of the ones I mentioned and include around 33-35 lands instead, due to your average mana cost. If this helps be sure to check out some of my decks, like Double Trouble EDH and A Deal With the Devil EDH, I would appreciate feedback if you can! Anyways though hope this helps good luck on your deck an have a great day! happy tapping!
Load more