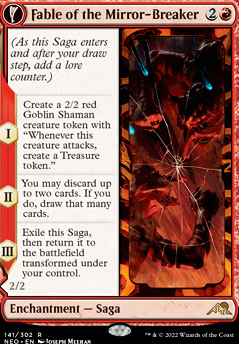 Back:
Reflection of Kiki-Jiki
Flip
Tokens
Legality
Fable of the Mirror-Breaker
Enchantment — Saga
(As this Saga enters the battlefield and after your draw step, put a lore counter on this and activate and/or enable the ability of the saga tied to the required number of counters.)
— Create a 2/2 red Goblin Shaman creature token with "Whenever this creature attacks, create a Treasure token."
— You may discard up to two cards. If you do, draw that many cards.
— Exile this Saga, then return this to the battlefield transformed under your control.