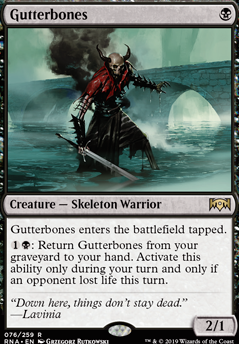 Gutterbones
Creature — Skeleton Warrior
Gutterbones enters the battlefield tapped.
: Return Gutterbones from your graveyard to your hand. Activate this ability only if an opponent lost life this turn.
Browse Alters
View at Gatherer
Trade
Legality
| | |
| --- | --- |
| Format | Legality |
| Historic | Legal |
| Limited | Legal |
| Pioneer | Legal |
| 1v1 Commander | Legal |
| Block Constructed | Legal |
| Highlander | Legal |
| Modern | Legal |
| Duel Commander | Legal |
| 2019-10-04 | Legal |
| Legacy | Legal |
| Leviathan | Legal |
| Vintage | Legal |
| Unformat | Legal |
| Tiny Leaders | Legal |
| Oathbreaker | Legal |
| Canadian Highlander | Legal |
| Casual | Legal |
| Arena | Legal |
| Commander / EDH | Legal |
Latest Decks as Commander
Gutterbones Discussion
1 month ago
Hi Shayda!!!
Dude those dragons are doing so well (when no one wipes them)!
Did you want a similar deck? 'Cuz that's what you've got here... but I think you should lean into go-wide-aggro > midrange and play more 1-2 cmc creatures and move all your ramp to 2 (Rampant Growth, signets, etc).
I'd also recommend Golgari Charm, Boros Charm, and Heroic Intervention.
Tribal decks have so much flavor! Hope this helps, maybe we'll see it next weekend? :o
2 months ago
I am not sure how much you want this deck to look like the meta yawgmoth deck, but if you're trying to get sacrifice value, the full suite of undying creatures (Young Wolf, Strangleroot Geist, and Geralf's Messenger) are all really good. I can understand that that would put a lot of pressure on your Mana base, but undying creatures are really good sacrifice value. I may be partial though because I really like undying creatures. If you don't like that route, I'd recommend running cards like Nether Traitor, Gravecrawler, Gutterbones, or even Bloodsoaked Champion. Another card that seems good here would be Bitterblossom/Dreadhorde Invasion if you are worried about cards like Path to Exile or graveyard hate. Hope this was helpful.
2 months ago
Replacements.
So what you've made is a deck called an aristocrats deck name after an old deck that used Falkenrath Aristocrat to sacrifice creatures for some benefit like drawing cards. So if you replace your mana intensive cards (meaning they need a lot of mana to use) you can make this faster and more annoying for your opponents.
What I suggest is take some of the things you want to die and replace them with Reassembling Skeletons or Gutterbones and cards like that. Get yourself a repeatable sacrifice outlet Viscera Seer and something that wants things to die like Blood Artist and Zulaport Cutthroat.
Another cool card is Open the Graves which turns small things into bigger token cards.
4 months ago
Hi there!
A few suggestions to improve your list:
Hope that helps.
Good luck brewing.
Load more