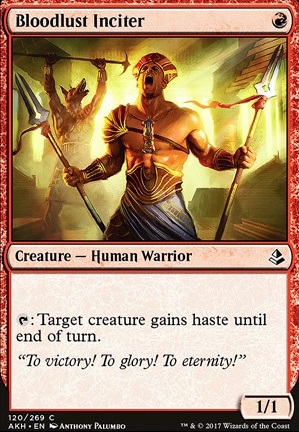 Bloodlust Inciter
Creature — Human Warrior
Tap: Target creature gains haste until end of turn.
Browse Alters
View at Gatherer
Legality
| | |
| --- | --- |
| Format | Legality |
| Modern | Legal |
| Pauper EDH | Legal |
| Pauper | Legal |
| Oathbreaker | Legal |
| Limited | Legal |
| Casual | Legal |
| Block Constructed | Legal |
| Pioneer | Legal |
| Tiny Leaders | Legal |
| Historic | Legal |
| Canadian Highlander | Legal |
| Leviathan | Legal |
| Commander / EDH | Legal |
| Arena | Legal |
| Unformat | Legal |
| Highlander | Legal |
| Vintage | Legal |
| 1v1 Commander | Legal |
| Legacy | Legal |
| Custom | Legal |
| Duel Commander | Legal |
| 2019-10-04 | Legal |
Bloodlust Inciter occurrence in decks from the last year
Latest Decks as Commander
Bloodlust Inciter Discussion
3 months ago
Hi Shayda!!!
Dude those dragons are doing so well (when no one wipes them)!
Did you want a similar deck? 'Cuz that's what you've got here... but I think you should lean into go-wide-aggro > midrange and play more 1-2 cmc creatures and move all your ramp to 2 (Rampant Growth, signets, etc).
I'd also recommend Golgari Charm, Boros Charm, and Heroic Intervention.
Tribal decks have so much flavor! Hope this helps, maybe we'll see it next weekend? :o
5 months ago
Hey Igoldberg,
Just some creature suggestions that would be fun with Ilharg, the Raze-Boar, I'll keep it to 5 so that it's not too overwhelming but I used this page on scryfall and would recommend looking at it to find other goodies
Breaker of Armies: kills creautes you want dead and makes sure illharg doesn't get blocked and killed
Spawn of Thraxes: easy to keep re-using the enter the battlefield trigger
Dragon Mage: keeps your hand full of goodies to put out
Meteor Golem: on of the few ways a mono-red deck can deal with enchantments and stuff like that, but useful for destroying things in general
Rapacious One: good for getting mana to cast your stuff
You also may want to consider swapping out some small creatures with mana rocks to get your commander out faster and be able to cast big creatures easier
I'm a big fan of haste effects that don't cost mana to use. It makes everything faster because you can cast it out asap and don't need mana to give it haste. Generator Servant and Bloodlust Inciter would be pretty good
1 year ago
Thank you all for the comments! Obviously the commander and deck are very new so expect many changes soon!
Daedalus19876 yes I'm considering adding more, but i don't think I really need too much. Neheb only needs to deal 1 damage for the ability to trigger, and 5 power with trample is enough to get a hit in at my metas' tables anyway. I have 4 buff things at the moment, which now that I say that, feels too low. Though I'd like to point out that double strike is far more important because of the double trigger, meaning twice the cards seen and twice the mana. Any good buff suggestions? Thinking Bloodforged Battle-Axe for starters.
luther wow! I looked at Library of Leng but didn't realize it would make me more mana in that way. I'll have to find room now. I'd appreciate an upvote if you like the deck!
enpc, IAmTheWraith, good discussion on the Eldrazi titans... I'm inclined to agree that Kozilek is the best of the bunch. I will add him soon!
As for the can trip haste enablers.. I'm not sure. They sorta make him cost 1 more mana. I'm debating whether they or stuff like Bloodsworn Steward , Fervor , Anger or Bloodlust Inciter are best... perhaps I will replace anger as I do not like that cards and it's only good if I can dump it before neheb comes out. What do you all think? Can trip that comes after Neheb or static effect that comes before?
2 years ago
Ok, so here is a list of suggestions, and their reasons:
Bushi Tenderfoot. A 1 drop that if you manage to grow with Thalia's Lieutenant becomes monstrous when flipped, giving another huge threat that demands an answer, diversifying your overall list of major threats.
Bloodlust Inciter. If allowed to live, allows for some disgustingly explosive turns in tandem with Aether Vial.
Dauntless Bodyguard. A good sideboard card that would allow you to protect a large Champion of the Parish or Thalia, Guardian of Thraben
Dragonmaster Outcast. Sideboard, never mainboard, but would give you a great answer to control decks and midrange decks if you are struggling.
Empty-Shrine Kannushi. The Etched Champion of Humans if you have Kitesail Freebooter, Mantis Rider, and Noble Hierarch.
If you were to mainboard any of these, I would suggest taking out Militia Bugler. It's expensive, and while it does draw a card, or at worst get rid of 4 dead draws, its a low impact card compared to the rest of the deck.
Load more