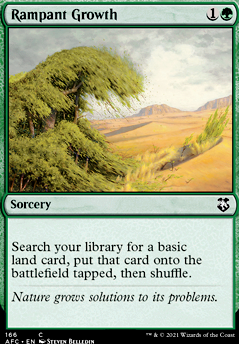 Rampant Growth
Sorcery
Search your library for a basic land card, put that card onto the battlefield tapped, then shuffle your library.
Browse Alters
Trade
Have (6)
Kaladin123 ,

P

T

s

m

i

t

t

y

,

o

r

z

h

o

v

_

i

s

_

r

e

l

a

t

i

v

e

l

y

_

o

k

a

y

8

1

9

, gildan_bladeborn , abritt ,

L

i

t

t

l

e

M

y

Want (6)
tchukerchu , Morpho-peleides , Catastrophic2 , TheOtherRoxas , TrevStar7 , Skullzer7
Legality
Latest Decks as Commander
Rampant Growth Discussion
6 days ago
Hey! Kinda late, but I would like to suggest some stuff:
(Disclaimer: I have a budget way lower than yours, but I've been tinkering with Ghired for almost two years - he's my favorite commander. I'll break the suggested upgrades down into categories for better organization.)
Haste enablers:
Ramp: Run at least 15 ramp cards to make your deck flow smoother and faster.
As an aggressive deck, speed is fundamental. Fellwar Stone, Nature's Lore, Three Visits, Skyshroud Elf, Bloom Tender, Faeburrow Elder, Chromatic Lantern, Coalition Relic, Wood Elves, Skyshroud Claim and Mirari's Wake can ramp and heavily fix your mana, taking the place of Gyre Sage, Solemn Simulacrum, Rampant Growth, Sakura-Tribe Elder and Xenagos, the Reveler - the latter is a win-more ramp, and his 2/2 token is not large enough to synergize with the power-based card draw, while the other four fix for a single color of mana (Ghired decks can sometimes be color-hungry), and this deck can't abuse the sad robot for value.

In the land department, Krosan Verge and Blighted Woodland pull their weight, and synergize greatly with Avenger of Zendikar and Rampaging Baloths. Maybe remove Cascading Cataracts? (Your spells are not THAT color hungry.)
Direct damage:
Extra combats: You don't have to worry about your opponents' answers if they never get to their turn, so...
Boardwipes:
Card draw: Alongside ramp, it is my main concern with Ghired. I want to be able to rebuild my board after a boardwipe.
Some cards I suggest you to remove:
Some cool lands for you to try out: (landbase is my favorite part of deckbuilding)
I hope I've been of some help to you. I didn't suggest many token-related cards because I believe that, as long as you have decent ramp, draw and removal in your deck, you can win to your heart's content. Wanna throw in a Godsire? Do it. Prefer to clone your opponents' creatures with Hate Mirage? Go ahead. But the fundamentals of the deck is what makes it flow consistently. Have fun and smash 'em all (and run Doubling Season for extra fun) ;-)
1 week ago
glhfJKiHax Oh shit I didn't even think to copy my opponents stuff! You're right, it's going in. I'll have to take a look at options tomorrow. Don't think I'm a huge fan of Expedition Map though. It's a bit slow and Thought Vessel isn't there just for the hand size perk, it's also ramp, and one that I think is good in a deck that is already low on artifact ramp due to being landfall based. It's not really worth dipping into with Gretchen as commander because hypothetically, the deck is designed to just start pumping out land after land after land from card draw loops. If I need to search my library for lands to put into my hand, my commander failed to do what she is supposed to do, I think.
I think Nylea's Intervention is too slow as well although I do think Sylvan Scrying is a good option. Not sure what I'd replace, though. I don't think it's more valuable than the other 2-mana ramp spells in my deck, even though they only look for forests; can always tutor forest islands these days and if I can't, then I've ramped to oblivion already. I would for sure take it over Rampant Growth though, and I was considering putting that back in the deck as well, so it's probably my new consideration.
1 week ago
Mana talk:
Minimizing taplands is generally good but expensive (as you know). Plan to eventually replace stuff like the Vivids, snow-duals, and whatever the shorthand for Transguild Promenade is (which, btw, this is twice as slow as a normal tapped land and should 100% be replaced). Yes, even eventually replace the 'gain 1 life' lands that I love :(
I don't know the exact recommended land count. I see as low as 29 (with lots of 0cmc extra expensive cards) and as high as low 40s. I've been targeting 35ish with another 7-8 mana rocks, but I'm not in Green. In Green, you can run 2cmc ramp spells instead of 2cmc mana rocks. like Rampant Growth, Sakura-Tribe Elder, and Farseek.
With all of your land-tutor creatures, make sure you have enough targets. Since you're Chulane, erring on more lands overall might be better?
2 mana rocks like Azorius Signet and Arcane Signet are going be substantially stronger than 3cmc stuff like Selesnya Locket.
Cheatsheet and hyperlinks:
Shocklands: https://mtg.fandom.com/wiki/Shock_land
Fetchlands: https://mtg.fandom.com/wiki/Fetch_land
Filterlands: https://mtg.fandom.com/wiki/Filter_land
Checklands: https://mtg.fandom.com/wiki/Check_land
1 week ago
You may consider getting that mana-base up to 30 or 32. It will really help keep you from having to mulligan too often and have your commander within reasonable reach with not too much ramp. That being said if you don't want to add the lands, I would add some ramp options like Rampant Growth or Kodama's Reach and maybe some of the Signet or Talisman artifacts or you may find yourself floundering for mana more often than you would like.
2 weeks ago
Hey, nice version with a really high budget. Is this really version 60 of your deck?
Your deck currently doesn't have a Commander. In the deck editor remove The Ur-Dragon from the sideboard and put it main deck, then add the CMDR tag to the end of The Ur-Dragon text.
1x The Ur-Dragon *CMDR*

When you save and return to the decklist The Ur-Dragon will show as the Commander with it's card image and own Commander category.
---
The manabase here is really powerful except Temple of the False God and the 10 Scry lands look out of place compared to all other lands. Ancient Tomb could replace Temple, Exotic Orchard, some Fetch lands and/or Shock lands and/or Bond lands could replace the Scry lands. Arcane Signet is a staple mana rock for five colors and it could replace Rampant Growth. Dragons like to attack thus consider adding some repeatable even infinite attack combos that use Dragons?
Gnawbone could replace Ramos, Dragon Engine and Assault could replace Wild Pair.
Good luck with your deck.
2 weeks ago
Hey, well done with your budget version of First.
Some budget upgrades to consider:
Arcane Signet is a staple mana rock in Commander and especially good when playing five colors. Profane Tutor is a budget tutor that has interaction with cascade because it's CMC is 0. Patriarch's Bidding is quick recovery from a board wipe by reanimating all Slivers in your graveyard. Vivien, Champion of the Wilds is another flash effect for Slivers and it has other uses too since playing lots of creatures.
What makes Farseek a good ramp spell is when it can search for a dual land that has two or more basic land types such as Cinder Glade. If all you have is a basic land that Farseek can search for then it's subpar ramp, worse than Rampant Growth. Tango lands: Cinder Glade, Canopy Vista, Prairie Stream, Sunken Hollow, Smoldering Marsh are budget and Farseek can search for one of them.
Shadow Sliver is a budget Shifting Sliver and since you have Shifting you don't also need Shadow. Not being able to block with Slivers can be a problem, not able to defend against opponents swingback. Spinneret Sliver is a just a worse effect then giving all Slivers flying.
2 weeks ago
If you're looking to speed the deck up, I'd consider adding: Elves of Deep Shadow, Birds of Paradise, Wild Growth, Utopia Sprawl, Boreal Druid, Elvish Pioneer and the all-mighty Deathrite Shaman. For those, I'd look at cutting: Kodama's Reach, Rampant Growth, Elfhame Druid, Farhaven Elf, Jaspera Sentinel, Llanowar Visionary, and Springbloom Druid. Selvala, Heart of the Wilds is an amazing card, just not sure if it belongs here, maybe replace it with Elvish Guidance. There's also always Heritage Druid,
And hey, if you've got a Gaea's Cradle, Crop Rotation is a must (and its slower cousin, Sylvan Scrying, which also makes Nykthos, Shrine to Nyx a good add. More ($$$$) lands to consider would be: Cavern of Souls and Yavimaya Hollow. Other utility lands you might want to check out would be: Emergence Zone, Nurturing Peatland, Castle Garenbrig, and Wirewood Lodge.
If you've got the funds and are looking to get those last few % points in your ramp package, take a look at: Carpet of Flowers and Jeweled Lotus.
For card advantage, yeah I agree that Glimpse of Nature and Oakhame Adversary are good options, along with Sylvan Library, Necropotence, and Dark Confidant if you've got the $$ and looking to get as close to 100% as possible. Regal Force is a non-elf that's essential in elf decks. Some other options would be: Pact of the Serpent and Elvish Visionary. In terms of tutors, definitely consider: Chord of Calling, Eldritch Evolution, and maybe even Woodland Bellower and Fauna Shaman. Decks closer to CEDH would probably include: Vampiric Tutor, Diabolic Intent, and Survival of the Fittest. Also, Eternal Witness might be too good to not include, along with Noxious Revival. Patriarch's Bidding is a cheaper Haunting Voyage.
Card advantage cards you could consider cutting would be: Twinblade Assassins and Silhana Wayfinder.
In terms of removal, I think you'd want: Assassin's Trophy, Abrupt Decay, Nature's Claim and/or Force of Vigor, and Deadly Rollick. I also like Golgari Charm in more casual metas.
For elf synergy, along with Elvish Champion, I'd take a look at: Ezuri, Renegade Leader, Immaculate Magistrate
For utility, consider: Autumn's Veil, Veil of Summer, Vitalize, and the non-elves Scryb Ranger and Temur Sabertooth. Concordant Crossroads seems really good with Lathril too.
Hope this helps! Happy brewing
Load more