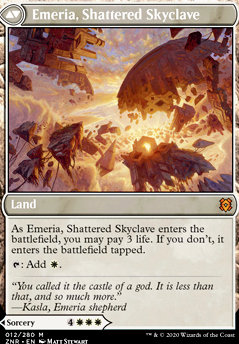 Back:
Emeria's Call
Flip
Emeria, Shattered Skyclave
Land
As Emeria, Shattered Skyclave enters the battlefield, you may pay 3 life. If you don't, it enters the battlefield tapped.
: Gain .
Latest Decks as Commander
Emeria, Shattered Skyclave Discussion
9 months ago
What i really need for this deck is 3 drop removal better than Oblivion Ring. Grasp of Fate is strictly better but not modern. Banisher Priest and Fiend Hunter die easily to removal. I hope some day a set will bring something printed on an Angel
Kind Regards -Drcfan
11 months ago
Plans for updating the mana base to a alternative mana base version:
New Mana base:
Old Mana Base
What changes:
I can not consider any more lands that come into play tapped, i have 3 now which is already brutal
11 months ago
Emeria, Shattered Skyclave does not have a flip link to see the backside. Not here in this thread with a cardlink or not when it's shown in a decklist like this one; Don't Kick The Drakes!
I apologize in advance if this is a known issue or already being addressed.