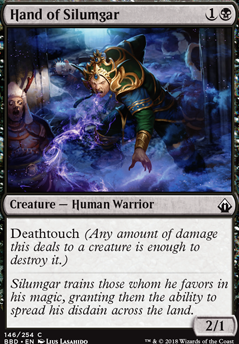 Legality
2 years ago
Hi Shayda!!!
Dude those dragons are doing so well (when no one wipes them)!
Did you want a similar deck? 'Cuz that's what you've got here... but I think you should lean into go-wide-aggro > midrange and play more 1-2 cmc creatures and move all your ramp to 2 (Rampant Growth, signets, etc).
I'd also recommend Golgari Charm, Boros Charm, and Heroic Intervention.
Tribal decks have so much flavor! Hope this helps, maybe we'll see it next weekend? :o
3 years ago
Before answering your questions i forgot the Vampire Nighthawk which is much better than the Deathgaze Cockatrice . Orzhov Enforcer is better than Hand of Silumgar You should add what you feel better with but ill give some suggestions
1) I would put all 4 mana leaks , countersquall is very mana intensive and you dont have the lands to cast it often at the right moment , thought erasure is fine but i think 4 Duress is better . here replace the sidisi pets with Gifted Aetherborn , Opt is cheaper(moneywise) than Serum Visions but the second gives more card advantage , 4 would be recommended from one of those two , I think 2 Read the Bones is enough or Night's Whisper you choose which do you prefer in your playstyle.
2)The advantage is to have always something in your hand to drop(counterspells , creatures...) for 2 mana you draw 2 cards and for 3 you scry 2 to see if you want to draw those 2 cards and then draw.
3)I dont like that card because you're giving a choice , and if they choose one that you dont want at that moment that card wont be worth it , anyway with the artifacts i recommended and mostly of your deck has deathtouch you can remove the creatures from your opponents
3 years ago
for starters you could cut down on creatures like: Aether Poisoner, Child of Night, Daggerdrome Imp, Deathgaze Cockatrice, Farbog Revenant, Feral Abomination, Fetid Imp, Flensermite, Giant Scorpion, Hand of Silumgar, Hired Poisoner, Markov Patrician, Maze Abomination, Moonglove Changeling, Moonglove Winnower, Nirkana Assassin, Queen's Agent, Rancid Rats, Ruin Rat, Scrounger of Souls, Sidisi's Pet, Skittering Heartstopper Vampire Champion and replace others for: Black Cat, Burglar Rat, Cadaver Imp, Liliana's Specter, Ravenous Rats, Twisted Abomination, Gurmag Angler but would compite with Shambling Attendants for the gy. some usefuls spells you might replace or add cound be: Blessing of Leeches, Sadistic Glee, Soul Channeling, Ashes to Ashes, Evincar's Justice, Shred Memory, Dark Bargain, maybe Crypt Incursion. im out of ideas for cards, for now, and you could add more artifact ramp or artifact that can be creatures like Guardian Idol, Wayfarer's Bauble is in every deck i play, Relic of Progenitus and Nihil Spellbomb are always good gy hate.
Load more