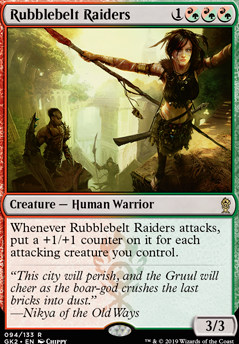 Rubblebelt Raiders
Creature — Human Warrior
Whenever Rubblebelt Raiders attacks, put a +1/+1 counter on it for each attacking creature you control.
Browse Alters
Trade
Legality
| | |
| --- | --- |
| Format | Legality |
| 1v1 Commander | Legal |
| Block Constructed | Legal |
| Canadian Highlander | Legal |
| Commander / EDH | Legal |
| Duel Commander | Legal |
| Highlander | Legal |
| Legacy | Legal |
| Leviathan | Legal |
| Limited | Legal |
| Modern | Legal |
| Oathbreaker | Legal |
| Pioneer | Legal |
| Unformat | Legal |
| Vintage | Legal |
| Casual | Legal |
| Custom | Legal |
| Quest Magic | Legal |
Latest Decks as Commander
Rubblebelt Raiders Discussion
3 months ago
I like how the guy above this comment just casually strolls in and tells you to put in a bunch of moxen...
That said, warriors is one of my favorite tribes and I've made a ton of decks with them! Plus Najeela is such a badass commander! These are my suggestions that you haven't included and could serve as some better synergy with your deck than your non-warriors:
God-Eternal Oketra make huge 4/4 zombie warrior tokens on every warrior cast.
Oketra the True make warrior tokens and acts as a big beater itself.
Oketra's Monument tons and tons of warrior tokens.
Rush of Battle warrior themed overrun that gains you tons of life.
Herald of Anafenza gets bigger and makes warrior tokens at the same time.
Raiders' Spoils probably the best card draw you'll see for warrior tribal.
Gilt-Leaf Ambush elf warrior tokens with sometimes deathtouch.
Hunting Triad elf warrior tokens or modal +1/+1 counters.
Presence of Gond give a creature a tap for elf warrior token ability.
Lovisa Coldeyes more warrior lord buffs!
Obsidian Battle-Axe haste and auto-attach to warriors equipment!
Regna, the Redeemer and Krav, the Unredeemed act as a sac outlet and warrior token generation combo.
Lord Windgrace

deck filtering, color fixing, and generation of a ton of cat warrior tokens
Great Hall of Starnheim gets you a 4/4 angel warrior token in a pinch
Base Camp cheap 5 color land for warriors
Starnheim Unleashed make a ton of 4/4 angel warrior tokens!
Emeria's Call  Flip make angel warrior tokens and give your non-angel warriors indestructible or make it a land
Ascent of the Worthy pretty fun tricks on this.
Firja's Retribution make a 4/4 angel warrior token and give angels destroy and double strike.
Battle for Bretagard make warrior tokens, then make copies.
5 months ago
Seems like a fun deck. Though I feel the draw wincons are not that necessary. Probably best to primarily go for combat victories. Cards I suggest for this are Cathars' Crusade through making your warriors large quickly. Beastmaster Ascension is also a pretty good card to run. When going for infinite combat combo wins, use Derevi, Empyrial Tactician. The combat phase is split into parts and the last part is called the end of combat phase, where you still have priority to do stuff before your creatures are removed from combat. Basically you just use Derevi's ability to untap your lands after your warriors hit and then pay Najeela's ability and keep repeating till you win. I also think you need to be very careful when using Kindred Discovery. It can very easily make you lose if you try going infinite with it up, or otherwise make you hesitant to go infinite and prevent you from winning because of it. You instead use the other combat based draw spells like Reconnaissance Mission, Coastal Piracy, Bident of Thassa and Raiders' Spoils, which also is a combat booster. You shouldn't be running all of them as you have other means of drawing, but at least one or two is good Edric, Spymaster of Trest is also a good choice, though its prone to removal. I also recommend Blood-Chin Rager, Brutal Hordechief and Mindblade Render as they all are very useful for their abilities (menace to all your warriors, making your opponents lose life even quicker, and draw power, albeit a bit limited compared to others). Also, Rubblebelt Raiders is a really good growing warrior.
5 months ago
Ok so it's pretty hard to use an extra 3 man with riku to copy a creature so keeping the curve low seems important.
1 year ago
Crested Craghorn , Flowstone Overseer , Krosan Cloudscraper , Root Elemental , Fanatic of Xenagos sind einfach nicht gut... da gibt es besseres.
Vulshok Sorcerer da bin ich mir unsicher, was du damit willst. Ja, er kann gut sein, wenn jemand viele kleine Sachen spielt, aber sehr häufig ist er auch nutzlos.
Als Faustregel spiele ich immer 8 Mana Artefakte: Gruul Cluestone , Gruul Keyrune , Gruul Locket , Gruul Signet sind günstige Klassiker.
Ich habe noch ein paar Empfehlungen, die alle irgendwie mit Countern synergieren: Bane of Progress , Bow of Nylea , Curse of Predation , Curse of Stalked Prey , Durable Handicraft , Fangren Firstborn , Forgotten Ancient , Jiang Yanggu, Wildcrafter , Krenko, Tin Street Kingpin , Longshot Squad (stellvertretend für alle Kreaturen mit Outlast), Mowu, Loyal Companion , Ravenous Slime , Rishkar, Peema Renegade , Rubblebelt Raiders , Song of Freyalise , Verdurous Gearhulk , Ravager Wurm , Rhythm of the Wild
Hier noch Karten mit etwas höherem Preisschild (aber auch nicht zu hoch): Hardened Scales , Managorger Hydra , Pir, Imaginative Rascal
Vielleicht wäre es auch eine gute Möglichkeit Surrak Dragonclaw als Commander zu nehmen und dir so Zugriff auf Blau zu ermöglichen. Mir ist aufgefallen, dass bei dir eh ein wenig das Ziehen von Karten zu fehlen scheint.. Ansonsten empfehle ich Samut, Voice of Dissent . Ihr weiß kannst du wenn du willst ja auch ignorieren
Load more