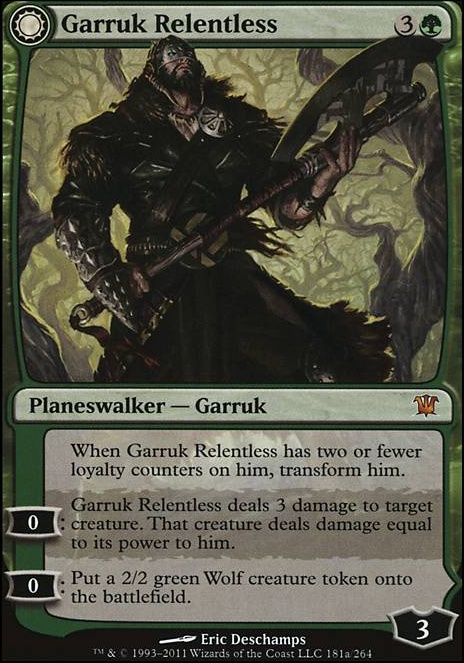 Back:
Garruk, the Veil-Cursed
Garruk Relentless
Legendary Planeswalker — Garruk
When Garruk Relentless has two or fewer loyalty counters on him, transform him.
0: Garruk Relentless deals 3 damage to target creature. That creature deals damage equal to its power to him
0: Create a 2/2 green Wolf creature token.
Browse Alters
Trade
Tokens
Legality
| | |
| --- | --- |
| Format | Legality |
| 1v1 Commander | Legal |
| Block Constructed | Legal |
| Canadian Highlander | Legal |
| Commander / EDH | Legal |
| Duel Commander | Legal |
| Highlander | Legal |
| Legacy | Legal |
| Leviathan | Legal |
| Limited | Legal |
| Modern | Legal |
| Oathbreaker | Legal |
| Unformat | Legal |
| Vintage | Legal |
| Casual | Legal |
| Custom | Legal |
| Quest Magic | Legal |
Garruk Relentless Discussion