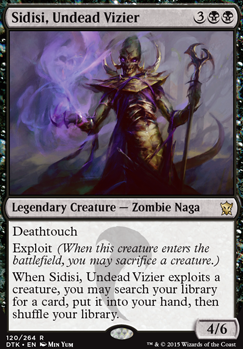 Sidisi, Undead Vizier
Legendary Creature — Zombie Naga
Deathtouch
Exploit (When this creature enters the battlefield, you may sacrifice a creature.)
When Sidisi, Undead Vizier exploits a creature, you may search your library for a card, put it into your hand, then shuffle your library.
Start Commander Deck
Browse Alters
View at Gatherer
Trade
Legality
| | |
| --- | --- |
| Format | Legality |
| Oathbreaker | Legal |
| Unformat | Legal |
| Vintage | Legal |
| Leviathan | Legal |
| Custom | Legal |
| Highlander | Legal |
| Modern | Legal |
| Legacy | Legal |
| 1v1 Commander | Legal |
| Duel Commander | Legal |
| Pioneer | Legal |
| 2019-10-04 | Legal |
| Tiny Leaders | Legal |
| Limited | Legal |
| Block Constructed | Legal |
| Canadian Highlander | Legal |
| Casual | Legal |
| Commander / EDH | Legal |
Sidisi, Undead Vizier occurrence in decks from the last year
Latest Decks as Commander
Sidisi, Undead Vizier Discussion
5 days ago
Changelog (22/11/2020)
White
Blue
Black
Red
Green
Multicolored
Colorless
Mana Fixing
4 weeks ago
I find it no coincidence that the majority of posters freaking out in this thread are primarily casual brewers. I have been thinking and discussing this card with friends since it was spoiled, and I think it is far from the death of competitive, and I urge anyone claiming that to think about the actual decks of competitive edh. I think this card will cause the most damage to casual and high powered jank decks, and its impact on cedh will be limited to a small handful of decks that will run it.
It is obviously a powerful card, but the cedh meta is already full of powerful cards. We should begin by evaluating how the card works and is used
3 of the same color mana, only to be used on commanders. Outside of some niche cases like using the mana for Glissa Sunseeker, the mana will be used to accelerate into commanders.
Commanders with WUBRG costs will benefit the least. Commanders with 1 or 2 colors will benefit the most. This is due to how the colored mana goes into casting costs. For example, Kess, Dissident Mage will only be able to get 2 ramp from it, as the cost only allows 2 of the same colored mana to be used. However, the lotus will work well with commander tax and be fully usable anytime after the first time a commander is cast
If your commander is already in play, drawing a lotus will not advance your game plan in the slightest (this is a very important caveat)
Competitive decks already tend to run commanders low to the ground. Competitive decks also splash harder in 3-5 colors, with 1-2 color decks being less common. You also see quite a few 3 and 4 color partner piles in competitive. Jeweled Lotus has bonus value with double the amount of targets, but once again you are getting lots of waste because the desirable partners are already low CMC to cast. Many will choose to ignore the lotus for their partner piles, most notably Tymna + Thrasios
I firmly believe the biggest splash this will make in competitive is with all-in combo decks and strategies. Having the possibility of a dead draw later in the game if it isn't in your opening 7 is a big turn off for many decks, especially when layering is so heavy and slots are already at a premium. Decks that are all-in don't mind mulliganing to find Jeweled Lotus, and it will do its best work when in the opening 7.
Here is my list of what decks I think will possibly run Jeweled Lotus and why
Jeweled Lotus may see play in other decks as it is the flavor of the month, but I bet that ultimately many competitive builds will abandon the card. Some decks are uniquely positioned to capitalize on the speed of a commander landing sooner, and those decks will really love the card.
The printing of Opposition Agent will likely cause significantly more problems for the format, especially since Maralen of the Mornsong became a deck overnight. Coincidentally, Opposition Agent shuts down about half of my list of decks positioned to abuse the new lotus, and the half it leaves won't combo out to win as soon as the commander resolves from the fast mana.
Jeweled Lotus is a powerful card, and Wizards should never have printed it. That being said, I firmly disagree that it will kill competitive edh, and I firmly believe it will do far more damage to casual and high powered decks.
1 month ago
I suggest building a cedh with Sidisi, Undead Vizier as the cmdr and throw phage in the deck.
1 month ago
Lokotor, thanks for the suggestions. Very helpful.
I have recently found myself with more haste enablers on board than I need. Urabrask the Hidden would be the first one I cut. Crashing Drawbridge has been great to protect Marchesa early since it can come down before her and allows her to get a +1+1 counter immediately.
The avg. CMC shows artificially high because of Blasphemous Act. It is actually closer to 3.3 CMC for what I usually cast Blasphemous Act for. That said, lowering the avg. CMC even more is a work in progress. Balancing efficiency with the Timmy in me has always been a challenge...
I have plenty of card draw in this deck, so churning through my library and hitting land drops has worked well with 35 lands, though 36 would feel better. There are actually 9 sources of ramp in here, NOT including the Phyrexian Altar, Ashnod's Altar or Phyrexian Tower.
The real value I find with Sidisi, Undead Vizier and Rune-Scarred Demon is the ability to recur them to keep tutoring for answers or win cons once they're on the battlefield. My meta is a little slower and our games tend to go long. Rune does double duty on attacks as a flyer and Sidisi does double duty as a sac outlet.
I have added Scroll of Fate to my short list. I'll start testing that one.
1 month ago
your average mana costs seem a bit high. you have 13 CMC 5+ creatures. that's over 1/3 of your creatures and definitely way too many considering you only run 35 lands and maybe 6 mana ramp effects.
i don't think you need haste enablers all that much personally, but between Crashing Drawbridge Ogre Battledriver and Urabrask the Hidden i'd cut urabrask and probably the drawbridge even since it can't attack.
i know you're running Sidisi, Undead Vizier and Rune-Scarred Demon as tutors, but consider that since they're so expensive that you can't really play them AND sneak attack etc. in a turn. you really want tutors to be as cheap as possible.
consider adding Scroll of Fate as another way to cheat things in.
you may also like this primer for some ideas
Load more