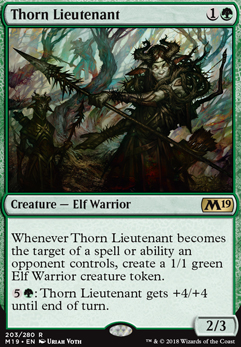 Thorn Lieutenant
Creature — Elf Warrior
Whenever Thorn Lieutenant becomes the target of a spell or ability an opponent controls, create a 1/1 green Elf Warrior creature token.
: Thorn Lieutenant gets +4/+4 until end of turn.
Latest Decks as Commander
Thorn Lieutenant Discussion
6 months ago
I like how the guy above this comment just casually strolls in and tells you to put in a bunch of moxen...
That said, warriors is one of my favorite tribes and I've made a ton of decks with them! Plus Najeela is such a badass commander! These are my suggestions that you haven't included and could serve as some better synergy with your deck than your non-warriors:
God-Eternal Oketra make huge 4/4 zombie warrior tokens on every warrior cast.
Oketra the True make warrior tokens and acts as a big beater itself.
Oketra's Monument tons and tons of warrior tokens.
Rush of Battle warrior themed overrun that gains you tons of life.
Herald of Anafenza gets bigger and makes warrior tokens at the same time.
Raiders' Spoils probably the best card draw you'll see for warrior tribal.
Gilt-Leaf Ambush elf warrior tokens with sometimes deathtouch.
Hunting Triad elf warrior tokens or modal +1/+1 counters.
Presence of Gond give a creature a tap for elf warrior token ability.
Lovisa Coldeyes more warrior lord buffs!
Obsidian Battle-Axe haste and auto-attach to warriors equipment!
Regna, the Redeemer and Krav, the Unredeemed act as a sac outlet and warrior token generation combo.
Lord Windgrace

deck filtering, color fixing, and generation of a ton of cat warrior tokens
Great Hall of Starnheim gets you a 4/4 angel warrior token in a pinch
Base Camp cheap 5 color land for warriors
Starnheim Unleashed make a ton of 4/4 angel warrior tokens!
Emeria's Call  Flip make angel warrior tokens and give your non-angel warriors indestructible or make it a land
Ascent of the Worthy pretty fun tricks on this.
Firja's Retribution make a 4/4 angel warrior token and give angels destroy and double strike.
Battle for Bretagard make warrior tokens, then make copies.
1 year ago
I like this idea, but I feel it could be a little wilder, in BUDGET 3 COLOUR (yay!)
If you are playing taplands, Terramorphic Expanse/Evolving Wilds gives budget access to all colours, while tri-lands give access to 3 colours. Naya Panorama combined with Jungle Shrine and basics is about as reliable as your current base.
If you are having trouble with tempo, colourless 1 and 2 drops are good alongside panorama and land searching- if you already run draw spells to look for your combo, making up card disadvantage from Renegade Map isn't backbreaking.
Green gives access to budget fixing and ramp, letting you power out the mace/boss while swapping out the feather/clarion package.
Syr Faren, the Hengehammer is a little too hard to cast with that double green cost, but a list running Wild Cantormight power him out.
Glistener Elf will make your opponent immediately get very scared, regardless of anything, and slapping a mace on it will double that. Ichorclaw Myr is cheaper and will force their removal.
Goblin tokens to go with prospector might help, with Kuldotha Rebirth taking advantage of artifact mana fixing- letting you go wide as a back up plan, letting you fight through the kind of removal these combo decks often have trouble with.
Breath of Fury is a spectacular alternative combo. It also lets you lean into a feather/heroic gameplan with cards like Akroan Crusader/Foundry Street Denizen. Alternatively, a more midrangey list with Brimaz, King of Oreskos or the rabblemasters. Haazda Marshal/Precinct Captain offers a low cost target.
Anointer Priest is going to be ok in the sideboard. Tithe Taker can be a budget thalia, sorta.
Thorn Lieutenant should be fairly cheap rn.
Knotvine Paladin is cheap and duplicates mace effects - serving as a budget alternative to Voice of Resurgence
Proliferate cards are budget and have strong interactions with the deck, doubling mace counters or +1+1s, so a backup plan featuring them and some random 'put a +1+1 counter' creatures will stack up pretty well.
Good luck and happy brewing.
1 year ago
I'd like to see more token generation in the lower slots- convoke payoffs are amazing, but cutting a few to get a threat on the board that can scare 3 mana plainswalkers is essential for pioneer. More raise the alarm, more marshal.
In terms of 1 drops, Legion's Landing Flip Hunted Witness , Cartouche of Solidarity , Skymarcher Aspirant / Snubhorn Sentry , Thraben Inspector exist. If you make bigger tokens, Wake the Reflections can work. Springleaf Drum helps power out low-mana creatures.
Voice of Resurgence is the strongest 2 drop available for this list.
Further up the curve, Launch the Fleet , Countless Gears Renegade / Servo Exhibition , Dwynen's Elite , Animation Module / Anafenza, Kin-Tree Spirit , Hero of Precinct One , Lovestruck Beast , Murder Investigation Precinct Captain , Thorn Lieutenant , Westvale Abbey Flip and Hanweir Militia Captain Flip
In terms of sidebord, we'll see how the meta shapes up, but Alive / Well , Dryad Militant are worth looking at beside standard options. Druid's Deliverance if vannafar combo takes off. Sundering Growth as an artifact answer.
2 years ago
Some sideboard suggestions that might be useful: Carnage Tyrant , if it's not too expensive, would be good against control as a 1 or 2 of. Path of Discovery might be good in conjunction with Shapers' Sanctuary to give all of your creatures a lot of resilience and card draw. Vivien Reid is extremely good against some decks, like Izzet Drakes. Blinding Fog helps against some damage-based boardwipes and removal, but it might be too expensive (I miss Heroic Intervention !).
God-Eternal Rhonas is a really good lategame finisher that might be better than End-Raze just because it's cheaper (for tutoring with Finale). I also feel like people forget about Thorn Lieutenant as a really good elf in standard!
Load more