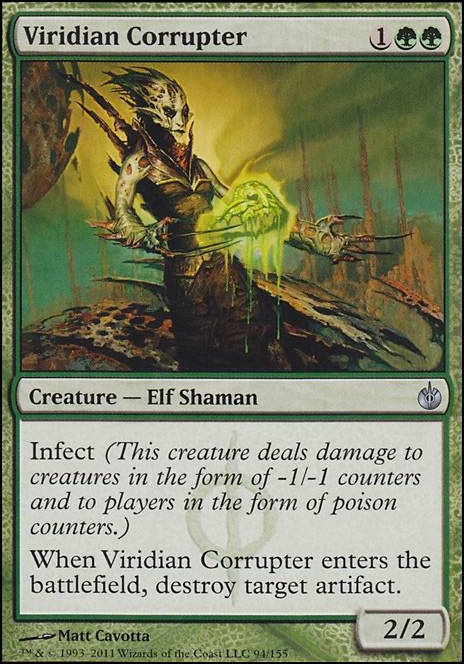 Viridian Corrupter
Creature — Elf Shaman
Infect (This creature deals damage to creatures in the form of -1/-1 counters and to players in the form of poison counters.)
When Viridian Corrupter enters the battlefield, destroy target artifact.
Browse Alters
View at Gatherer
Trade
Legality
| | |
| --- | --- |
| Format | Legality |
| Custom | Legal |
| Vintage | Legal |
| Leviathan | Legal |
| Canadian Highlander | Legal |
| Unformat | Legal |
| Highlander | Legal |
| Legacy | Legal |
| Block Constructed | Legal |
| Tiny Leaders | Legal |
| Limited | Legal |
| Commander / EDH | Legal |
| Duel Commander | Legal |
| 1v1 Commander | Legal |
| 2019-10-04 | Legal |
| Oathbreaker | Legal |
| Casual | Legal |
| Modern | Legal |
Viridian Corrupter occurrence in decks from the last year
Rules Q&A
Latest Decks as Commander
Viridian Corrupter Discussion
1 month ago
+1 my dude! @your reddit post,
More lands imo. Also more big ramp... seems like Vorinclex is a big target for removal, so ramping up to 15+ mana a turn seems like the way to go.
I think the biggest problem is that you're splitting themes and trying to jam infect. A lot of seemingly powerful cards don't have synergy with the rest of the deck. Only ~12 cards directly create +1/+1 counters. So (eg.) Hardened Scales really does nothing.
...Cut incidental Infect:
-1Viridian Corrupter, -1Spinebiter
-1Phyrexian Swarmlord... I love this card but, even when you're all in on infect it isn't that good...
(I think the other infect cards with 5+ power as soft, 2-card combos with your commmander are viable).
...Cut fatties with no evasion:
-1Renata, Called to the Hunt... if you're interested in playing "go-wide + pump" this could be good, but not better than Bloodspore Thrinax
-1Rampaging Baloths... incidental 4/4s aren't worthwhile
-1Crowned Ceratok... +1Champion of Lambholt
-1Ulvenwald Hydra... no synergy
-1Primordial Hydra... +1Managorger Hydra
When choosing cards ask yourself: (1) Does it work with my commander? (2) Does it work with my theme? (3) Is it strong enough with no synergy to play 1v3? (eg. Rampant Growth, Sylvan Library, etc.)
Happy brewing!
1 month ago
Ayara doesn't seem like a good fit since you only have 7 black creatures including herself and your commander.
Selvala also seems out of place here since you arent playing many large power power creatures. I think I would cut her because on average she won't make more than 3 mana (so 2 because you pay G for the ability) and you'll be handing most of the card draw to opponents. Similarly Hunter's Insight, Life's Legacy, Garruk Primal Hunter face the same problems. These cards feel terrible when they draw you 2-3 cards. Instead I suggest drawing cards or creature casts like Guardian Project, Zendikar Resurgent, Lifecrafter's Bestiary, etc.
If you like storming off with creatures maybe consider Tangleroot. Sure it helps opponents but it makes elf decks vomit their hands and with a creature draw engine on board it might as well be a Primal Surge.
Your deck currently has 1 piece of grave recursion which would make a lot of black mana lovers sad. Some good options are Patriarch's Bidding, Rise of the Dark Realms, Finale of Eternity, & Oversold Cemetery.
Your deck also has a very few ways to disrupt opponents which can be problematic. Reclamation Sage, Attrition, gravepact, Toxic Deluge, Decree of Pain, Viridian Corrupter, and Viridian Zealot are good options to consider.
You seem to have abundant ways to produce mana but not a lot of ways to use it. I suggest the classic Staff of Domination as a combo piece and maybe some X spells like Torment of Hailfire. Other mana sinks like Temur Sabertooth can help you dig with draw engines while abusing EtBs.
1 year ago
Another cheap card you may consider for sideboard against artifact decks is Viridian Corrupter . It's pretty cheap, and it's not terrible for removing some things from the board. It's also another creature to attack with and for the opponent to deal with.
1 year ago
To start, I think you are running too many creatures with infect. Infect works best when you can drop a creature on turn 1, pump and swing for large amounts of damage turn 2, then finish them off on turns 3 and 4. Generally, competitive decks run around twelve creatures - 4x Glistener Elf , then run Blue, not Black, for the unblockable Blighted Agent and combination pump/ramp creature Noble Hierarch .
Since you are in Black instead of blue, you can run 4x Plague Stinger , 4x Glistener Elf , and, budget permitting, 4x Noble Hierarch .
The rest of your deck should be focused on pump spells. Here are some great options:
For removal, you can use Assassin's Trophy and Dismember , both of which are great spells. I would mostly sideboard these options--you want to come out swinging early and fast on game one, and any non-pump-spell is going to slow you down.
Some more sideboard options: Perhaps some artifact removal ( Viridian Corrupter is removal on a body; Nature's Claim is a one-mana removal spell); and anti-Dredge hate ( Grafdigger's Cage and Ravenous Trap ).
Load more