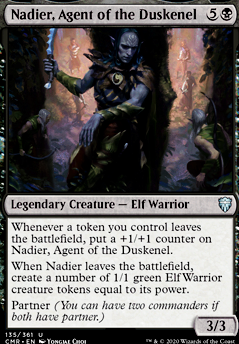 Nadier, Agent of the Duskenel
Legendary Creature — Elf Warrior
Whenever a token you control leaves the battlefield, put a +1/+1 counter on this.
When Nadier leaves the battlefield, create a number of 1/1 green Elf Warrior creature tokens equal to its power.
Partner (You can have two commanders if both have partner.)
Browse Alters
View at Gatherer
Tokens
Legality
| | |
| --- | --- |
| Format | Legality |
| 1v1 Commander | Legal |
| Canadian Highlander | Legal |
| Casual | Legal |
| Commander / EDH | Legal |
| Custom | Legal |
| Duel Commander | Legal |
| Highlander | Legal |
| Legacy | Legal |
| Leviathan | Legal |
| Limited | Legal |
| Oathbreaker | Legal |
| Tiny Leaders | Legal |
| Vintage | Legal |
Nadier, Agent of the Duskenel Discussion
1 month ago
I like how the guy above this comment just casually strolls in and tells you to put in a bunch of moxen...
That said, warriors is one of my favorite tribes and I've made a ton of decks with them! Plus Najeela is such a badass commander! These are my suggestions that you haven't included and could serve as some better synergy with your deck than your non-warriors:
God-Eternal Oketra make huge 4/4 zombie warrior tokens on every warrior cast.
Oketra the True make warrior tokens and acts as a big beater itself.
Oketra's Monument tons and tons of warrior tokens.
Rush of Battle warrior themed overrun that gains you tons of life.
Herald of Anafenza gets bigger and makes warrior tokens at the same time.
Raiders' Spoils probably the best card draw you'll see for warrior tribal.
Gilt-Leaf Ambush elf warrior tokens with sometimes deathtouch.
Hunting Triad elf warrior tokens or modal +1/+1 counters.
Presence of Gond give a creature a tap for elf warrior token ability.
Lovisa Coldeyes more warrior lord buffs!
Obsidian Battle-Axe haste and auto-attach to warriors equipment!
Regna, the Redeemer and Krav, the Unredeemed act as a sac outlet and warrior token generation combo.
Lord Windgrace

deck filtering, color fixing, and generation of a ton of cat warrior tokens
Great Hall of Starnheim gets you a 4/4 angel warrior token in a pinch
Base Camp cheap 5 color land for warriors
Starnheim Unleashed make a ton of 4/4 angel warrior tokens!
Emeria's Call  Flip make angel warrior tokens and give your non-angel warriors indestructible or make it a land
Ascent of the Worthy pretty fun tricks on this.
Firja's Retribution make a 4/4 angel warrior token and give angels destroy and double strike.
Battle for Bretagard make warrior tokens, then make copies.
1 month ago
All creatures will be destroyed simultaneously. All of Nadier, Agent of the Duskenel 's abilities will trigger at the same time when this happens (its own leaves the battlefield trigger and 10 token leaving triggers), so you can put them on the stack in whatever order you like (triggers put on last will resolve first). However, the triggers to put counters on Nadier won't find Nadier because it's already in the graveyard, so it won't get any counters. When its own death trigger resolves, it will create three tokens.
For this reason, decks running these kinds of cards want free instant speed sac outlets (like Viscera Seer or Altar of Dementia ) so when a board wipe comes to town you can make sure the tokens are dead and Nadier gets its counters before the board wipe resolves.
3 months ago
This card seems pretty wild, being kind of a preemptive (and non-Disenchantable) Metamorphic Alteration. If you foretell it on one turn, it only takes one measly mana to use it in response to something on another turn. What kind of tricks can you think of using it for?
5 months ago
I've already taken a shot at a Dargo-Ikra deck, where Ikra is more for colors however I don't think its very great. I think that one of the most intriguing generals though is Jeska, Thrice Reborn a Dargo-Jeska deck could be interesting with jeska being a win condition in the command zone; however, it may just be a worse Godo though.
On the more casual side I think your Toggo-Kodama of the East has some wheels, with wheels. Making a more controlling deck with Field of the Dead and Valakut, the Molten Pinnacle as win conditions and winning with wheel after wheel where either creating a token or putting a land into play will put 3-4 lands into play triggering the Field or Valakut.
Since Nadier, Agent of the Duskenel goes infinite with Food Chain I am thinking of a Tana-Nadier food chain deck because I'm not a fan of Korvold, but Korvold is probably just better.