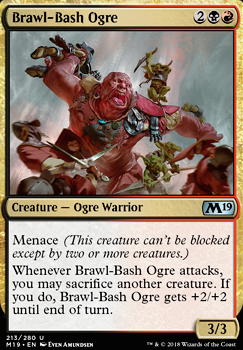 Legality
1 year ago
I like how the guy above this comment just casually strolls in and tells you to put in a bunch of moxen...
That said, warriors is one of my favorite tribes and I've made a ton of decks with them! Plus Najeela is such a badass commander! These are my suggestions that you haven't included and could serve as some better synergy with your deck than your non-warriors:
God-Eternal Oketra make huge 4/4 zombie warrior tokens on every warrior cast.
Oketra the True make warrior tokens and acts as a big beater itself.
Oketra's Monument tons and tons of warrior tokens.
Rush of Battle warrior themed overrun that gains you tons of life.
Herald of Anafenza gets bigger and makes warrior tokens at the same time.
Raiders' Spoils probably the best card draw you'll see for warrior tribal.
Gilt-Leaf Ambush elf warrior tokens with sometimes deathtouch.
Hunting Triad elf warrior tokens or modal +1/+1 counters.
Presence of Gond give a creature a tap for elf warrior token ability.
Lovisa Coldeyes more warrior lord buffs!
Obsidian Battle-Axe haste and auto-attach to warriors equipment!
Regna, the Redeemer and Krav, the Unredeemed act as a sac outlet and warrior token generation combo.
Lord Windgrace

deck filtering, color fixing, and generation of a ton of cat warrior tokens
Great Hall of Starnheim gets you a 4/4 angel warrior token in a pinch
Base Camp cheap 5 color land for warriors
Starnheim Unleashed make a ton of 4/4 angel warrior tokens!
Emeria's Call  Flip make angel warrior tokens and give your non-angel warriors indestructible or make it a land
Ascent of the Worthy pretty fun tricks on this.
Firja's Retribution make a 4/4 angel warrior token and give angels destroy and double strike.
Battle for Bretagard make warrior tokens, then make copies.
4 years ago
Poaralion I did run Doomed Dissenter before in this deck but I find that being able to bring back Reassembling Skeleton to feed brawl bash is better because I can reuse Brawl-Bash Ogre's ability. Then bring back the skeleton to be a body to block next turn or to sacrifice for Torgaar, Famine Incarnate, plus I can still use the skeleton if I am forced to discard a card from Risk Factor or from my opponent.
Goblin Instigator is something I considered but decided that I wouldn't get much value from it. Due it being easily wiped from Goblin Chainwhirler plus the reasons above for Dissenter. But I do plan to swap brawl-bash for Rakdos Firewheeler in future which then I will consider Instigator more.
Demon of Catastrophes is a pretty good suggestion I run 1 in the deck currently due being short of a Doom Whisperer but I would still prefer a Whisperer instead since I can somewhat sift through my deck to find answers.
4 years ago
The set Guilds of ravnica is going to be released soon :DD
And i can't wait to see what the meta game is going to become, the set looks amazing, love the all the new cards in the set
But something stirred within me when i thought about the core 19 multicolored uncommon and how "Much" synergies that there is in those cards...
Heroic Reinforcements = Gives you new mentor targets and pumps the whole team which is basically what you wanna do in a aggressive deck. See also Legion Warboss, Swiftblade Vindicator and Chance for Glory
Enigma Drake = the mechanic of the set is Jump-start which means that the spells got value after it lands in the graveyard, this gets better with for each spell in you're graveyard and there is also a "Better" version of this which also draws a card when it enters the battlefield a.k.a. Crackling Drake
Satyr Enchanter = green and white aka "Selesnya" have now in my opinion become the best enchantment pairing in standard. there is Seal Away, Ixalan's Binding, History of Benalia, Legion's Landing Flip etc in Guilds of Ravnica there was Conclave Tribunal,Dawn of Hope and the best card in my opinion from the set Divine Visitation and a common support card in the set was Sumala Woodshaper..
Poison-Tip Archer and Psychic Symbiont seems to be the least synergetic of all the "Guild" pairings but Poison-Tip Archer synergies with the guild legendary Izoni, Thousand-Eyed and sometimes Vraska, Golgari Queen.
Psychic Symbiont has no synergies with "surveil" but it's the best mechanic in my opinion because of "card selecting" etc, this was a beast in it's limited format and it did what it was supposed to do which is to help the limited formate.
As for the other uncommons in Core 19..
Brawl-Bash Ogre = Either a sacrifice based mechanic or maybe morbid is going to return, i've thought about the mechanics "Madness" or "Hellbent" before this card, but who knows i haven't thought so much about this archetype..
Skyrider Patrol = +1/+1 counters have been a staple of the simic guild, there was "Evolve" in gatecrash and "Graft" in Dissension, what if there was a mechanic which activates when a creature gets a counter or a counter enter's "the battlefield" aka triggered ability for counter's..
Aerial Engineer = in the lore for the set, the Leader of the Azorius get's killed by Vraska, Golgari Queen as seen in the card Assassin's Trophy, maybe the Azorius will go in a new directions with thopter's as surveillance aka 1/1 flying artifact creture tokens, maybe there will be a "metalcraft" mechanic in the azorius which symbolises a new direction. See also Skilled Animator and Sai, Master Thopterist because synergi if it is a artifact theme.
Draconic Disciple = maybe "Ferocious" or "Formidable" because in the card Street Riot i feel like domri is rallying his clan into "anarchy mode" then this card pumps all you're creature's attack and it gives them trample..
Regal Bloodlord = this is pretty much "lifegain payoff.creature" Soo What if the Orzhov mechanic was something with lifegain such as "If you've gained life this turn, it does this" such as Nightmare's Thirst or maybe extort makes a return... :DDD, for instance i hope there will be more cards such as Dawn of Hope cause of it's lifegain clause and there is also Resplendent Angel, Ajani's Pridemate, Ajani's Welcome and Epicure of Blood which has synergies also ;)
Maybe i'm overthinking things but i really liked the uncommons from Core 19 and my favorite of the uncommons was Regal Bloodlord.
This is only my thoughts but i think it's fun to think and theorize about sets but if you all think i'm crazy then by all mean tell me why, i can stand by this but by all means change my mind.
4 years ago
Will comment on the above in a moment but wanted to post in quickly with some new fun I had centered around using Act of Treason to steal an opponent's creature and sacrificing it to Brawl-Bash Ogre. Rest of the deck is pretty common place red aggro goblins
---

Standard FSims81
SCORE: 1 | 2 VIEWS | IN 1 FOLDER
---