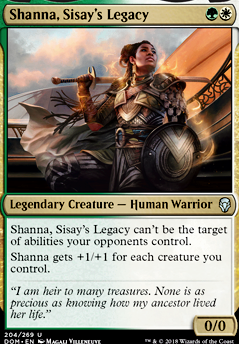 Shanna, Sisay's Legacy
Legendary Creature — Human Warrior
Shanna, Sisay's Legacy can't be the target of abilities your opponents control.
Shanna gets +1/+1 for each creature you control.
Browse Alters
View at Gatherer
Trade
Legality
| | |
| --- | --- |
| Format | Legality |
| Pioneer | Legal |
| Modern | Legal |
| Frontier | Legal |
| Duel Commander | Legal |
| Canadian Highlander | Legal |
| Arena | Legal |
| Block Constructed | Legal |
| Tiny Leaders | Legal |
| Commander / EDH | Legal |
| Magic Duels | Legal |
| Oathbreaker | Legal |
| Unformat | Legal |
| 2019-10-04 | Legal |
| 1v1 Commander | Legal |
| Historic | Legal |
| Leviathan | Legal |
| Legacy | Legal |
| Casual | Legal |
| Vintage | Legal |
| Highlander | Legal |
Shanna, Sisay's Legacy occurrence in decks from the last year
Commander / EDH:
All decks: 0.01%
Latest Decks as Commander
Shanna, Sisay's Legacy Discussion
2 weeks ago
Hi Shayda!!!
Dude those dragons are doing so well (when no one wipes them)!
Did you want a similar deck? 'Cuz that's what you've got here... but I think you should lean into go-wide-aggro > midrange and play more 1-2 cmc creatures and move all your ramp to 2 (Rampant Growth, signets, etc).
I'd also recommend Golgari Charm, Boros Charm, and Heroic Intervention.
Tribal decks have so much flavor! Hope this helps, maybe we'll see it next weekend? :o
5 months ago
From your list, the following seem worth considering:
Aminatou, the Fateshifter

is great with Thalia's Lancers.
Reki, the History of Kamigawa is a great draw engine.
Shanna, Sisay's Legacy is a flavour win, gives two colours for Sisay and is a protected beatstick. Another good multicoloured two drop is Lavinia, Azorius Renegade.
Legion's Landing Flip and Oviya Pashiri aren't the best legends to imagine, but consider the following: In my Sisay list, I run Massacre Girl and Gerrard, Weatherlight Hero basically as a tutorable In Garruk's Wake. With the two token makers, this is even more consistent. Massacre girl usually only needs like one or two 1/1s on the board to kill everything.
Another legend to consider: Chainer, Nightmare Adept

: Another reanimator that gives haste to any creatures tutored up with Sisay.
5 months ago
One thing I feel I should mention is that your "counters" section has cards like Bear Umbra and Shanna, Sisay's Legacy, but it's important to remember that these aren't actually counters and won't be treated as such by cards that care about them.
6 months ago
Yup, okay so I'm digging this concept.
So I think the first order of business is exploring the different paths Palladia would take upon being reawakened.
Option 1: Helping Bolas Escape
The Steps: First, she'd have to learn what a planeswalker is, as far as I can tell from the lore, she has not met on nor does she know of their existence (She's been asleep for long time). So she would probably have to meet some more knowledgeable people, perhaps the crew of the Weatherlight battled her? Perhaps she does defeat them and learn the secret from an impressionable you Raff Capashen, Ship's Mage, maybe she keeps the weatherlight. After knowing what a planeswalker is, she'd need to learn of Bolas' imprisonment. ATM only three beings know of this, Jace Beleren, Ugin, and Bolas himself. IDK how she'd learn of this but we can get into that detail after she's a planeswalker. Now, she needs to become a planeswalker. In her day, all you had to do to become a planeswalker was gather a ton of mana. Assuming this is post-mending she'd have to be born with a spark, or a spark would have to be given, or perhaps taken. What if a young planeswalker like Teyo, the Shieldmage stumbled upon her path? She could take his spark with the help of her followers, and ascend to be a planeswalker. Additionally, she could use a Planar Portal to traverse the planes. Or maybe she met Tezzeret, who has the planar bridge inside him and struck a deal to travel to another plane, but this is unlikely because Tezzeret has sworn not to serve another dragon. Okay, so Palladia can traverse planes, what next? Now she has to search for info on Bolas and Ugin. This could take centuries, not only are their histories as old as Dominaria but they've both been to so many planes. A possible encounter is with Azor, the Lawbringer on Ixalan where she learns of their plans to trap bolas. She could travel to Ravnica, though this would be hard due to everyone being on watch for planeswalkers. But if she did, she would learn about the war and stuff, and that Bolas might be dead or is thought dead. Now, in order to find where Bolas is, she'd need to find Jace, Idk how she would, he's sort of on and off with Vraska on ravnica as of late and he's a tough cookie to crack, maybe she could hire another mind reader? Either way, she gets the info and now has to find the meditation realm. As of recently, Ugin, Sarkhan, Niv Mizzet, Ashiok, Narset, and Tetsuko Umezawa know of the meditation realm. Of these Sarkhan would provide the best guide, as she could control him again (this seems to be a recurring theme with him). So she finds the realm and stuff but look out now she has to fight Ugin. But wait, what if she fixed The Immortal Sun? Boom Ugin can't escape and now she's fighting him. The point is Ugin needs to lose, but I don't know how Palladia could do that as Ugin is way more experienced than her. Maybe she attains mastery of the meditation realm? There is also, what I think would be the most epic thing ever, where she kills Sarkhan and gives Bolas Sarkhans spark. Bolas kills Ugin and is free. Maybe he kills Palladia right there and then, maybe she somehow kills him? Maybe he becomes her underling, lots of possibilities. So that's that whole destiny right there.
Option 2: Taking over
Palladia wakes up and decides to finally conquer Dominaria. The fractured remnants of the cabal rally behind her. She has a few obstacles though. Shiv won't go down without a fight, especially with Darigaaz defending it, neither will Benalia or Tolaria and then there's the whole Weatherlight crew to deal with. Maybe include Shanna, Sisay's Legacy, Squee, the Immortal, Tiana, Ship's Caretaker. Overall, it's a very difficult crusade, include key enemies such as Lyra Dawnbringer and Radha, Heir to Keld. Finally, after a decade-long war, Palladia rules all of Dominaria.
Option 3: Palladia Mors, Ruiner of Planes
Somehow (literally any of the ways I listed in 1) Palladia finds a way to move plane to plane, she takes it upon herself to sow chaos and bloodshed throughout, collecting trinkets of victory as she goes, maybe she takes the Seal of the Guildpact from Ravnica and Obelisk of Alara from Alara. Ooooo maybe Shadowspear if she defeats Elspeth wherever she goes.
That's just a few of the options for her that I could come up with, I personally think #1 could make a good fan fic
Hope you like feedback, this deck looks sweet.
Load more