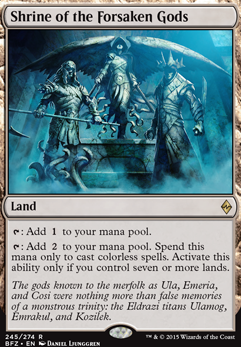 Legality
| | |
| --- | --- |
| Format | Legality |
| Tiny Leaders | Legal |
| Limited | Legal |
| Magic Duels | Legal |
| Canadian Highlander | Legal |
| Vintage | Legal |
| Modern | Legal |
| Highlander | Legal |
| Penny Dreadful | Legal |
| Block Constructed | Legal |
| Custom | Legal |
| Leviathan | Legal |
| Legacy | Legal |
| Frontier | Legal |
| 1v1 Commander | Legal |
| Duel Commander | Legal |
| Oathbreaker | Legal |
| Unformat | Legal |
| Casual | Legal |
| Commander / EDH | Legal |
Shrine of the Forsaken Gods
Land
: Add to your mana pool.
: Add to your mana pool. Spend this mana only to cast colorless spells. Activate this ability only if you control seven or more lands.
Shrine of the Forsaken Gods Discussion
3 weeks ago
Commenting here rather than on your page.
I don't mean to sound so overbearingly critical, but your deck is overall lacking in substantial board presence. Oathbreaker is a format in which you want to protect your Planeswalker at all viable costs. You have four creatures. That does not make for a very strong base. I'm going to rip into this deck, but I am also going to offer you suggestions on how to greatly improve upon it :) I hope that you don't take offense to anything I am saying, but I felt like I can do you some good here.
As for a win condition outside of Form of the Dragon , there is also Martial Coup . Since you are snuffing out all of your opponent's lands anyway, as well as their creatures, why not create a literal army of tokens that now stand unopposed?
There is also Curse of Bloodletting , which makes your Form of the Dragon deal 10 damage instead.
You may also want to consider replacing Mudhole with something more viable. Perhaps Lightning Helix ? It burns and gets you life. Acts as another win condition, makes it harder for your opponent to win in the process as your life totals grow farther and farther apart, and plays nicely with the aforementioned Dawn of Hope .
This took me like 40 minutes, so I hope it helps.
1 month ago
Recommended Land Cuts:
Bojuka Bog - Not worth it. It comes out tapped and unless someone is both running a graveyard deck and has enough good cards in it at the same time, you're not going to get enough value out of this, or if you want to save it for that, then you have a dead land in hand and there would be far better cards like Rest in Peace and such.
Evolving Wilds - Replace with better fetch lands (see suggestions)
Gateway Plaza - Comes in tapped, costs an additional mana to play, and only gives one mana. Too slow and not good enough.
Ruins of Oran-Rief - You're running Eldrazi. You really don't need one more +1/+1. A colored mana would assist you more here as it would also help you pay for and colored spells you would like to cast.
Shrine of the Forsaken Gods - Too weak. If you don't have 7 lands then it's pretty bad. Run dual lands instead for increased versatility and reliability.
Temple of the False God - Bad overall. It's a dead draw until you have 5 lands. Unreliable and not worth it. Run dual lands instead. More versatile and reliable
2 months ago
Deck seems...okay overall? Could still use some optimization, but you've got some neat tech.
Your interaction seems relatively lacking here - You're running Disallow and Arcane Denial , neither of which really sees any cEDH play, but no Spell Pierce , Dispel , Delay , or even Counterspell proper.
It lacks Timetwister (I'd expect it given that you ARE playing Tabernacle, so price doesn't seem to be a concern) and I'm not sure why Mindslaver is in here. Shrine of the Forsaken Gods should be a Strip Mine , and I'm honestly rather astonished at the lack of powerful stax pieces such as Grafdigger's Cage and friends.
(I also generally don't tag my decks as a primer until, you know, the primer is written, but...)
3 months ago
Sounds right. I'd try and slot in a Leonin Abunas to help reanimate some 0 drop non-creature artifacts.
Looking more closely at your list, I'd swap out both Jhoira's Familiar and Foundry Inspector. I'd put in Mycosynth Golem instead. It only makes your creatures free, but it shouldn't be much of an issue once you add the Phyrexian Altar as a 3rd mana generator.
Also, maybe swap out the Gold Myr for Mycosynth Wellspring ? Would help filter lands out of your draws.
Speaking of filtering out your draws, I haven't tested it out in my version of Teshar yet, but maybe run the Panorama cards (Esper, Bant and Naya) ? You could also use an Ancient Tomb and I'd swap out Temple of the False God for Shrine of the Forsaken Gods . And finally, an Ash Barrens .
Thoughts ?
3 months ago
putting this here so you can find it a bit easier--my recommendations are as follows.
take out: Spawnsire of Ulamog , Hydroid Krasis , Ulvenwald Hydra , Cloudpost , Glimmerpost , and the three uzra lands.
put in: Blue Sun's Zenith , Chord of Calling , Ancient Tomb , Inventors' Fair , Buried Ruin , Mana Crypt , Mana Vault , and Cultivate .
you may also consider swapping Simic Growth Chamber for Shrine of the Forsaken Gods
3 months ago
In terms of cEDH I think you probably want some tutors, you're in U/R so you can look for things like Fabricate , Inventors' Fair , Mystical Tutor , Tezzeret the Seeker , and Gamble are all very good and fairly inexpensive cards to buy. Keyrune , Cluestone , Eye , Spectral Searchlight , Prismatic Lens , and Pristine Talisman are pretty inefficient for ramp in cEDH. As another side note, since you are in a 2 color deck you more than likely don't need Chromatic Lantern as you shouldn't really have a problem getting your colors. I would also swap Shrine of the Forsaken Gods for Temple of the False God , the 2 mana is 2 lands less that you need so you'll see the benefits far earlier and I don't know that you'll have time to get to 7 lands in cEDH. Psychic Spiral and Elixir of Immortality are ok for shuffling graveyards but I think Day's Undoing , Time Reversal , and Commit / Memory are probably far better.
2 counter spells is ok, I might add in like 2 more in Counterspell and Swan Song . Flusterstorm is stronger than people think... You are storm countering so when you cast it is in the first place U for counter target instant/sorcery unless it's controller pays 2 and on top of that you can choose new targets, which means if there is multiple spells on the stack you can possibly counter more than 1 spell for your 1cmc counterspell. cEDH is a super powerful format, decks are tuned af and have responses to get around your responses. Careful when you go off :) you may also want some other interaction for opponents graveyards, artifacts, enchantments and creatures.
4 months ago
The thing you wrote about mana sources with restrictions (like somberwald sage etc.) losing those restrictions is not true, Kruphix's ability only makes the mana colourless, any additional riders still apply. Take a look at the second ruling on Kruphix's Gatherer page. This means Somberwald Sage , Snowfall , Eldrazi Temple , and Shrine of the Forsaken Gods don't actually work as you're intending them to.
Snickles' advice is also wrong, Wastes is not a basic land type and doesn't count towards Collective Restraint's ability, see the 4th ruling for Wastes on the Gatherer.
I used to run Awakening in my Kruphix deck but I found it gives way too much advantage to everyone else at the table, so unless you're playing it deliberately for a group hug type effect, I would just run Worldly Tutor , Chord of Calling or Green Sun's Zenith as effectively a second copy of Seedborn Muse.
I would also say that Cyclonic Rift and Capsize are really must includes, I would cut Estrid's Invocation since you're only running 16 enchantments and Snowfall since it does nothing.
Load more
Shrine of the Forsaken Gods occurrence in decks from the last year
Commander / EDH:
All decks: 0.02%