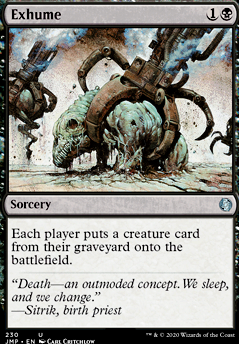 Exhume
Sorcery
Each player puts a creature card from their graveyard onto the battlefield.
Browse Alters
Trade
Legality
| | |
| --- | --- |
| Format | Legality |
| Vintage | Legal |
| 2019-10-04 | Legal |
| Highlander | Legal |
| Duel Commander | Legal |
| Leviathan | Legal |
| Oathbreaker | Legal |
| Canadian Highlander | Legal |
| Unformat | Legal |
| Arena | Legal |
| Tiny Leaders | Legal |
| Legacy | Legal |
| Historic | Legal |
| Commander / EDH | Legal |
| 1v1 Commander | Legal |
| Pauper EDH | Legal |
| Custom | Legal |
| Limited | Legal |
| Pauper | Legal |
| Casual | Legal |
Exhume occurrence in decks from the last year
Latest Decks as Commander
Exhume Discussion
6 days ago
Changelog (22/11/2020)
White
Blue
Black
Red
Green
Multicolored
Colorless
Mana Fixing
1 week ago
Hey ! It's my pleausure !
If you're not familiar with Legacy, the main difference between it and most formats is the large number of viable combo decks that you need to be mindful of. Every combo deck has its specificities but typically, with your kind of deck, you want to play the tempo game against them: you want to disrupt them just enough so that you can kill them before they recover. Every once in a while you'll get an insane opener like Dark Ritual -> Spoils of the Vault for Death's Shadow go to 3 -> double Death's Shadow -> kill t2 but it's pretty unlikely and they'll usually be faster than you, meaning that an all out aggro strategy will not do it. Those decks can kill t1 (again, pretty unlikely) but it's not unreasonnable to assume they'll win by t3 if left unchecked.
In Legacy, and even more with your deck, you want to be extremely efficient with your disruption because ressource management is tighter than in standard for example. So you need to identify what's most important in your opponent's deck. Here are some examples:
I think your deck will have particularly bad match-ups against recursive graveyard strategies like Hogaak, Dredge or Loam decks, so you'll need to dedicate a few cards in your SB to grave hate. For your deck the best would probably be Surgical Extraction but it's on the expensive side. Extirpate is a nice budget alternative, but the fact it costs mana can sometimes be problematic. I also like the OG Tormod's Crypt and I'd do a mix of both; Extirpate being more generally good against combo and Tormod's Crypt being more efficient. However, I'd keep away from Planar Void. In general you prefer to avoid middling options. You don't care that effect is permanent because you plan on killing them quickly after hitting them with grave hate and, being both less versatile and flexible than Extirpate (instant and good against some non graveyard combo decks) and less efficient than Tormod's Crypt (does not cost mana and better topdeck), it does not really excell at anything.
Obviously, if you have time, it's better that you try all this by yourself to interiorize it, but I think this is the general approach you want to adopt when looking at legacy. Figure out your role in the match-up, identify what cards are important, go for efficient and specialized answers rather than generally good but not excellent options.
1 week ago
Hello fellow Legacy aficionado!
My own collection of decks mostly consist of what I identify as "casual," which is to say that by tournament legality definitions they are predominantly Vintage or Legacy, but I don't own any power nine or otherwise incredibly costly cards so they're not necessarily competitive in those formats.
Having said that, I own an old-school reanimator deck (my usual reanimation target in which is Tidal Kraken, because it puts a clock on the game), and in mine, the sure-win, first turn combo is Dark Ritual into Entomb and Exhume. I'm sure you're familiar with that move.
The biggest - and maybe only - difference between my deck and this one is that mine is mono-black. So I'm using Hidden Horror, Vampire Hounds and Bog Witch for self discard. Faithless Looting seems like a more effective choice, I wonder looking at your deck if the problems of operating in, effectively, 3 colors is justified in the resultant effectiveness.
Mind you, I'm running Hell's Caretaker and Victimize with some Nether Shadows and Nether Traitors, so maybe they're enough different of decks that I shouldn't be comparing them like I am.
Sorry, I guess what I'm trying to say is that I have been playing the same deck for twenty years, and had never considered that the construction of it could be different and somehow better, until looking at yours. So, thanks for that. At some point maybe I'll add my deck to the site, and perhaps you'll see it.
2 weeks ago
Last_Laugh I see you did some quick math.
So, since you are playing Sultai, some reanimation strategies and their creatures are really useful. Reanimate and Exhume are the best in the game, alongside Animate Dead and friends. The reason why these are good is because if you manage to reanimate a big threat quickly and start cloning those threats, even if the threat is removed you probably have a million copies of it.
Grave Titan is powerful, with the potential to end games by itself if left unchecked. If you have lots of copies, however, you could win in 2-3 turns easy.
Ulamog, the Ceaseless Hunger's mill ability is very strong, even in commander. A few clones and you got the game in the bag.
Baleful Force and similar cards are very good, giving you lots of card advantage.
Sower of Temptation just gets really mean with clones. (At the same time, it gets impossible to track who stole what, or, more accurately, what stole what. Now, where's my hat?)
Cloning a Gray Merchant of Asphodel will close a game.
Avatar of Woe can prevent your opponents from playing magic, and good ol' Blightsteel Colossus is going to lose you all your friends plus one.
Gilder Bairn, Maulfist Revolutionary and proliferate cards are very good with counters, getting scary quick. Heroes' Bane is such a cool card, and it's always funny seeing someone grow their hydra into mega thicc mode. I did this, and ran out of dice. I borrowed the store's dice, but they ran out too.
Finally, Branching Evolution and Primal Vigor are must removes.
Based on the comments above, I'm sure the deck will turn out to be very good, and you might even lose a friend or two when playing magic!
1 month ago
Sire Of Insanity is insanely good, and turns being ahead on the board into wins. Also quite inexpensive to purchase. Does great work when your deck plays from the graveyard
Terastodon is a 9/9 beater that solves 3 problems immediately. Also rather inexpensive to acquire. You can even nuke 3 of your own lands to get three 3/3's and one 9/9 for 18 swinging power on the field.
Protean Hulk isn't too expensive and is a fantastic choice if you have a creature based combo already in the deck.
Sheoldred, Whispering One is expensive to buy, but an absolute powerhouse in reanimator strategies. Sticking this on turn 3 can put you super far ahead.
Avatar of Woe can be great board control when reanimated early.
Massacre Wurm is about $2 after all the reprints, and while it isn't the best reanimation target, it can certainly bring the hurt for opponents.
Ancient Stone Idol is a 12/12 Trampler, no crazy effects but a massive beater that has a die trigger.
Most demons are decent choices. I'm a big fan of how Kuro, Pitlord can instantly clear a board, but his upkeep cost is kind of gross.
Most Titans are good choices too, Inferno Titan and Grave Titan for Korvold (no Prime Time in EDH)
As far as budget reanimation cards, I'm a huge fan of Apprentice Necromancer for reanimation targets with ETB triggers. It works extremely well with Sun Titan, which is out of Korvold colors but a gross combo to be aware of nonetheless (Sun Tit ETB returns the Necro, the attack trigger returns something else too). I also like Life / Death which has lots of potential in Korvold (make lands into creatures, then sac creatures to draw tons of cards) outside of just reanimation. Animate Dead and Dance of the Dead are both inexpensive at around $5 and $10 respectively last I checked and are worth getting, they will be staples even in 100% optimized reanimator. Whisper, Blood Liturgist has nice use when you get Korvold sac triggers, but needs cheap token or reusable bodies to use consistently and is expensive to cast at 4 CMC. Victimize is a great card, but once again requires bodies on the field. Exhume is fast to cast but you usually want to pair it with graveyard removal or time it well. Dread Return is a useful card that does well with lots of bodies and can be used twice. Doomed Necromancer is great Korvold tech but slow at 3 CMC + summoning sick, usually activating on turn 4 or later.
Buried Alive is a phenomenal card that can enable reanimator strategies, a definite must-include.
Cheap discard outlets also help move fatties from your hand to the graveyard. I can recommend Putrid Imp as the GOAT, but also Tortured Existence, Wild Mongrel, Faithless Looting, Noose Constrictor and Fauna Shaman. You can also look to some one-time spells to help you discard, I recommend Collective Brutality and Smallpox especially. Bog Witch can work wonders in slower metas, but will be a cut when your deck gets more optimized.
1 month ago
I'm fairly new to Mtg. Not sure about the deeper intricacies of the rules. Can I cast Exhume or Reanimate targeting Arixmethes, Slumbering Isle in my graveyard? I tried searching for an answer online and all I could find was that cards like Animate Dead or Dance of the Dead will not work. I can't figure out if Arixmethes counts as a creature or land (or both?) while it's in the graveyard, so I'm not sure if it can be exhumed/reanimated.
2 months ago
Hi DoktaDakka and thanks! This is definitely one of my favourite decks as well. Many people underestimate how powerful this deck can be.
I think that with Wild Mongrel, Vampire Hounds and Tortured Existence I have enough discard effects that I don't need Putrid Imp. The imp is good when you want to discard something important on Turn 1 or 2, but aside from Basking Rootwalla there's nothing really worth discarding that early in the game. It's an okay option for Exhume decks, but otherwise we're all set with our discard engine.
In terms of Hooting Mandrills, I honestly have never tried them. The deck can always use more cheap beaters, but what would you replace them with? Crypt Rats maybe?
As for TE targets, you'll still find them mostly in the sideboard. Caustic Caterpillar, Spore Frog, Thrull Surgeon, Faerie Macabre and more Crypt Rats are meant to shore up any weaknesses while synergizing well with TE. What other Toolbox cards am I missing? Maybe I could find space for them somewhere.
Thanks again for the comment!
2 months ago
X-Factor11105 Definitely a fan of your list, though I don't really have much in the way of suggestions. I'm not sure if I like the idea of running Moltensteel Dragon outside of Scion combo/infect shenanigans. How has he been for you?
I like that you're running Daretti. I used to run him and he was great, and I've been tempted to find a spot for him again.
Anyway, some answers:
Crucible is... whatever. I'm pretty sure I've only ever used it to store mana like three times in the entire time I've had this deck, but at the same time it has never really screwed me over either, so I don't feel like I'm losing anything by including it. Its probably one of the first lands I'll cut once I have the money to upgrade my mana with stuff like Ancient Tomb or more fetchlands.

Exhume is admittedly sometimes dead, but when an opponent has a dangerous creature in their yard I'll typically just loot Exhume away for something else.

Feldon is amazing, yet I'm still somehow kinda meh on him. Recurring stuff like Solemn Simulacrum, Utvara Hellkite, and Dragon Tyrant is awesome, but I have had a lot of games where I draw Feldon before I even have anything to meaningfully reanimate, and he just kinda... sits there. Or he eats a removal spell before I get a chance to untap with him.

I love Dark Ritual. At the very worst it lets me cast Bladewing two turns early, but you know what feels amazing? Using Dark Ritual to cast Phyrexian Arena on turn 1. It also lets you do stuff like turn 1 Entomb your dragon of choice, then Exhume it right into play. Turn 1 Utvara Hellkite is funnnn.
On another note, I am so ready to windmill slam Feed the Swarm in here once Zendikar drops, butttt I'm not sure what to cut for it. Any ideas? I'm kinda thinking of swapping out Gratuitous Violence - it's been feeling like overkill lately.
Load more