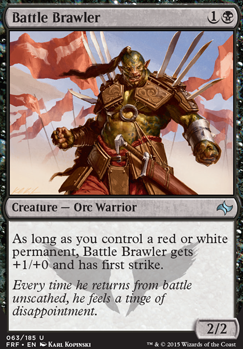 Legality
2 years ago
I like how the guy above this comment just casually strolls in and tells you to put in a bunch of moxen...
That said, warriors is one of my favorite tribes and I've made a ton of decks with them! Plus Najeela is such a badass commander! These are my suggestions that you haven't included and could serve as some better synergy with your deck than your non-warriors:
God-Eternal Oketra make huge 4/4 zombie warrior tokens on every warrior cast.
Oketra the True make warrior tokens and acts as a big beater itself.
Oketra's Monument tons and tons of warrior tokens.
Rush of Battle warrior themed overrun that gains you tons of life.
Herald of Anafenza gets bigger and makes warrior tokens at the same time.
Raiders' Spoils probably the best card draw you'll see for warrior tribal.
Gilt-Leaf Ambush elf warrior tokens with sometimes deathtouch.
Hunting Triad elf warrior tokens or modal +1/+1 counters.
Presence of Gond give a creature a tap for elf warrior token ability.
Lovisa Coldeyes more warrior lord buffs!
Obsidian Battle-Axe haste and auto-attach to warriors equipment!
Regna, the Redeemer and Krav, the Unredeemed act as a sac outlet and warrior token generation combo.
Lord Windgrace

deck filtering, color fixing, and generation of a ton of cat warrior tokens
Great Hall of Starnheim gets you a 4/4 angel warrior token in a pinch
Base Camp cheap 5 color land for warriors
Starnheim Unleashed make a ton of 4/4 angel warrior tokens!
Emeria's Call  Flip make angel warrior tokens and give your non-angel warriors indestructible or make it a land
Ascent of the Worthy pretty fun tricks on this.
Firja's Retribution make a 4/4 angel warrior token and give angels destroy and double strike.
Battle for Bretagard make warrior tokens, then make copies.
2 years ago
Normally in a goblin deck, I'd just suggest running my lords like Goblin King , Goblin Chieftain , etc., and adding more copies of goodstuff like Goblin Grenade and Goblin Chainwhirler . However, to preserve the multiple tribe theme, I think focusing on warrior synergy would be the best idea. A good percentage of your creatures are already warriors and Blood-Chin Fanatic looks like one of the stronger cards in the deck.
Base Camp , Blood-Chin Rager , Kargan Intimidator , Boldwyr Intimidator , Lovisa Coldeyes , Obsidian Battle-Axe , and Raiders' Spoils are some warrior tribal cards in Rakdos, and Chief of the Edge , Chief of the Scale , Arashin Foremost , Herald of Dromoka , Kargan Warleader , and Mardu Woe-Reaper also apply when dipping into Mardu. I know most of these cards are just humans though, so here are some good warriors that fall under the goblinoid umbrella: Bloodmark Mentor , Goblin Bushwhacker , Goblin Cratermaker , Goblin Piledriver , Goblin Rabblemaster , Goblin Trashmaster , Krenko, Mob Boss , Pashalik Mons , Reckless Bushwhacker , Battle Brawler , Brutal Hordechief , Zurgo Bellstriker , Kazuul's Toll Collector , Ogre Battledriver , and Furystoke Giant . Which of these cards is best definitely depends on what your primary strategy is.
Anyway, good luck with your deck!
2 years ago
Ash Zealot, Exava, Rakdos Blood Witch, Battle Brawler, Bloodmark Mentor, Goblin Spymaster, Grim Initiate, Kruin Outlaw  Flip, Neheb, the Worthy, No-Dachi, Rakdos Ringleader, Rustrazor Butcher, Shinka, the Bloodsoaked Keep, Splatter Thug, Viridian Claw, and Zada's Commando are the ones worth maaayayybe considering. In my opinion. Budget-permitting, of course.
5 years ago
Great deck. I think I can make this into a pretty competitive aggro deck.
Here's some suggestions:-Alesha, Who Smiles at Death: Alesha is a great way to get in extra damage and get multiple uses out of some of your smaller creatures. Also, it can help trigger Tajic's ability
-Ankle Shanker: Self explanatory. It's a great card that can make your opponents hesitate to block, which will put them in further range of death by some of your burn spells.
-Lightning Bolt: If you want to spend a little money, I'd replace Lightning Strike with Lightning Bolt
-Battle Brawler: super easy to get a 3/2 first strike creature for just
-Berserkers' Onslaught: an excellent enchantment that can give your creatures double strike, and deal much more damage to your opponent.
If you want more suggestions, just head over to my wall and ask me.
-magicsheep
5 years ago
As an agro deck you should be careful about what kinds of lands and early plays you put into your deck. Playing a card like Despise means you're not playing a 1CMC creature which could take you off an aggressive path. Same goes for Scoured Barrens, since you want to play a 1CMC creature a lot more than you want to gain 1 life on turn one. Fairly cheap upgrades to the mana to ensure you are playing untapped lands are cards like Concealed Courtyard and Caves of Koilos.
Solemn Offering is a sideboard card at best and should not be in the mainboard.
Chief of the Scale is too defensive, Hateblade, Hordechief, Skullhunter, Pain Seer, Herald, and Hordemate are all fairly mediocre and certainly not worth putting you over the 60 card minimum and decreasing your efficiency.
Subtracting the Despise, Offering, and cards mentioned above leaves room for about 25-30 or so slots that can be used to help make the deck more aggressive and cohesive. Cards like-
As far as the removal goes, Bile Blight is fine but should be upgraded to Path to Exile or Fatal Push when you can
Load more