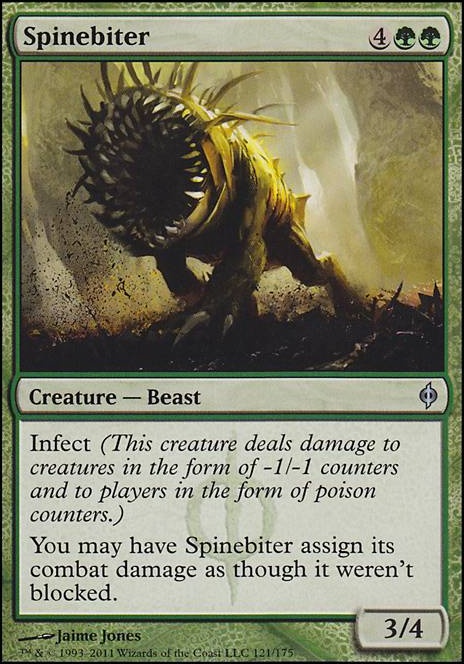 Spinebiter
Creature — Beast
Infect You may have Spinebiter assign its combat damage as though it weren't blocked.
Browse Alters
Trade
Legality
| | |
| --- | --- |
| Format | Legality |
| 1v1 Commander | Legal |
| Block Constructed | Legal |
| Canadian Highlander | Legal |
| Commander / EDH | Legal |
| Duel Commander | Legal |
| Highlander | Legal |
| Legacy | Legal |
| Leviathan | Legal |
| Limited | Legal |
| Modern | Legal |
| Oathbreaker | Legal |
| Unformat | Legal |
| Vintage | Legal |
| Casual | Legal |
| Custom | Legal |
| Quest Magic | Legal |
Spinebiter Discussion
6 months ago
+1 my dude! @your reddit post,
More lands imo. Also more big ramp... seems like Vorinclex is a big target for removal, so ramping up to 15+ mana a turn seems like the way to go.
I think the biggest problem is that you're splitting themes and trying to jam infect. A lot of seemingly powerful cards don't have synergy with the rest of the deck. Only ~12 cards directly create +1/+1 counters. So (eg.) Hardened Scales really does nothing.
...Cut incidental Infect:
-1Viridian Corrupter, -1Spinebiter
-1Phyrexian Swarmlord... I love this card but, even when you're all in on infect it isn't that good...
(I think the other infect cards with 5+ power as soft, 2-card combos with your commmander are viable).
...Cut fatties with no evasion:
-1Renata, Called to the Hunt... if you're interested in playing "go-wide + pump" this could be good, but not better than Bloodspore Thrinax
-1Rampaging Baloths... incidental 4/4s aren't worthwhile
-1Crowned Ceratok... +1Champion of Lambholt
-1Ulvenwald Hydra... no synergy
-1Primordial Hydra... +1Managorger Hydra
When choosing cards ask yourself: (1) Does it work with my commander? (2) Does it work with my theme? (3) Is it strong enough with no synergy to play 1v3? (eg. Rampant Growth, Sylvan Library, etc.)
Happy brewing!
9 months ago
Aside from very minor infect damage, and a few planes-walkers there is no need to proliferate. I highly suggest taking out some counterspells and a few removal spells. Add a lot more infect cards. Why? Because I count 6 ways to deal infect damage in your 100 card deck. Let's pretend your opponent has removal as well, and can deal with 6 threats; fairly easy task is it not? Suggestions: Blackcleave Goblin, Ichor Rats, Phyresis, Spinebiter, Phyrexian Swarmlord There are so many options. I highly suggest you build more ways to win in your deck. Good luck.
11 months ago
How can you not have Spinebiter in this?
1 year ago
that makes sense and is generally true but with infect you won't have enough creatures or board presence to keep it competitive in the late game unless you get lucky with near perfect draws. If you want to add in a few late game cards, you could splash black to throw in a Spinebiter Phyrexian Swarmlord or Phyrexian Juggernaut, and add a few more blight mambas plus a Plague Stinger to get you to the late game, but you would have to sacrifice a few buff cards. this would give you a late game threat but you would be less likely to get an early win. In my opinion not the best tradeoff for infect, a shell that succeeds by being fast.
1 year ago
Unlife, makes sense. The mana sources might be a bit conservative for an aggro deck, and I probably don't have much room for self-mill. I think that this deck might rely a little more on Otrimi than the typical Mutate deck, ironically enough, though. A 6/6 Trampling body for 4 mana is about the best Mutate outcome for an Infect deck. It's kinda weird, because I've been listening to set reviews and whatnot, but while Parcelbeast and Sea-Dasher Octopus might be some of the best options in a non-Infect deck, mutating either on top of a Cystbearer is a worse end result for the deck's strategy than something derpy like a Cavern Whisperer. I feel really weird thinking of Flensermite being better than Blighted Agent or Spinebiter on account of the same reasoning.
1 year ago
I know, I know, I hate to recommend it...
But with that being said, it looks like you're playing a lot of proliferate and big creatures with trample, so I'd recommend some infection. You don't have to change too much of the deck, but a few cards here and there can be the difference between doing a lot of damage to someone and killing them outright.
If you're not looking to use infect to win, then I'd still recommend a few cards that are cheap:
Jiang Yanggu, Wildcrafter . This gives all your creatures with +1 counters the ability to create mana. Free ramp!

Leyline of Anticipation . Casting at instant speed is very powerful. It reduces the amount of time between attacking and letting your opponents interact with your board.

Last but not least! Rashmi, Eternities Crafter . Just a good value card that can help you to draw an extra card each turn or even cast something big!
I hope these suggestions help, and good luck with your deck!
Load more