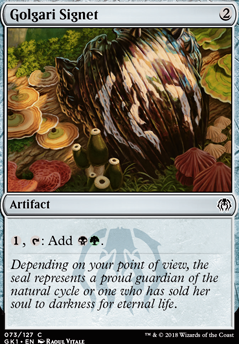 Golgari Signet
Artifact
, : Gain .
Browse Alters
Trade
Legality
| | |
| --- | --- |
| Format | Legality |
| 1v1 Commander | Legal |
| Block Constructed | Legal |
| Canadian Highlander | Legal |
| Commander / EDH | Legal |
| Duel Commander | Legal |
| Highlander | Legal |
| Legacy | Legal |
| Leviathan | Legal |
| Modern | Legal |
| Oathbreaker | Legal |
| Pauper | Legal |
| Pauper EDH | Legal |
| Tiny Leaders | Legal |
| Unformat | Legal |
| Vintage | Legal |
| Casual | Legal |
| Custom | Legal |
| Quest Magic | Legal |
Latest Decks as Commander
Golgari Signet Discussion
4 days ago
Hey Walrighti, +1!
Congrats on your first deck! You have a lot of fun cards in here and it looks great! I imagine you want to tune and make it even more efficient so here are some ideas...
Add 3 categories: #Combo, #Lifegain, and #Evasion; and then sort your maybeboard the same way you've done your mainboard to easily rank your choices within a category (By "combo" I mean all your "if-then" cards like Trudge Garden that are slower and don't work by themselves). Remove #Creatures (most of them are #Combo).
Avoid most cards above 4 cmc... Willowdusk is fast and fragile, so play into that... Also, prioritize cards that can do 2 or more things or that give value on ETB... If you have pet cards that don't really fit and that hurt to cut, put them in a "I'll build that theme later" list.
...Always play at least 10 ramp spells under 3 cmc.
...Playtest and make sure Willowbark consistently makes a fatty (with evasion) before turn 6-7.
Here's another Willowdusk thread.
Happy building :)
1 week ago
Glad could help :). If Beastmaster won't play well, you can always try with one use ultimate rush cards like: Overrun (you may have problems with GGG mana though) or Triumph of the Hordes .
Besides, like your list because it is not common to have a rat deck without neither Rat Colony nor Relentless Rats . The only thing here is that your main creatures are pretty expensive (5-6 mana) and you only have one ramp card type (elves). I would experiment with other ramp cards like Golgari Signet , Utopia Sprawl , Primal Growth to put them into play faster. Not really sure if it will work, but worth to experiment ;)
1 week ago
not a fan of: Search for Tomorrow , Diabolic Tutor , Return to Nature , Unravel the Aether , Edge of Autumn , Fertile Ground , Rampant Growth , Sakura-Tribe Elder , Golgari Signet , Talisman of Resilience , Foul Orchard , Golgari Guildgate , Jungle Hollow , Golgari Rot Farm , Desert of the Glorified , Desert of the Indomitable
3 weeks ago
In testing, I find that playing an early Sol Ring , Golgari Signet or Arcane Signet often yield truly little benefit. The reason is that Sol Ring opens up colorless mana, and I need mana. As for each Signet, the real issue is that they fail to combo with Urborg, Tomb of Yawgmoth and Cabal Coffers . They also hold mana up in places where I should be spending it more effectively in later portions of the game. While several turns in and casting Search for Blex , I find myself often ditching all three of these artifacts. In terms of Mana Crypt , taking 3 damage off of that in addition to the loss of life from Search for Blex often puts me at an unhealthy life total. With these in mind, I am removing all four artifacts from my deck. As strange as that sounds, running an EDH deck with no Sol Ring or other such sources, those four slots are much better suited for other cards.
One card in particular that I find has extreme value in this deck is Lithoform Engine . All three modes are actually quite valuable. I can use the ability to actually copy Thrumming Stone , which is immense. I can also use to copy Search for Blex , allowing me to rummage the top 10 cards of my library for the cost of 5. I don't think I need to explain how powerful that is, either. As for , this one is a bit different. has very limited potential in this deck as most non-Rat permanents are legendary. However, I could theoretically copy Craterhoof Behemoth , which is vastly helpful if I am light on Relentless Rats at the time of casting. Otherwise, probably would not see use. However, one trick that can be employed is to copy Thrumming Stone , should it be in the process of being countered.
I will also be slotting out several Forest cards for more Swamp cards, as I find far too often I lack sufficient early on. The exact balance is to be determined as I want to ensure I have for my land-tutor spells. One land I will be placing in is Reliquary Tower as I find sometimes I must ditch valuable cards off of Search for Blex as I do not have sufficient room in my hand. These are all replacements of current card slots, not newly additional slots from removal of existing cards.
With Lithoform Engine slotting in, I have three more. Bloodbond March and Patriarch's Bidding , which allow me to recover my entire Relentless Rats base following a wrath effect.
Jarad, Golgari Lich Lord is being highly considered as an alternate wincon, as the Relentless Rats can quite easily reach +10/+10 in size. A single sacrifice sees each opponent losing 10 life. The unfortunate reality is that as more and more of the Relentless Rats are sacrificed, their P/T diminishes rapidly. However, what this also does is it gives me a means to take out opponents who I may not be able to readily attack, if for any reason. It also can not be prevented in terms of damage reduction or negation techniques. Finally, it too can be copied by Lithoform Engine for a mere . It also serves as a nuclear option, as it can be done in response to another action being taken against me, such as a wrath effect.
The last card open to consideration for removal is The Great Henge . It is in here because I should only ever need to pay for it, and it does immediately regain that back for me with the addition of 2 life. It also makes each of my Relentless Rats +1/+1 larger with their counter, and I get draw advantage off of it. The value is simply too immense to not remove, but should I find I need to remove it I have the card Balthor the Defiled slotted for the replacement as another means of mass-recursion.
1 month ago
I have a couple of ideas!
Izoni, Thousand-Eyed - you only really get one activation of her token ability, and you have a couple of enchantments that already perform her sacrifice ability
Decree of Pain - pretty high costed boardwipe, when there's others that won't nuke your boardstate in the process
Reap can be replaced with Road of Return , since both do similar things, but Road can interact with your commander directly
Tragic Slip - Abrupt Decay is much better
Profane Command - there's better X spells that aren't too expensive, like Genesis Wave or Torment of Hailfire . I noticed you're going a heavy mana ramp direction with the deck, which is perfectly fine, just also remember to try and include cards that let you play extra lands if you can (cards like Azusa, Lost but Seeking , which recently was reprinted, and Exploration )
And something else pretty important is that beside ramp spells, you'll also want a few rocks/dorks to supplement yourself. There's a lot of them in-budget, like Elves of Deep Shadow , Llanowar Elves , Elvish Mystic , and the Sakura-Tribe Elder you have in already. Another similar ramp one is Yavimaya Elder for fetching basics and such. For rocks, Golgari Signet , Fellwar Stone , Commander's Sphere , and Talisman of Resilience are cheap in both CMC and price, so see if you can slide any of those in too.
It's probably my hardest suggestion to apply, but as you run through and make edits, try and choose a direction to take the deck as a whole - tokens, or lands - as a focus. Once you start narrowing down the archetype you wanna follow, the cards you need to cut to streamline it will start looking more and more obvious!
1 month ago
Ok so the changes i made are-
Out- Birds of Paradise , Manaweft Sliver , Leyline Prowler , Yavimaya Elder , Capricopian , Seedborn Muse , Chromatic Lantern , Darksteel Ingot , Replicating Ring , Gilded Lotus , Opulent Palace , Winged Temple of Orazca
In- Forest , Island , Swamp , Farseek , Nature's Lore , Sakura-Tribe Elder , Dimir Signet , Golgari Signet , Simic Signet , Worldly Tutor , Parallel Lives , Assassin's Trophy
I forgot i wanted Worldly tutor and Parallel Lives in the deck.
Check the new build/stats and gimme yer thoughts.
1 month ago
All aboard the Selvala, Heart of the Wilds / Kinnan, Bonder Prodigy train! Choo choo!
Seriously though, this looks sweet as hell. The infinite mana angle seems nasty, but not overly pushed, which should lead to good gameplay. Freed from the Real tends to be a surprisingly loud threat and my guess is that it's likely going to be a bit too greedy, especially considering you have fairly limited protection. Pemmin's Aura is good enough because the protection is built-in, and the added evasion will help you close some games. I've also found that cards like this tend to suffer quite a bit to the Chaos Orb s in our meta but YMMV.
The first thing that stood out to me was that you have significantly less interaction than you typically play, and I'd bet that it'll feel a bit uncomfortable having to be so selective with your answers. I'd recommend adding Windgrace's Judgment and Assassin's Trophy to improve your flexible removal, and some number of Erebos's Intervention , Battle at the Bridge , Profane Command , and Black Sun's Zenith to up your creature removal and creature count (Hydra tokens) at the same time. Also, these do really well against indestructible threats (cough Blightsteel Colossus + Ulamog, the Ceaseless Hunger cough) like gods and such.
You could probably also use another counterspell or two, but if you don't want to lean too hard that direction, that's understandable.
The second main thing I noticed is your mana ramp package—I'd look at it fairly critically and consider your goals. For example, I'd keep all creatures that tap for 2 or more mana ( Bloom Tender , Incubation Druid , Selvala, Heart of the Wilds ) as they give you more paths to going infinite. I'd cut the ones that only make 1 mana ( Birds of Paradise , Manaweft Sliver , Leyline Prowler ) as they tend to be a bit of a liability compared to land fetch spells and you aren't inherently taking advantage of the fact that they are creatures.
I'd also focus on the curve of your mana ramp. I think you should prioritize 2 cost spells like the three on-color signets, and the land fetch spells Nature's Lore , Farseek , Rampant Growth , and Sakura-Tribe Elder . Swapping these for your 3-5 cost mana ramp will give you more chances to cast Zaxara on turn 3 and get the ball rolling on both bigger mana and generating hydras. The way I see it, you could have a signet + Zaxara to use on turn 5 or spend that same turn casting a Gilded Lotus which is the same mana output but a turn slower. Basalt Monolith is the exception here as it goes infinite.
The final thing I'd encourage is to play more land. You really need to always hit Zaxara early for your deck to do it's thing, and maximizing your potential to consistently hit 4 mana on curve is going to pay dividends. At 34 I'd say you're 2-3 short of what I'd recommend for a mana-hungry deck like this, and you're actually at 33 right now because Winged Temple of Orazca starts as a Hadana's Climb  Flip and likely shouldn't be counted as a land.
Here are the baseline swaps I'd recommend:
Out - Birds of Paradise - Manaweft Sliver - Leyline Prowler - Yavimaya Elder - Freed from the Real - Capricopian - Seedborn Muse - Chromatic Lantern - Darksteel Ingot - Replicating Ring - Gilded Lotus - Opulent Palace
In + 2 Forest + 1 Island + 1 Swamp + Farseek + Nature's Lore + Sakura-Tribe Elder + Golgari Signet + Simic Signet + Dimir Signet + Profane Command / Erebos's Intervention + Windgrace's Judgment / Assassin's Trophy
These aren't super exciting changes but they'll massively help your initial consistency. I'd play the deck a buch before deciding what swaps would be best beyond this.
Stoked to see the deck in action!
Load more