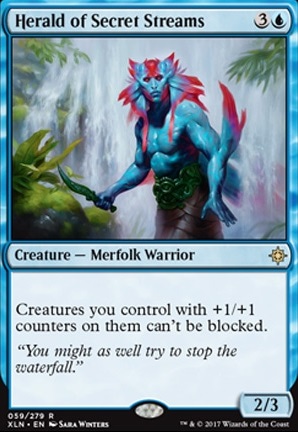 Herald of Secret Streams
Creature — Merfolk Warrior
Creatures with +1/+1 counters on them can't be blocked.
Browse Alters
View at Gatherer
Trade
Legality
| | |
| --- | --- |
| Format | Legality |
| 1v1 Commander | Legal |
| Arena | Legal |
| Block Constructed | Legal |
| Canadian Highlander | Legal |
| Casual | Legal |
| Commander / EDH | Legal |
| Custom | Legal |
| Duel Commander | Legal |
| Gladiator | Legal |
| Highlander | Legal |
| Historic | Legal |
| Legacy | Legal |
| Leviathan | Legal |
| Limited | Legal |
| Modern | Legal |
| Oathbreaker | Legal |
| Pioneer | Legal |
| Tiny Leaders | Legal |
| Unformat | Legal |
| Vintage | Legal |
Herald of Secret Streams occurrence in decks from the last year
Latest Decks as Commander
Herald of Secret Streams Discussion
3 weeks ago
I like how the guy above this comment just casually strolls in and tells you to put in a bunch of moxen...
That said, warriors is one of my favorite tribes and I've made a ton of decks with them! Plus Najeela is such a badass commander! These are my suggestions that you haven't included and could serve as some better synergy with your deck than your non-warriors:
God-Eternal Oketra make huge 4/4 zombie warrior tokens on every warrior cast.
Oketra the True make warrior tokens and acts as a big beater itself.
Oketra's Monument tons and tons of warrior tokens.
Rush of Battle warrior themed overrun that gains you tons of life.
Herald of Anafenza gets bigger and makes warrior tokens at the same time.
Raiders' Spoils probably the best card draw you'll see for warrior tribal.
Gilt-Leaf Ambush elf warrior tokens with sometimes deathtouch.
Hunting Triad elf warrior tokens or modal +1/+1 counters.
Presence of Gond give a creature a tap for elf warrior token ability.
Lovisa Coldeyes more warrior lord buffs!
Obsidian Battle-Axe haste and auto-attach to warriors equipment!
Regna, the Redeemer and Krav, the Unredeemed act as a sac outlet and warrior token generation combo.
Lord Windgrace

deck filtering, color fixing, and generation of a ton of cat warrior tokens
Great Hall of Starnheim gets you a 4/4 angel warrior token in a pinch
Base Camp cheap 5 color land for warriors
Starnheim Unleashed make a ton of 4/4 angel warrior tokens!
Emeria's Call  Flip make angel warrior tokens and give your non-angel warriors indestructible or make it a land
Ascent of the Worthy pretty fun tricks on this.
Firja's Retribution make a 4/4 angel warrior token and give angels destroy and double strike.
Battle for Bretagard make warrior tokens, then make copies.
5 months ago
you need more interactions. and draw. Beast Whisperer, Phyrexian Rebirth, Smothering Tithe, Rhystic Study, Simic Ascendancy, Phyrexian Arena, Empowered Autogenerator, Cleansing Nova, Krosan Grip, Evolution Sage, Forgotten Ancient, Kodama's Reach, and Farseek, Herald of Secret Streams, and Fathom Mage need to go in. maybe Rampant Growth. maybe Pyramid of the Pantheon or Chromatic Orrery this speeds and mana fixes you. draws you cards, helps speed the game up for you. gives you some artifact and enchantment destruction. because you will need it. add in Peregrine Drake and Temur Sabertooth for infinite colored mana? take out Tezzeret's Gambit, Chord of Calling, Howl from Beyond.
5 months ago
Hi Last_Laugh!
Can you give some insight on how these following cards perform in practice:
Seems to only be useful when you attack a player that's not on the throne.
Also only applies the counter after damage has been dealt, so the attacking creatures would have to survive the combat damage phase.
It seems awkward to not deal enough damage to take your opponents out of the game while simultaineously putting yourself on the throne. Would be interesting to know how this performs on its own and in comparison to Kokusho, the Evening Star.
This card looks like it is made for this deck, but the restricion to only be able to move the counters at the beginning of combat on our turn seems problematic.
Is this a "win-more" card or a crucial piece to win the game? I played it for a while and was never too impressed - maybe the strength of this card depends a lot on what kind of decks you are facing in your playgroup.
To figure out whether this card can find a spot in my deck I checked the decks I face in my playgroup and found surprisingly little single target spells/abilities where this card would be useful.
It's a strong card but seems clunky to resolve when you have 3-4 opponents with something like 14 creatures and 23 tokens. Do you use an app that can roll an x-sided die where x=number of creatures in play?
How much of a drawback is the sorcery speed in practice? I find it immensely useful to be able to sac at instant speed.
How often do you activate this - is it really better than Reanimate?
I'd also like some feedback on cards that have performed really well for me, but did not make your list:
It's usually a bordwipe for - I regularly tutor for this card.
The unexpected removal of a key creature can really mess up your opponents turn / combo. It has been really solid for me and has been really annoying to play against.
I feel super save playing Marchesa, the Black Rose without any ability to put counters on her when I have this card in hand.
Even just your opponents knowing that you have this card in your decks gives you some savety because they try to play around it even when it's not in your hand.
The worm seems like a dull beater that needs a setup to perform, but this card never lets me down.
Give your creatures haste via cards like Urabrask the Hidden and your opponenty will quickly be facing an army of sea-creatures.
(For reference you can check out my list here: Marchesa, the Black Rose)
Judging form the comment section of other Marchesa lists on this site you seem to put a lot of thought and effort into this deck so I am looking forward on your feedback on this topic.
Have a nice day :)
5 months ago
Thanks Bassduff! Those infinite mana pieces are core IMO, but I completely get why your group frowns on it. There's been a lot of combo talk recently in my playgroup too and having a 2 card infinite mana combo with one of the pieces sitting in the command zone is pretty potent to say the least.
I like those 3 cards you've mentioned. Leyline of Anticipation is just a great card in blue no matter what you're trying to do - it also pairs really well with Wilderness Reclamation, good call there. Manascape Refractor is interesting! Lots of additional ability that you could take advantage of for big mana. You asked me to suggest 3 other potential replacement cards so I'll give that a shot:
Herald of Secret Streams: I've been tempted to add this guy in here for additional evasion.
Corpsejack Menace: Many folks have suggested this fungus here and honestly, he probably deserves a slot in the 99 for obvious reasons.
Animist's Awakening: Seeing as you're taking out the mana combos, maybe this spell has potential? Getting lands, thinning your deck & probably creating a huge hydra while you're at it seems decent.

Nothing revolutionary, but there's a few ideas for you to think about.
6 months ago
Chulane is an insanely strong commander, and there are certainly ways to build this deck to be more competitive even on a budget. That being said it seems to me you would like a fun and casual +1/+1 themed deck that tries to win with Simic Ascendancy. Personally I think that sounds like a lot of fun and you should definitely build around it.
The first place I would start with the deck is using Tomer's suggestions from MTGGoldfish for building Commander decks. The bullet points are copied from one of his articles. Tomer explains these bullet points to be more like guidelines rather than strict rules you have to follow. Then the rest of the deck is filled with whatever you want to add.
50 mana; lands and ramp, usually a 37–13 split
10 sources of "card advantage;" I use this term loosely but am mostly looking for card draw or any spell that nets me 2+ non-land cards in hand / directly into play
6 targeted removal; split between creature / artifact / enchantment removal
3 board wipes; creature-light decks might want one more, creature-heavy decks might want one less
2 recursion
2 flexible tutors
1 graveyard hate; to shut down powerful graveyard recursion that everyone runs
1 surprise "I Win" card; something that can win games the turn you cast it without too much setup
So maybe more what you may have been looking for in your original question is what cards to add? Cards like Whitemane Lion, Shrieking Drake, Beast Whisperer, Primordial Sage, and cheap mana dork creatures work well with what Chulane wants to do. But as far as Simic Ascendancy and +1/+1 counters, some cards I'd consider are Managorger Hydra, Loyal Guardian, Forgotten Ancient, Herald of Secret Streams, Rishkar, Peema Renegade, Inspiring Call.
https://edhrec.com/themes/p1-p1-counters is also a good resource. For the deck you're building I'd look at other commander decks that care about +1/+1 counters and proliferate like Ezuri, Claw of Progress and Ghave, Guru of Spores
I think Simic Ascendancy with Chulane is a really cool idea. Have fun deckbuilding!
7 months ago
Wow! You put some work into those suggestions!! Excellent! Here are the nonland cards that leapt off of the screen and right into my heart...and then the deck list:
Two other spells will be included, as suggested by MTG Burgeoning YouTube subscriber Me Geal:
I prefer Garruk's Uprising over Nylea, God of the Hunt. Both spells provide trample to our creatures, but Garruk's Uprising is more favorable due to its card-draw ability. Nearly all of our creatures will have power four or greater, and as a bonus, Garruk's Uprising is triggered by creature tokens as well. Each time Zaxara, the Exemplary creates a hydra creature token with power four or greater, we will draw a card if Garruk's Uprising is under our control. Drawing cards is more beneficial to us than Nylea, God of the Hunt's ability to give target creature +2 +2 until end of turn.
So this brings our total to 13 cards. Let's continue:
What if we add Diabolic Intent instead of Worldly Tutor?
Sacrificing a creature as an additional cost to cast Diabolic Intent should not be a burden in our deck, and we can put the card directly into our hand as opposed to on top of our library. Additionally, we can seek out any card in our library and not just a creature card and keep it a secret from our opponents by not being forced to reveal it. Diabolic Intent is, for all intents and purposes, Demonic Tutor #2.
What if we add Rampant Growth instead of Simic Signet?
By doing so, we dodge artifact removal, mass permanent removal and an overloaded Cyclonic Rift. The spells have equal converted mana cost and yield the same total amount of mana (if we include the land needed to activate Simic Signet to the basic land fetched-out by Rampant Growth).
What if we add Thought Vessel instead of Winding Constrictor?
The volume of cards and synergy among our +1 +1 counter spells are already strong in our deck. I sense that our ramp needs strengthening and with few deck slots remaining, necessity may outweigh desire. Thought Vessel helps us ramp and gives us no maximum hand size. We should be drawing a lot of cards, and we prefer keeping them in our hand over discarding down to seven.
What if we add Bloom Tender instead of Seedborn Muse?
I am unsure about Seedborn Muse. Currently we have eight instant spells officially in our deck list (including Cyclonic Rift and Assassin's Trophy) and without a flash theme and/or enabler, I wonder if the card slot dedicated to Seedborn Muse can be filled with a card more dedicated and/or focused to our theme. Bloom Tender ramps us and can help us cast bigger spells and seems like it's a better fit to the concentration of our deck.
What if we add Strionic Resonator instead of Hydra's Growth?
I am stubborn when it comes to auras. The threat of a 2-for-1 looms large whenever an aura is cast. Additionally, with respect to Hydra's Growth, we don't reap the major benefits of this spell until the beginning of our upkeep. This allows each opponent an opportunity to remove it with instant-speed and sorcery-speed spells before we can double the +1 +1 counters on our creature. For the sake of comparison, when we cast Pemmin's Aura targeting Zaxara, the Exemplary, the threat of a 2-for-1 exists at instant-speed only. If left unchecked, the payoff is enormous and most likely game-winning. I don't sense the same level of power from Hydra's Growth. Strionic Resonator interacts favorably with multiple spells in our deck and presents greater versatility than Hydra's Growth. As Hydra's Growth enchants one creature, Strionic Resonator synergizes powerfully with numerous cards in our deck.
What if we add Kalonian Hydra instead of Herald of Secret Streams?
Open Into Wonder is in our deck already and provides our creatures unblockability (owning it!) for a turn, and Herald of Secret Streams makes creatures we control with +1 +1 counters on them unblockable. This type of redundancy is favorable. However, if this is the last creature we're planning to add to our deck, I think perhaps we go in a different direction and add a previously suggested creature, like Kalonian Hydra. How about exchanging one potential win condition for another?
I do not have available copies of Nyxbloom Ancient or Mana Crypt. When copies become available they will be added to our deck. We'll find a way to make it work! These are powerful spells and would serve us well.
So that's 19 spells added to our deck list! Awesome!! There are, at most, five more spells we can include.
As for our lands, after we solidify and complete our list of spells, we'll check back and construct the land base.
Great suggestions! Thank you again and keep 'em comin;!!
Load more