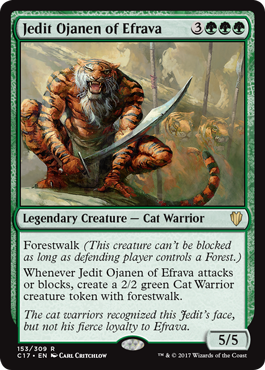 Jedit Ojanen of Efrava
Legendary Creature — Cat Warrior
Forestwalk
Whenever Jedit Ojanen of Efrava attacks or blocks, put a 2/2 green Cat Warrior creature token with forestwalk into play.
Jedit Ojanen of Efrava Discussion
7 months ago
I like how the guy above this comment just casually strolls in and tells you to put in a bunch of moxen...
That said, warriors is one of my favorite tribes and I've made a ton of decks with them! Plus Najeela is such a badass commander! These are my suggestions that you haven't included and could serve as some better synergy with your deck than your non-warriors:
God-Eternal Oketra make huge 4/4 zombie warrior tokens on every warrior cast.
Oketra the True make warrior tokens and acts as a big beater itself.
Oketra's Monument tons and tons of warrior tokens.
Rush of Battle warrior themed overrun that gains you tons of life.
Herald of Anafenza gets bigger and makes warrior tokens at the same time.
Raiders' Spoils probably the best card draw you'll see for warrior tribal.
Gilt-Leaf Ambush elf warrior tokens with sometimes deathtouch.
Hunting Triad elf warrior tokens or modal +1/+1 counters.
Presence of Gond give a creature a tap for elf warrior token ability.
Lovisa Coldeyes more warrior lord buffs!
Obsidian Battle-Axe haste and auto-attach to warriors equipment!
Regna, the Redeemer and Krav, the Unredeemed act as a sac outlet and warrior token generation combo.
Lord Windgrace

deck filtering, color fixing, and generation of a ton of cat warrior tokens
Great Hall of Starnheim gets you a 4/4 angel warrior token in a pinch
Base Camp cheap 5 color land for warriors
Starnheim Unleashed make a ton of 4/4 angel warrior tokens!
Emeria's Call  Flip make angel warrior tokens and give your non-angel warriors indestructible or make it a land
Ascent of the Worthy pretty fun tricks on this.
Firja's Retribution make a 4/4 angel warrior token and give angels destroy and double strike.
Battle for Bretagard make warrior tokens, then make copies.
11 months ago
Mono colors are good places to start for budget builds I think. Maybe try finding something you don't normally see (explore the >200 commanders on EDHREC maybe?). Looking for off the beaten path themes can dredge up some janky cards to brew around too.
shuffles some random card pile
draw hmm, green... let's see
checks edhrec <200
Alrighty, so I found a couple interesting ones. Jedit Ojanen of Efrava seems like he could be a Voltron and/or Go Wide type. Turn cards into forests with Lush Growth and similar cards. Similarly, Anthousa, Setessan Hero could be another (aura/cantrip) Voltron/Go Wide type. With all the green power based draw you'd never run out of gas.
1 year ago
Hey there! In the next comment I'll touch on the mana-base, but in this one, I'll give you some cats, or cards that revolve around cats! Maybe consider some of the following!
1 year ago
I would go with Arahbo, Roar of the World

and with a tactic of always having one or two cats on the field trying to hit people. Go tall. Alms Collector , Enlightened Ascetic , Kinjalli's Sunwing , Lost Leonin , Skyhunter Skirmisher , Stalking Leonin , Temur Sabertooth , Whitemane Lion , some ramp, removals, protection, a board wipe or two and some equipment. would take out Jareth, Leonine Titan because too much mana, Jazal Goldmane, Nacatl War-Pride , Qasali Slingers and Jedit Ojanen of Efrava for the same reason. Also cool are Heroic Intervention and Selesnya Charm. Stave Off has a cat on it.
1 year ago
Update
OUT
Forest x 3, Plains x 4, Graypelt Refuge , Blossoming Sands , Emeria, The Sky Ruin , Leonin Vanguard , Konda's Banner , Farseek Nature's Lore , Kemba, Kha Regent & Jedit Ojanen of Efrava

IN
Fabled Passage , Prismatic Vista , Terramorphic Expanse

Evolving Wilds

, Mana Confluence , City of Brass , Undiscovered Paradise , Reflecting Pool , Sungrass Prairie , Wooded Bastion , Nazahn, Revered Bladesmith

, Balan, Wandering Knight , Avacyn's Pilgrim

, Steppe Lynx , Scythe Leopard & Enlightened Tutor
2 years ago
Some new updates of the deck:
The cuts:
The new hotness:
2 years ago
Suggestions:
-- Divine Intervention - replace with a full wipe, rather than something that lets your opponent keep their best creature.
-- Relic Crush - replace with Sylvan Reclamation - exile is better, and can be cycled for a land if running short.
-- Leonin Arbiter - with the amount of searching you do, I'd re-think the search denial, as it hinders your own searching for lands too.
-- Jedit Ojanen of Efrava is just... not the greatest. He's pretty lackluster.
-- Curse of Vitality is very minor lifegain.
-- Nissa's Pilgrimage could be replaced with Kodama's Reach or Skyshroud Claim
You have an awful lot of slow lands, that come in tapped. Canopy Vista is pretty much strictly better than a Guildgate.
--Move Mirari's Wake to the main board. You should always run that. Same with Swords to Plowshares which is strictly better than Condemn. Aura Shards should likewise go into the main deck.
Soul's Majesty should be replaced with Rishkar's Expertise - it's one mana more, but can't be countered by killing the target, and it lets you cast something in your hand (even if it's not one of the things you drew).
I find Hunter's Prowess is outclassed by its uncommon counterpart, Hunter's Insight - it lacks the +3/+3, but the instant speed means you can just choose any unblocked creature, your opponents not getting the ability to block the target more to deny you cards. Also, it's 2 mana cheaper.
I'd try to find a slot for Rancor - it's a recurring way to grant trample, and +2/0 for one mana is sweet.
Lightning Greaves has screwed you over so many times in our games. Consider Swiftfoot Boots instead? The two differences are it costs mana to equip, at the trade-off of you can still target the creature later on without opening a vulnerability window with re-equip/etc, or locking you out of targeting it if it's your only creature.
Load more