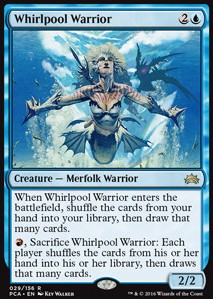 Whirlpool Warrior
Creature — Merfolk Warrior
When Whirlpool Warrior enters the battlefield, shuffle the cards from your hand into your library, then draw that many cards.
(Red), Sacrifice Whirlpool Warrior: Each player shuffles the cards from his or her hand into his or her library, then draws that many cards.
Browse Alters
Legality
| | |
| --- | --- |
| Format | Legality |
| 1v1 Commander | Legal |
| Canadian Highlander | Legal |
| Commander / EDH | Legal |
| Duel Commander | Legal |
| Highlander | Legal |
| Legacy | Legal |
| Leviathan | Legal |
| Oathbreaker | Legal |
| Tiny Leaders | Legal |
| Unformat | Legal |
| Vintage | Legal |
| Casual | Legal |
| Custom | Legal |
| Quest Magic | Legal |
Latest Decks as Commander
Whirlpool Warrior Discussion
1 month ago
I like how the guy above this comment just casually strolls in and tells you to put in a bunch of moxen...
That said, warriors is one of my favorite tribes and I've made a ton of decks with them! Plus Najeela is such a badass commander! These are my suggestions that you haven't included and could serve as some better synergy with your deck than your non-warriors:
God-Eternal Oketra make huge 4/4 zombie warrior tokens on every warrior cast.
Oketra the True make warrior tokens and acts as a big beater itself.
Oketra's Monument tons and tons of warrior tokens.
Rush of Battle warrior themed overrun that gains you tons of life.
Herald of Anafenza gets bigger and makes warrior tokens at the same time.
Raiders' Spoils probably the best card draw you'll see for warrior tribal.
Gilt-Leaf Ambush elf warrior tokens with sometimes deathtouch.
Hunting Triad elf warrior tokens or modal +1/+1 counters.
Presence of Gond give a creature a tap for elf warrior token ability.
Lovisa Coldeyes more warrior lord buffs!
Obsidian Battle-Axe haste and auto-attach to warriors equipment!
Regna, the Redeemer and Krav, the Unredeemed act as a sac outlet and warrior token generation combo.
Lord Windgrace

deck filtering, color fixing, and generation of a ton of cat warrior tokens
Great Hall of Starnheim gets you a 4/4 angel warrior token in a pinch
Base Camp cheap 5 color land for warriors
Starnheim Unleashed make a ton of 4/4 angel warrior tokens!
Emeria's Call  Flip make angel warrior tokens and give your non-angel warriors indestructible or make it a land
Ascent of the Worthy pretty fun tricks on this.
Firja's Retribution make a 4/4 angel warrior token and give angels destroy and double strike.
Battle for Bretagard make warrior tokens, then make copies.
1 month ago
The changes I'm testing right now, to fit a Cloudstone package and a discount Cephalid Breakfast.
Cut: Wheel of Misfortune , Lightning Bolt , Izzet Charm , Treasonous Ogre , Thing in the Ice  Flip, Rielle, the Everwise , Cephalid Constable .
Added: Whirlpool Warrior , Goblin Engineer , Cloudstone Curio , Lightning Greaves , Intuition , Cephalid Illusionist , Spectral Sailor .
Abridged explanation:
Wheel of Misfortune was just too hard to control effectively, and I can't force my opponents to draw with Narset or Hullbreacher out (also, making it work right often cost too much life if I was the archenemy). Whirlpool Warrior does that trick better.
Cephalid Constable was cute and won me some games, but it always left everyone unhappy at the end of the game. Cephalid Illusionist costs one less mana, mills cards to give Vadrok fuel, and sometimes can help on defense.
Speaking of Illusionist, I'm testing Lightning Greaves to mill my whole deck along with him (by alternating between Illusionist and another creature). I'd rather run Nomads en-Kor , but I'm not running any white... Lightning Greaves can help protect something like Toothy or Con Sphinx anyway, so hopefully it's not TOO bad on its own.
Goblin Engineer can fetch Curio, and Cloudstone Curio can reset Vadrok's mutation, or simply go infinite with Cloud of Faeries and/or Dockside Extortionist (potentially with help from Birgi, God of Storytelling  Flip).
Intuition has been in and out before, but I'm testing it to try packages like Lore Drakkis / Snap + Underworld Breach + Dockside Extortionist / Sea-Dasher Octopus (assuming I already have Vadrok on field). At the very least, it's essentially an Entomb for Underworld Breach , since no opponent in their right mind would ever allow me to have that card in hand.
2 months ago
lonesentinel Thanks for the suggestions!
Whirlpool Warrior is awesome in the deck as he allow us to wheel twice for . Being able to use Geistblast 's copy ability from the graveyard is actually great due to all the wheel effects we are running, many which requires us to discard our hand. Both cards are able to get around Krark, the Thumbless 's coin flipping ability, and we need that at crucial times with the fear that the spell may be returned to our hand due to losing a coin flip.
Jeska's Will and Birgi, God of Storytelling  Flip are good! I'll throw them in and see how they perform. Not sure if I've room for Mana Geyser and Reiterate though. I don't need the Buyback ability that much cause copying spell is more of an enabler rather than a core mechanic for the deck (Wheeling and Kydele's mana ability is).
Sakashima of a Thousand Faces is a popular partner with Krark, the Thumbless . I'm trying to explore quirky and unorthodox variants which led me to Kydele, Chosen of Kruphix . I initially ran Sakashima in my 99 but took him out as I feel he's a "win more" card.
I'm in two minds about Ignite Memories vs Grapeshot . The deck doesn't have infinite combos so I'm not sure if I'm able to generate sufficient storm counts in 1 turn to kill off all 3 opponents using Grapeshot , thus my preference for Ignite Memories instead. The is not an issue as Kydele can generate heaps of so I'm only worried about the .
I'll KIV Bala Ged Recovery and can add it in if I need more recursion. Currently, Noxious Revival and Past in Flames , etc would suffice.
Thrill of Possibility and Cathartic Reunion are good card draws for red but they both require discarding cards as additional cost. This can be detrimental to us if Krark is onboard and we fail the coin flip.
I've never considered Expedite but now that you mentioned, it looks interesting as a cantrip and can give Kydele haste when I summon her. The deck badly needs colored mana so I avoid having too many lands that procudes only in the deck.
2 months ago
Non-spell effects should be replaced with spell effects, as the latter trigger off krark. I'm referring to taking out cards like Whirlpool Warrior and Geistblast , swapping with Reforge the Soul and Twincast or Repeated Reverberation
For rituals, may want to add in Jeska's Will and Mana Geyser ? You can storm-copy them for mana as an alternative to Kydele. They also synergise with Reiterate , which I think you forgot to include.
Jeska's Will impulse draw will help you in your storm turns, and with Krark, you can even turn the impulse draw into real draw by returning the spell to hand!
On that note, you may consider Birgi, God of Storytelling  Flip. I've made a storm deck with her and either side are valuable for storm turns, either because they provide mana or because of the card draw.
I saw Sakashima of a Thousand Faces in your sideboard. You should add it in. With Krark and Krark Thumb, you have a high chance to BOTH copy and return the spell to your hand, leading to insane logistical nightmares but a definite win.
As for wincons, I would remove Ignite Memories , at 5cc, it is tight on mana and for non-storm turns, its a dead card. I would rather Lightning Bolt infinitely copied or Grapeshot as these two also serve as spot removal in the early turns.
For Recursion, Bala Ged Recovery is a good MDFC that I'm always happy to have in my hand at any point of the game.
In terms of general gameplan, I think simple cantrips may be required to smooth out draws. I would lean onto the red ones like Faithless Looting for effciency and 2nd use, Thrill of Possibility for instant speed, Cathartic Reunion for 3x draw, especially if copied.
I've always tried to brew Kydele but there's the limitation of colorless mana as well as needing to give haste. Hall of the Bandit Lord and Expedite should help here, the latter also acting as a cantrip anyway.
3 months ago
Teferi's Puzzle Box , Dragon Mage , Otherworld Atlas , Peer into the Abyss , Skyscribing , Temple Bell , Walking Archive and Whirlpool Warrior are probably cool cards for this deck.
As for protection someone said Avacyn already but there's also Bruna, the Fading Light and Gisela, the Broken Blade so you can have Brisela, Voice of Nightmares . As well as Gaddock Teeg , Shalai, Voice of Plenty and Akroma's Memorial .
3 months ago
Main Notes
I think you should replace Plasm Capture with Rapid Hybridization or Pongify because holding up 4 mana for a counter is rough but holding (or using) 1 mana to get rid of a boi is a lot easier
I think you should take out Dictate of Kruphix and Rites of Flourishing and slot in something else, like board wipe protection or another wheel.
I feel like unless you are confident that you are going to maintain a hand of more than 7 then maybe consider swapping out Spellbook might be a good idea
Not sure how useful Patron of the Orochi will be especially being at such a high cmc
Reforge the Soul only triggers the miracle cost if it is the card you draw for turn so you would have to pay the full CMC if you drew into it from a wheel. Thus, could save a few bucks by swapping it out for a different wheel card.
Nadir Kraken might not pull that much weight since you're theoretically going to be creating a ton of snakes and drawing a bunch of cards. Plus I'm not sure if you'll end up wanting to spend the mana to add the +1 counter and make a tentacle
Fun synergy
Bag of Holding $0.35 instead of losing all of your cards to wheels, you can actually get them back later lol
Second Harvest $1.29 2GG to double all your creature tokens... could be useful? could also just do with another wheel lol
Soul of New Phyrexia $4 Might be a lot of mana to run but if you have ashnod's alter out then you should have no issue sacking three tokens to give everything indestructible. Just one more board wipe protection
Haste Givers
Rhythm of the Wild $3 can either give them haste or make them a lil bit bigger
Ogre Battledriver $0.6 buffs snakes upon ETB and gives them haste; if this is already out and you wheel...OOF
Horizon Chimera $0.25 padding your life total isn't a bad idea; granted you are likely going to be aggressive affff
More Wheels
Geier Reach Sanitarium $2.5 Might not be worth it but having a little something-something on a land is hard to deal with and could help in a pinch
Dragon Mage $0.25
Prosperity $1.5
Minds Aglow $2.5
Burning Inquiry $1 One red mana to get 9 snake bois and might get some good stuff out of someone else's hand
Game Plan $0.39 Heftier side of things at 6 CMC but everyone draws 7 instead of perhaps the same amount they discarded. Plus everyone refills their library so any graveyard shenanigans gets shut down and you don't risk milling yourself for a little bit longer
6 months ago
Hey man, I've got some suggestions:
Talisman of Creativity: Another ramp spell, and taps for colorless if you need it to.
Keep Watch: Absolutely ridiculous card, often draws you 5+ cards at least, and I once drew 24 cards. Brilliant.
Ophidian Eye: I know it's in your maybeboard, but it's still a combo with Niv-Mizzet.
Windfall: Draw ALL the cards.
Whirlpool Warrior: Basically a personal double Windfall, if you're playing your deck right, you should always have the most cards.
Jace's Archivist: Man, the Windfalls keep on coming! This one's one you can do every turn, which is just pure value, plus it disrupts your opponent's gameplan when you're wheeling every turn.
AEtherize/AEtherspouts: Just say no to any deck that's attacking. Hint: most decks.
Anyways, hope this helps, and as always, Happy Tapping!
Load more