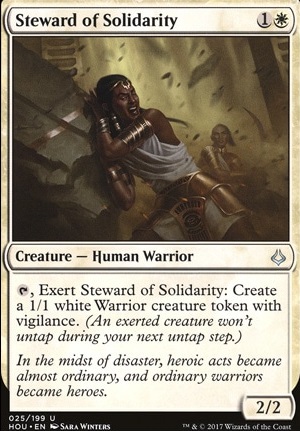 Steward of Solidarity
Creature — Human Warrior
Tap, Exert Steward of Solidarity: Create a 1/1 white Warrior creature token with vigilance. (An exerted creature won't untap during your next untap step.)
Latest Decks as Commander
Steward of Solidarity Discussion
7 months ago
I like how the guy above this comment just casually strolls in and tells you to put in a bunch of moxen...
That said, warriors is one of my favorite tribes and I've made a ton of decks with them! Plus Najeela is such a badass commander! These are my suggestions that you haven't included and could serve as some better synergy with your deck than your non-warriors:
God-Eternal Oketra make huge 4/4 zombie warrior tokens on every warrior cast.
Oketra the True make warrior tokens and acts as a big beater itself.
Oketra's Monument tons and tons of warrior tokens.
Rush of Battle warrior themed overrun that gains you tons of life.
Herald of Anafenza gets bigger and makes warrior tokens at the same time.
Raiders' Spoils probably the best card draw you'll see for warrior tribal.
Gilt-Leaf Ambush elf warrior tokens with sometimes deathtouch.
Hunting Triad elf warrior tokens or modal +1/+1 counters.
Presence of Gond give a creature a tap for elf warrior token ability.
Lovisa Coldeyes more warrior lord buffs!
Obsidian Battle-Axe haste and auto-attach to warriors equipment!
Regna, the Redeemer and Krav, the Unredeemed act as a sac outlet and warrior token generation combo.
Lord Windgrace

deck filtering, color fixing, and generation of a ton of cat warrior tokens
Great Hall of Starnheim gets you a 4/4 angel warrior token in a pinch
Base Camp cheap 5 color land for warriors
Starnheim Unleashed make a ton of 4/4 angel warrior tokens!
Emeria's Call  Flip make angel warrior tokens and give your non-angel warriors indestructible or make it a land
Ascent of the Worthy pretty fun tricks on this.
Firja's Retribution make a 4/4 angel warrior token and give angels destroy and double strike.
Battle for Bretagard make warrior tokens, then make copies.
1 year ago
You might like these: Flurry of Wings, Glare of Subdual, God-Pharaoh's Statue, Storage Matrix, Uba Mask, Tomorrow, Azami's Familiar, Mimic Vat, Proteus Staff, Empowered Autogenerator, Coalition Relic, Thraben Doomsayer, Imperious Perfect, Pride Sovereign, Steward of Solidarity, Selesnya Evangel, Mangara of Corondor (untap him while the ability is on the stack to use the ability multiple times before the effect resolves!)
2 years ago
Intruder Alarm , Thraben Doomsayer , Steward of Solidarity , Muddle the Mixture , Drift of Phantasms , Fatestitcher , Vizier of Tumbling Sands , Kiora's Follower , Hardened Scales , Fate Transfer , Winding Constrictor , Howling Mine , Kami of the Crescent Moon , Temple Bell , Font of Mythos , Savor the Moment
3 years ago
If I have Steward of Solidarity (or Thraben Doomsayer) out while I have Oketra's Monument in play.. Can I use their abilities to create tokens and also create a second token because of Otekra's "If creature is cast, then create 1/1 token" ability?
I know that the term "cast" is used here, but changes to the term cast/put into play were made in m10. Any official word?
Thanks!
Load more