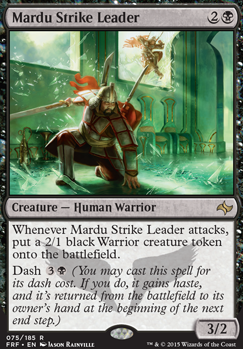 Mardu Strike Leader
Creature — Human Warrior
Whenever Mardu Strike Leader attacks, put a 2/1 black Warrior creature token onto the battlefield.
Dash (You may cast this spell for its dash cost. If you do, it gains haste, and it is returned from the battlefield to your hand at the beginning of the next end step.)
Latest Decks as Commander
Mardu Strike Leader Discussion
6 months ago
I like how the guy above this comment just casually strolls in and tells you to put in a bunch of moxen...
That said, warriors is one of my favorite tribes and I've made a ton of decks with them! Plus Najeela is such a badass commander! These are my suggestions that you haven't included and could serve as some better synergy with your deck than your non-warriors:
God-Eternal Oketra make huge 4/4 zombie warrior tokens on every warrior cast.
Oketra the True make warrior tokens and acts as a big beater itself.
Oketra's Monument tons and tons of warrior tokens.
Rush of Battle warrior themed overrun that gains you tons of life.
Herald of Anafenza gets bigger and makes warrior tokens at the same time.
Raiders' Spoils probably the best card draw you'll see for warrior tribal.
Gilt-Leaf Ambush elf warrior tokens with sometimes deathtouch.
Hunting Triad elf warrior tokens or modal +1/+1 counters.
Presence of Gond give a creature a tap for elf warrior token ability.
Lovisa Coldeyes more warrior lord buffs!
Obsidian Battle-Axe haste and auto-attach to warriors equipment!
Regna, the Redeemer and Krav, the Unredeemed act as a sac outlet and warrior token generation combo.
Lord Windgrace

deck filtering, color fixing, and generation of a ton of cat warrior tokens
Great Hall of Starnheim gets you a 4/4 angel warrior token in a pinch
Base Camp cheap 5 color land for warriors
Starnheim Unleashed make a ton of 4/4 angel warrior tokens!
Emeria's Call  Flip make angel warrior tokens and give your non-angel warriors indestructible or make it a land
Ascent of the Worthy pretty fun tricks on this.
Firja's Retribution make a 4/4 angel warrior token and give angels destroy and double strike.
Battle for Bretagard make warrior tokens, then make copies.
1 year ago
Hi Shayda!!!
Dude those dragons are doing so well (when no one wipes them)!
Did you want a similar deck? 'Cuz that's what you've got here... but I think you should lean into go-wide-aggro > midrange and play more 1-2 cmc creatures and move all your ramp to 2 (Rampant Growth, signets, etc).
I'd also recommend Golgari Charm, Boros Charm, and Heroic Intervention.
Tribal decks have so much flavor! Hope this helps, maybe we'll see it next weekend? :o
1 year ago
okay, a few things-first, TypicalTimmy, Parhelion II and Mardu Strike Leader don't help trigger battalion. Battalion triggers when creatures are declared as attackers. If a creature enters attacking, it was never declared as an attacker.
---
hmm. a creature that shows progression through the golgari. lets try this:
Rotsifter Recruit
creature-human shaman
whenever ~ enters the battlefield or attacks, put the top two cards of your library into your graveyard.
as long as there are at least 5 cards in your graveyard, ~ gets +1/+1 and has deathtouch.
As long as there are more cards in your graveyard than your library, ~ gets +3/+2, is a zombie in addition to its other types, and has menace and trample
2/2
---
I want to see a creature that is a situational Bogle, with Bogle in this instance meaning a 1-drop creature with hexproof. Either it is only sometimes a one-drop, or only sometimes a bogle.
1 year ago
Hmmm, there are a bit of things you can add in as I tried playtesting it earlier and it definitely feels a bit clunky. Your goal is to make a lot of tokens and use them to kill people. You should focus more on value cards like i.e.
Just to make some tokens while you are idle. And some kill effects like Triumph of the Hordes or effects like those. What is the main goal you want to do?
Load more