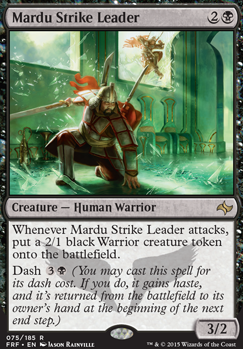 Mardu Strike Leader
Creature — Human Warrior
Whenever Mardu Strike Leader attacks, put a 2/1 black Warrior creature token onto the battlefield.
Dash (You may cast this spell for its dash cost. If you do, it gains haste, and it is returned from the battlefield to your hand at the beginning of the next end step.)
Browse Alters
View at Gatherer
Trade
Tokens
Legality
| | |
| --- | --- |
| Format | Legality |
| Vintage | Legal |
| Commander / EDH | Legal |
| Tiny Leaders | Legal |
| Highlander | Legal |
| Limited | Legal |
| Leviathan | Legal |
| 1v1 Commander | Legal |
| Oathbreaker | Legal |
| Modern | Legal |
| Block Constructed | Legal |
| Canadian Highlander | Legal |
| Duel Commander | Legal |
| Casual | Legal |
| Unformat | Legal |
| Pioneer | Legal |
| 2019-10-04 | Legal |
| Legacy | Legal |
Latest Decks as Commander
Mardu Strike Leader Discussion
2 months ago
Hi Shayda!!!
Dude those dragons are doing so well (when no one wipes them)!
Did you want a similar deck? 'Cuz that's what you've got here... but I think you should lean into go-wide-aggro > midrange and play more 1-2 cmc creatures and move all your ramp to 2 (Rampant Growth, signets, etc).
I'd also recommend Golgari Charm, Boros Charm, and Heroic Intervention.
Tribal decks have so much flavor! Hope this helps, maybe we'll see it next weekend? :o
2 months ago
okay, a few things-first, TypicalTimmy, Parhelion II and Mardu Strike Leader don't help trigger battalion. Battalion triggers when creatures are declared as attackers. If a creature enters attacking, it was never declared as an attacker.
---
hmm. a creature that shows progression through the golgari. lets try this:
Rotsifter Recruit
creature-human shaman
whenever ~ enters the battlefield or attacks, put the top two cards of your library into your graveyard.
as long as there are at least 5 cards in your graveyard, ~ gets +1/+1 and has deathtouch.
As long as there are more cards in your graveyard than your library, ~ gets +3/+2, is a zombie in addition to its other types, and has menace and trample
2/2
---
I want to see a creature that is a situational Bogle, with Bogle in this instance meaning a 1-drop creature with hexproof. Either it is only sometimes a one-drop, or only sometimes a bogle.
2 months ago
Mileva, Legion Commander
Legendary Creature - Human Soldier
Vigilance, Haste
Battalion - Whenever Mileva, Legion Commander and at least two other creatures attack, creatures you control get +1/+1 until end of turn. Legendary Creatures you control get an additional +1/+1 until end of turn.
You may exert Mileva, Legion Commander as she attacks. If you do, create two 1/1 red and white Soldier creatures tapped and attacking.
3/4
---
So I'm not sure if this works. Battalion doesn't say "attacking creatures you control" which implies they were declared as attackers.
Cards such as Mardu Strike Leader and Parhelion II may trigger Battalion because it looks at the total number of creatures who are currently attacking and sees the tokens who entered attacking.
(Though to be fair I believe it does look at creatures declared as attackers, not creatures who are created tapped and attacking.)
If this works, her Exert ability gives you the fodder for her Battalion ability. She becomes a 5/6 and they become 2/2s.
If it doesn't work, it still nets you extra boardstate and that's always a plus for Boros.
---
Make a Giant Jellyfish
4 months ago
Mindfeeder
Creature - Vampire
Flying, Ingest, Haste
2/1
---
Simple but effective.
Do you have a favorite type of creature token? Perhaps those made by Giant Adephage or Wurmcoil Engine? Maybe they are the 2/1 black Warriors from Mardu Strike Leader? Or the ones from God-Eternal Oketra?
Whatever your favorite creature token is, make a card that makes more of them
7 months ago
Hmmm, there are a bit of things you can add in as I tried playtesting it earlier and it definitely feels a bit clunky. Your goal is to make a lot of tokens and use them to kill people. You should focus more on value cards like i.e.
Just to make some tokens while you are idle. And some kill effects like Triumph of the Hordes or effects like those. What is the main goal you want to do?
Load more