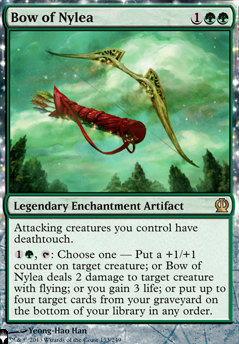 Bow of Nylea
Legendary Enchantment Artifact
Attacking creatures you control have deathtouch.
1G, T : Choose one -- Put a +1/+1 counter on target creature; or Bow of Nylea deals 2 damage to target creature with flying; or you gain 3 life; or put up to four target cards from your graveyard on the bottom of your library in any order.
Browse Alters
Trade
Legality
| | |
| --- | --- |
| Format | Legality |
| 1v1 Commander | Legal |
| Block Constructed | Legal |
| Canadian Highlander | Legal |
| Commander / EDH | Legal |
| Duel Commander | Legal |
| Highlander | Legal |
| Legacy | Legal |
| Leviathan | Legal |
| Modern | Legal |
| Oathbreaker | Legal |
| Pioneer | Legal |
| Tiny Leaders | Legal |
| Unformat | Legal |
| Vintage | Legal |
| Casual | Legal |
| Custom | Legal |
| Quest Magic | Legal |
Latest Decks as Commander
Bow of Nylea Discussion
1 week ago
Hey Walrighti, +1!
Congrats on your first deck! You have a lot of fun cards in here and it looks great! I imagine you want to tune and make it even more efficient so here are some ideas...
Add 3 categories: #Combo, #Lifegain, and #Evasion; and then sort your maybeboard the same way you've done your mainboard to easily rank your choices within a category (By "combo" I mean all your "if-then" cards like Trudge Garden that are slower and don't work by themselves). Remove #Creatures (most of them are #Combo).
Avoid most cards above 4 cmc... Willowdusk is fast and fragile, so play into that... Also, prioritize cards that can do 2 or more things or that give value on ETB... If you have pet cards that don't really fit and that hurt to cut, put them in a "I'll build that theme later" list.
...Always play at least 10 ramp spells under 3 cmc.
...Playtest and make sure Willowbark consistently makes a fatty (with evasion) before turn 6-7.
Here's another Willowdusk thread.
Happy building :)
1 week ago
Change your deck-type from Modern to Casual if you're going to run Citanul Hierophants . With Legendary creatures, I often only run 3 copies instead of 4 because multiples are not allowed. But if it's going to be a target (And Fynn likely is) sometimes 4 is worth the slot. Honestly, I think you need a bit more land. With the curve you're running and the low amount of ramp, you probably need at least 2 more lands. My first choices for dropping are Nightshade Peddler and 1x Bow of Nylea .
3 weeks ago
Aside from the power 9 and the original dual lands, Gaea's Cradle is probably the most high-demand card on the reserve list. Years ago, I almost bought one at $80 for a token deck but backed out because it didn't seem worth it and now it's just absurdly expensive. Even non-reserve list cards are really expensive at the moment. Wizards has done a very poor job of keeping supply in line with demand. I bought my playset of Nykthos, Shrine to Nyx for $11 during Theros, but now it would cost $120.
Bellyaching aside, let's talk about gods. Nylea, God of the Hunt is best used as a mana sink for when you have excess in the late game. The only creatures you currently have that make really good use of her trample ability are Scute Mob and Heroes' Bane , and End-Raze Forerunners might make it redundant if that's a card you want to top out at. If you do include Omnath, Locus of Mana , old Nylea would be a great partner for him. As for Nylea, Keen-Eyed , I'd usually prefer the cheaper Duskwatch Recruiter  Flip unless sending stuff to the yard or keeping it on top is of vital importance. Even though Rhonas the Indomitable looks just like the first Nylea, many small differences compound into making him a much stronger card. He costs 1 less, his activated ability costs 1 less, his combat requirement is easier to meet, and he has that excellent deathtouch/indestructible pairing. The card is honestly pretty bananas and would fit very well in your deck if you can afford it. God-Eternal Rhonas is more niche. He also serves a very similar role to Forerunners as a means of finishing the game. I'd normally choose the 5-cost option over the 7-cost one, but the creatures you can currently develop before dropping Rhonas on 5 have relatively low power. Turning a bunch of 1/2s into 2/2s just isn't that impactful, so I'd add new Rhonas only if he had bigger creatures to buff. Finally, Bow of Nylea is a very nice and surprisingly flexible tool for a deathtouch deck. If you could get ~3 copies, you could drop some of the existing DT creatures like Wasteland Viper and Deadly Recluse , add in more Fynn, the Fangbearer , and shift to a very aggressive line of play. Otherwise, I think a singleton copy would be totally fine.
In my suggestions for ramp options, I was basically just using Cultivate as a stand-in for all the 3 CMC 2 land search spells like it. Nissa's Pilgrimage is objectively better in a forest-only deck, although the odds of you having Spell Mastery in the early game with only 5 instants/sorceries in the deck (3 of which are situational) is essentially zero. I also listed Harrow specifically since I've had the most success with it out of all the Cultivate effects save for Harvest Season in token-heavy decks. Being able to immediately convert the untapped lands into a Rampant Growth or any 2-drop creature makes for incredible tempo, and the instant speed is great for bluffing. Seeing a counterspell after the land sac is brutal though so I do understand the hesitation. If that's your biggest worry, I'd also keep an eye out for Allosaurus Shepherd (high budget), Veil of Summer (mid budget), and Autumn's Veil (low budget) as options for the sideboard.
3 weeks ago
This is basically a selfmade precon for a friend to start commander? Awesome. I hope your buddy enjoys this deck, as it seems really fun. It actually makes me consider building Fynn myself.
Some great updates to consider once your friend had some matches with it might be Toski, Bearer of Secrets , Ohran Viper , Ohran Frostfang , Mwonvuli Beast Tracker and Bow of Nylea . All of these great value in onevway or the other and keep your deathtouchers hitting the board.
3 weeks ago
Some cards to consider:
Those cards range from what I consider to be auto-includes to somewhat pet cards in no particular order and are pulled from an older deck list that I haven't updated in some time.I would be happy to discuss what makes them strong or what cuts to make to fit them in of you have any questions.
4 weeks ago
Hey, I saw your comment. Is this an alternate account for twechsler or is this deck just inspired by theirs? Either way, I'll go into greater depth on some possible build paths. libraryjoy is correct in that if you're (mostly) mono-green, your best way to destroy creatures is often to take advantage of the abilities on your own creatures. You already have the deathtouch style shell so I'd just focus on that. But even with deathtouch, there are a fair number of options for guaranteeing that damage gets dealt. There are the bow/staff cards like I use in my artifact commander deck A Pile of Cans with the deathtouch from Sydri, Galvanic Genius . Then there's fight effects which you can see working with Wren's Run Packmaster in my wolfless wolf deck Size of the Fight in the Dog (although this strategy doesn't require DT if your creatures have high enough power). A final approach is forced combat damage. Since it's been mentioned the least, that's what I'll focus on here.
Forced block cards like Lure , Gift of the Deity , Indrik Umbra , Ochran Assassin , Roar of Challenge , Tempting Licid , Provoke , Irresistible Prey , or Tangle Angler are the core of such a deck. Most of these cards are rather costly in terms of CMC, and I'd consequently only recommend such a deck for slower casual play. It should be pretty strong in creature-heavy metas though. If that sounds reasonable, the next thing you have to decide on are the creatures and supporting cards. These choices aren't always obvious because of the many things a deck like this wants. For example, it may be better to play cheap deathtouch creatures like Deathcap Cultivator , Gifted Aetherborn , Narnam Renegade , Wasteland Viper , and Nightshade Peddler so you can start controlling the board sooner. But if all your DT creatures have low power, they'll only be able to kill 1 or 2 things off a big forced block. Thus, it may be better to instead grant deathtouch with other cards like Basilisk Collar , Deadly Allure , Virulent Swipe , Bow of Nylea , Archetype of Finality , or Ohran Frostfang . Then, you could just run creatures with high attack for their cost. Still, I think there's something to be said of looking for other abilities that interact well with deathtouch. First strike and double strike are the most obvious examples because they can let your creatures survive combat to attack all over again on later turns. Viridian Claw , Glissa, the Traitor , and Grappling Hook see play in such decks for this reason. Alternatively, you can learn from the synergy of the Frostfang that abilities triggering on face damage pair well with deathtouch. Only a fool would block your 1/1 DT with their 3/3, but if that 1/1 is drawing you a card, suddenly that trade sounds more appealing. Cold-Eyed Selkie , Dimir Cutpurse , Edric, Spymaster of Trest , Oakhame Adversary , Ohran Viper , Tomebound Lich , Fynn, the Fangbearer , and Hapatra, Vizier of Poisons are some cards that might fill this role.
I know I've just rattled off a lot of cards here. I'll try putting together a casual deck to demonstrate what I'm talking about when I find the time.
As an aside, I see that you've included Novablast Wurm as the only meaningful white spell in this version of the deck. It's too slow to see play in anything but ramp, but it can definitely be built around as a beefy Wrath of God too. Consider using something like Heroic Intervention or a Dauntless Escort sacrifice to break the symmetry on the board wipe. Also, creatures that grant boons on death like Thragtusk or Wurmcoil Engine could find a home in a self-wipe deck, although the Wurm might be outclassed then by something more traditional like Austere Command , Settle the Wreckage , Kindred Dominance , or Phyrexian Rebirth .
1 month ago
This deck has mean written all over it! I actually included Bow of Nylea as an added precaution against this deck! I like it and can't wait to play against it.
Load more