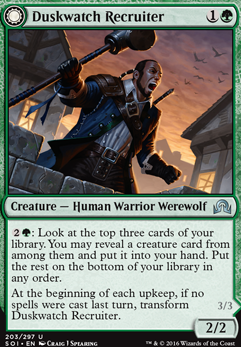 Back:
Krallenhorde Howler
Duskwatch Recruiter
Creature — Human Warrior Werewolf
: Look at the top three cards of your library. You may reveal a creature card from among them and put it into your hand. Put the rest on the bottom of your library in any order.
At the beginning of each upkeep, if no spells were cast last turn, transform Duskwatch Recruiter.
Browse Alters
View at Gatherer
Trade
Legality
| | |
| --- | --- |
| Format | Legality |
| Tiny Leaders | Legal |
| 2019-10-04 | Legal |
| Legacy | Legal |
| Duel Commander | Legal |
| Highlander | Legal |
| Canadian Highlander | Legal |
| Heirloom | Legal |
| Modern | Legal |
| 1v1 Commander | Legal |
| Pioneer | Legal |
| Casual | Legal |
| Block Constructed | Legal |
| Vintage | Legal |
| Commander / EDH | Legal |
| Unformat | Legal |
| Magic Duels | Legal |
| Frontier | Legal |
| Oathbreaker | Legal |
| Leviathan | Legal |
Duskwatch Recruiter occurrence in decks from the last year
Commander / EDH:
All decks: 0.02%
Green: 0.19%
Duskwatch Recruiter Discussion
2 weeks ago
Hi Shayda!!!
Dude those dragons are doing so well (when no one wipes them)!
Did you want a similar deck? 'Cuz that's what you've got here... but I think you should lean into go-wide-aggro > midrange and play more 1-2 cmc creatures and move all your ramp to 2 (Rampant Growth, signets, etc).
I'd also recommend Golgari Charm, Boros Charm, and Heroic Intervention.
Tribal decks have so much flavor! Hope this helps, maybe we'll see it next weekend? :o
2 weeks ago
I wish i knew how to send MSE card onto this website so here we go
Hanna, Survivor of Estwald 2
Legendary Creature- Human Werewolf
First Strike, Haste, Protection from Spirits
Whenever a human werewolf or werewolf deals damage to a player or kills a creature you may transform it.
Other Wolves and Human Werewolves you control gain haste and +1/+0
4/6
Hanna, Avenger of Estwald
Legendary Creature- Werewolf
First Strike, Wither, Protection from Sprirts and Clerics
Whenever a human werewolf or werewolf deals damage to a player or kills a creature you may transform it.
Other werewolves and wolves you control gain +2/+0
6/4
As you can see i wanted to make a better werewolf commander that actually helps werewolves by helping with their transform mechanic, not just Wizards saying here's a legendary werewolf happy now which is how I felt when they made Ulrich of the Krallenhorde  Flip. Anyway as werewolves are aggressive I also tried to help that nature by buffing and since you want to keep other werewolves transforming like Huntmaster of the Fells  Flip or not have transform like Duskwatch Recruiter  Flip so i gave each side the ability to choose if you transform the card that dealt damage to a player. Flavor wise the human transform after tasting blood and that the werewolf transform after getting their fill. Of course it doesn't deal with the werewolf clause of weather someone played 2 spells or didn't play 2 spells in a turn.
3 weeks ago
I happy that those were of any help to you.
So here are some more options that you could maybe use:
I also have some land suggestions, though I don't know if they would fit your budget.
One last suggestion. This one probably will be outside outside of your budget. I will mention just in case you'd like to invest or you end up having the opportunity to have one of these.
Descendants' Path. This one is pretty much self-explanatory. It can cheat your guys into play, which would be very good considering your deck doesn't have any ramp.
2 months ago
A15Life there are a lot of werewolf creatures with transform. In fact, the transform mechanic was created around werewolves. There's a shit-ton of werewolves with the transform mechanic:
And all of this is without mentioning all of the non-werewolf HUMAN creatures with the transform mechanic, and the card I created makes all humans werewolves too. So yeah, there's a bit of use for Autumn Moon's ability to make a werewolf transform.
Sorry. Continue.
Load more