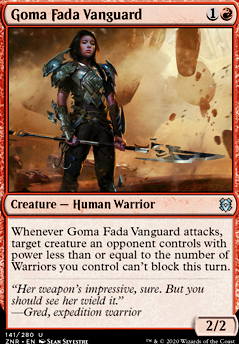 Goma Fada Vanguard
Creature — Human Warrior
Whenever Goma Fada Vanguard attacks, target creature an opponent controls with power less than or equal to the number of warriors you control can't block this turn.
Latest Decks as Commander
Goma Fada Vanguard Discussion
10 months ago
I like how the guy above this comment just casually strolls in and tells you to put in a bunch of moxen...
That said, warriors is one of my favorite tribes and I've made a ton of decks with them! Plus Najeela is such a badass commander! These are my suggestions that you haven't included and could serve as some better synergy with your deck than your non-warriors:
God-Eternal Oketra make huge 4/4 zombie warrior tokens on every warrior cast.
Oketra the True make warrior tokens and acts as a big beater itself.
Oketra's Monument tons and tons of warrior tokens.
Rush of Battle warrior themed overrun that gains you tons of life.
Herald of Anafenza gets bigger and makes warrior tokens at the same time.
Raiders' Spoils probably the best card draw you'll see for warrior tribal.
Gilt-Leaf Ambush elf warrior tokens with sometimes deathtouch.
Hunting Triad elf warrior tokens or modal +1/+1 counters.
Presence of Gond give a creature a tap for elf warrior token ability.
Lovisa Coldeyes more warrior lord buffs!
Obsidian Battle-Axe haste and auto-attach to warriors equipment!
Regna, the Redeemer and Krav, the Unredeemed act as a sac outlet and warrior token generation combo.
Lord Windgrace

deck filtering, color fixing, and generation of a ton of cat warrior tokens
Great Hall of Starnheim gets you a 4/4 angel warrior token in a pinch
Base Camp cheap 5 color land for warriors
Starnheim Unleashed make a ton of 4/4 angel warrior tokens!
Emeria's Call  Flip make angel warrior tokens and give your non-angel warriors indestructible or make it a land
Ascent of the Worthy pretty fun tricks on this.
Firja's Retribution make a 4/4 angel warrior token and give angels destroy and double strike.
Battle for Bretagard make warrior tokens, then make copies.
11 months ago
I would posit that cutting one or both Shatterskull Chargers might help... they essentially cost 5 if you want them to hold stuff for you, and that's a big investment. In their stead--maybe a wee bit of removal? Or, if you're intent on sticking with creatures, a Goma Fada Vanguard or Legion Angel?
Love the deck, truly, so glad Haktos is getting some love ;)
1 year ago
Before worrying about sideboarding, I'd focus on getting the main down to 60 cards. The closer you are to the minimum deck size, the more likely it is you'll draw the best cards in your deck. In this case, it looks like you want to build a party deck with Haktos the Unscarred as one of the bombs. The first thing I'd do is identify which cards are actively working towards that end or are particularly efficient. If something doesn't fit those descriptions, cut it. If it does, try to acquire multiple copies of it. For example, Gore Swine isn't doing anything here that a party member couldn't do better, so I'd remove it. Compare that to Expedition Champion who has more stats for the same cost and actively synergizes with the warrior theme, so having 4 of him wouldn't be bad. You can apply that logic to the entire deck. Practiced Tacticsis better than Sandblast. Suspension Field is more cost effective than Skybind. And so on.
After thinning the deck to its strongest options, then I'd focus on upgrades. Seek out other decks with similar goals and see what they're running. You can then endeavor to purchase the best cards you see in such examples, budget permitting. I don't know much about Boros party, but a quick search revealed Archpriest of Iona, Grotag Bug-Catcher, Stonework Packbeast, Squad Commander, Journey to Oblivion, Kargan Intimidator, Luminarch Aspirant, Relic Axe, Goma Fada Vanguard, Robber of the Rich, Tazri, Beacon of Unity, Fissure Wizard, and Seasoned Hallowblade, and that's only looking at standard. Modern brings even more options, particularly for Boros warriors. Arashin Foremost, Boros Reckoner, Mardu Woe-Reaper, Alesha, Who Smiles at Death, Obsidian Battle-Axe, Grim Lavamancer, Jeering Instigator, Fire-Belly Changeling, Grand Abolisher, Mirror Entity, Bygone Bishop, and Selfless Spirit all come to mind.