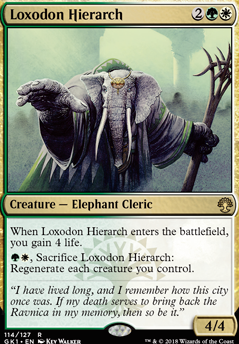 Legality
10 months ago
Well hello there! I had way too much time on my hands, so here's this. By the way, it's all ordered best to worst. (:
2 years ago
psionictemplar, thanks again! Several of these will definitely work. I've added Act of Heroism to my Maybeboard and I'm looking to see how the others might fit in. In order to play the ambushers at little to no cost, I'd need most everyone tapped to draw in an attack. I'm still tweaking this concept and playtesting, but after turn 4-5, I lose momentum with the ambushers unless I can get a Wilt-Leaf Liege and several enchantments on the board.
Turn 1: Play a land (Forest). Play a Birds of Paradise
Turn 2: Play a land (Plains). Play Behemoth Sledge. Flash in Qasali Ambusher if attacked.
Turn 3: Play a land. Equip the sledge and smash with ambusher. Use Fog effect or Dawn Charm if BoP gets targeted. Taking damage is fine, here, too.
Turn 4: Play a land. Play Wilt-Leaf Liege as a 5/5 creature and boosting all others by 1 or 2. One mana left for fog after attacking.
Turn 5: Play a land. Play Loxodon Hierarch as a 6/6 creature. Two mana left for Ephemerate or Fog effect at end of turn.
I don't want to take advantage of your time and generosity, but do you have any thoughts here?
3 years ago
I mostly played Burn in Modern and I remember losing hard to multiple Loxodon Hierarchs once.
4 years ago
I agree that Chulane is too good. May they never make a legendary with an enchantress effect again.
GET THAT ELFBALL SHIT OUTTA HERE
Running dorks seems vital to Chulane.
Running a lot of dorks is a viable option to make the deck fast.
Running so many dorks that you have the likes of Marwen, Heritage Druid, Gilt-Leaf Archdruid, and Priest of Titania is TOO MUCH.
You need more avenues, you need
THE SPICE.
Dovescape
:
bird up.
Words of Wind : Why just bounce your own stuff back when you can bounce everyone's stuff also? goes infinite with Aluren and two hasty dorks. Super-Biffy.
Seedborn Muse (with Leyline of Anticipation , Vedalken Orrery , Teferi, Mage of Zhalfir , or Yeva, Nature's Herald ): Wow, it's like Prophet was never banned!
Food Chain (with Eternal Scourge or Misthollow Griffin ): Infinite mana in any deck, but also infinite draw in Chulane. Even if you don't go for the combo, it's still worth running for the sheer mana production.
Academy Rector , Trophy Mage , and Laboratory Maniac : Not a combo with each other, but a plan. Rector can grab Aluren, Mage can grab Cloudstone Curio. If both are out, chances are you can draw your deck and flash out Maniac for game. Yes, you're scum, but YOU WON.
In conclusion, I am a genius and my idea is a perfect masterpiece.
Load more