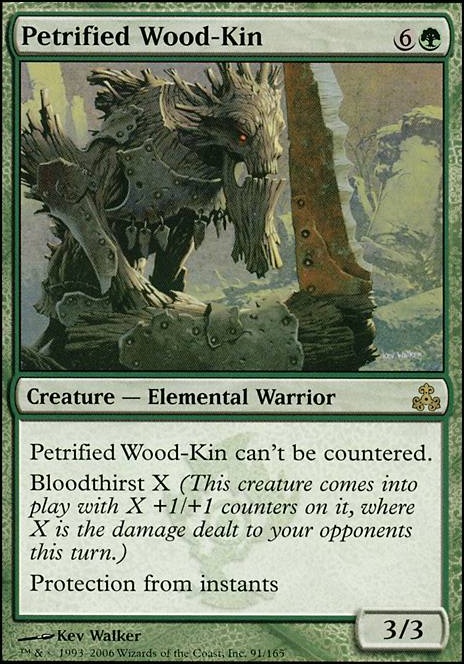 Legality
2 years ago
I like how the guy above this comment just casually strolls in and tells you to put in a bunch of moxen...
That said, warriors is one of my favorite tribes and I've made a ton of decks with them! Plus Najeela is such a badass commander! These are my suggestions that you haven't included and could serve as some better synergy with your deck than your non-warriors:
God-Eternal Oketra make huge 4/4 zombie warrior tokens on every warrior cast.
Oketra the True make warrior tokens and acts as a big beater itself.
Oketra's Monument tons and tons of warrior tokens.
Rush of Battle warrior themed overrun that gains you tons of life.
Herald of Anafenza gets bigger and makes warrior tokens at the same time.
Raiders' Spoils probably the best card draw you'll see for warrior tribal.
Gilt-Leaf Ambush elf warrior tokens with sometimes deathtouch.
Hunting Triad elf warrior tokens or modal +1/+1 counters.
Presence of Gond give a creature a tap for elf warrior token ability.
Lovisa Coldeyes more warrior lord buffs!
Obsidian Battle-Axe haste and auto-attach to warriors equipment!
Regna, the Redeemer and Krav, the Unredeemed act as a sac outlet and warrior token generation combo.
Lord Windgrace

deck filtering, color fixing, and generation of a ton of cat warrior tokens
Great Hall of Starnheim gets you a 4/4 angel warrior token in a pinch
Base Camp cheap 5 color land for warriors
Starnheim Unleashed make a ton of 4/4 angel warrior tokens!
Emeria's Call  Flip make angel warrior tokens and give your non-angel warriors indestructible or make it a land
Ascent of the Worthy pretty fun tricks on this.
Firja's Retribution make a 4/4 angel warrior token and give angels destroy and double strike.
Battle for Bretagard make warrior tokens, then make copies.
4 years ago
Oh! I didn't know Trollbred Guardian existed, but it definitely fits!
As for what to cut, I'd say that you now have better ways to grant trample besides Gruul War Plow .
Petrified Wood-Kin seems a rather mana intensive, but I'd say give it a try before writing it off, since I've never played it before.
Burning-Tree Emissary is one cool gruul, but a "free" 2 mana 2/2 doesn't really provide much utility for you.
My overall rule of thumb is to try out the different cards when you can, to see if you like how your deck plays. Over time, you'll get a better sense of what your deck does and what best fits the theme or your playstyle.
Sorry I couldn't be of more help with cuts, hope this helped a little!
5 years ago
Realm Seekers, War Elemental,Vinelasher Kudzu, Verdurous Gearhulk, Verdeloth the Ancient, Vebulid, Undergrowth Champion, Primordial Hydra, Primeval Bounty, Phyrexian Scuta, Petrified Wood-Kin, Patron of the Vein
6 years ago
I feel like you have a good idea where you are wanting to go with the deck: make elementals, cause damage; sac elementals, cause damage. Something I learned from my EDH mentor is to take things away from the deck that deviates too much, unless it's a really badass card. For example Avenger of Zendikar is a great elemental creature, and provides many little guys to sac. Hostility can ramp you creatures quick, and you can choose to get rid of it after you have enough elemental creatures. Also, a Mimic Vat would be great to reuse a great creature card, and for 3 mana. You also have a landfall thing going, so looking for more ways to pull in your land like Scapeshift (which is expensive, I know) or even Lotus Cobra or Burgeoning would be great for you.
I don't feel much love for Petrified Wood-Kin, as he needs a few things for it to be useful: damage dealt to opponents, and not be killed by a sorcery or instant (that's a boardwipe). He seems too slow. I think that you need to decide if you want to keep your big elemental guys, or change some for some smaller guys that can help you get to the big guys.
Just rememeber that both Beast Within and Chaos Warp can get rid of ANYTHING on the field. Even lands and planeswalkers. And having two really good removals helps it have a higher chance of showing up in your hand.
Load more