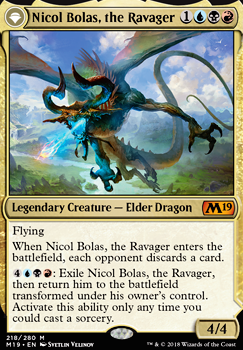 Back:
Nicol Bolas, the Arisen
Flip
Start Commander Deck
Legality
Nicol Bolas, the Ravager
Legendary Creature — Elder Dragon
Flying
When this, enters the battlefield, each opponent discards a card.
: Exile this, then return this to the battlefield transformed under this creature's owner's control. Activate this ability only at any time you could cast a sorcery.