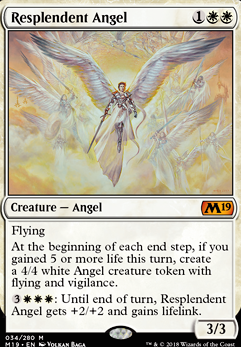 Tokens
Legality
1 month ago
I got in two more games today as part of a club I lead. 1v1 unfortunately, but it was up against a fairly controlling
Ranar the Ever-Watchful
deck with flyers and was a good matchup, and I still feel like I learned a bit about how the deck works and what some key cards are.
I must not have re-optimized mana well after the previous session because I only drew three lands over the course of the entire first game. That being said, I still won! Even with only three mana and Giada the curve allowed me to do most of what I wanted to do and put most of my angels out, so the curve and the deck's ability to put up a board state quickly even with limited resources is great. The all-star of the first game was Crashing Drawbridge, which, as I suspected, is great in this deck. I finished by playing out Serra Avenger and Angelic Curator (with plenty of counters) and then swinging with them and all of my other angels for lethal because of drawbridge. It helped me close out the game before my opponent could stabilize and hit me with a wipe, which would have set me way back due to my lack of lands. Another great combo was Righteous Valkyrie which is every bit the powerhouse you'd think it would be in this deck and Resplendent Angel, which ensured that tokens were bolstering my army and that my life total was more than padded.
The second game was much more evenly matched and could have gone either way, but I pulled that one out in the end as well. This would not have happened if Eerie Interlude hadn't saved my cast angels from Curse of the Swine, attesting again to the importance of board state protection in this deck. Quite critically, interlude was the only thing in my deck currently that would have saved me from that (other than Lapse of Certainty, so I was glad to have it! The absolute all-star in this game was Thorough Investigation. Wow! What a card! I thought it might be good, but the whole enter-the-dungeon mechanic seemed a bit cute to me and I was ensure if I would want to pay to sac clue tokens. The answer is yes! I amassed so many tokens from Investigation (as well as a couple from Angelic Sleuth when I blinked it with Interlude) that I knew I could refill my hand at any point, which I did! I'm going to put this card in all of my aggro decks- its a hidden treasure! Angelic Skirmisher is also a must-run in the deck. Everyone plays Lyra Dawnbringer but some don't play this card, which I feel like is better. While the life-link aura is the thing in this deck and two copies of it was great, I definitely experienced the utility of the first strike aura when I wanted to swing with Valkyrie Harbinger but was afraid to lose it to a large flying blocker. First strike made it so that he didn't want to block! Vigilance is also great, and Thraben Watcher was already making sure I wasn't in danger on the crack back in this matchup, but Skirmisher could situationally help with that as well. I finished it out by clearing away all of his blockers (including some absurdly large creatures) with Winds of Abandon. He put 13 lands onto the battlefield, but died to my Angelic Armada.
In both of these games, as with in the previous ones I've reported on, the life gain was real and powerful! I finished the second game with 98 life and the first one with life somewhere in the 70s, so this deck works amazingly well that way. I also played a turn one Soul Warden the first game and was quite thankful for it. I wasn't totally sure about the soul sisters in this deck, but I think I am glad for them. Another huge success in several games so far are the Angelic Accord effects. Having four of them makes it a consistent subtheme, and even a couple of free giant angel tokens goes a long way to killing opponents. I think my issues with card draw aren't that I don't have draw or that it doesn't work, just that this deck is hungry for more of it, which I will address in the first revision coming soon. I've already ordered some more cards based in part on suggestions I've received here from some of you, so thanks for those! I will post the revisions once they are made and my reasoning for them. I'll also update the primer and the acknowledgements to offer credit where credit is due!
2 months ago
So first things first - I see you swapped the commander to Atla Palani, Nest Tender, and I do think that she is stronger for cheating things into play as her plus her ability costs the same as a single Mayael the Anima activation, her ability triggers whenever an egg dies, and besides her you only have one egg producer in the deck - Nesting Dragon - and you aren't running any token doublers, I'd advise running something like Rings of Brighthearth or Illusionist's Bracers to copy her ability, allowing you to potentially cheat in multiple things a turn. However, her ability only triggers when something dies. I see you have Ashnod's Altar and Phyrexian Altar in the maybeboard, and they're definitely probably your best options to accomplish this as that mana can also be used to cast angels in your hand.
Also, your CMC is 4.03, which is ridiculously high. You also aren't running any mana ramp outside of artifacts, which while your commanders ability is based around cheating things into play - if you don't have access to your commander or sac outlets than you're screwed. Things like Cultivate, Kodama's Reach, Migration Path, or cards like Birds of Paradise, Avacyn's Pilgrim, Fyndhorn Elves, or even cost-reducer cards like Starnheim Aspirant, Pearl Medallion all can make a big impact. Or, even just swapping some of the higher CMC angels out for lower-costed ones, like Angel of Vitality, Angel of Jubilation, Resplendent Angel and Righteous Valkyrie can go a long way towards a smoother game.
2 months ago
Bennie Bracks: decent card advantage with all these Treasures popping up, esp. in boros
Tenuous Truce: would "upkeep" have been too much? they can attack you right away and you're down one card
Slip out the Back: neat versatility, especially good for voltorn
Titan of Industry: missed opportunity to make an actual Giant tycoon with an ETB+attack trigger
Goldhound: don't sac the doggo >:(
Corrupt Court Official: hah, that's one reprint I don't think anyone was expecting by now
Giada: there's sadly not a whole lot of mono-white Angel cards that help you get more Angels, mostly Resplendent Angel, Valkyrie Harbinger, and especially noteably Herald of War
2 months ago
Here are some enchantments you can throw in that fit in with the theme of this deck perfectly. If you're attacking with little weenies with your commander out you are essentially trading 1/1's for more 1/1's, 2/2's, 3/3's or 4/4's with flying.
Angelic Accord: Note this happens at EACH end step. So if you can gain 4 life either by blocking with a lifelink creature with 4 power or gain 4 life on your opponent's turn you spit out another 4/4 angel.
The Book of Exalted Deeds: 3/3 angels? Weird but hey, free angels! Also gives an effect that prevents you from losing and your opponents from winning.
Griffin Aerie: Gain 3 life on your turn, win a free 2/2 griffin with flying
Valkyrie Harbinger: Again this is at EACH end step. 6 CMC though but creates 4/4 angels.
Regna, the Redeemer: Also EACH end step but is for ANY lifegain. Spits out 2 1/1's but is also 6 CMC
Resplendent Angel: for a $21 angel if you gain 5 life at EACH end step you will get a 4/4 angel. Aggressively costed at a low 3 CMC.
4 months ago
How about instead of Renewed Faith you add Chaplain's Blessing? Much cheaper MV, and almost as good. Also, Chaplain's Blessing gives just enough life to trigger Resplendent Angel. I would also get rid of Emeria's Call  Flip as it's mana prohibitive, and replace it with Angelic Accord; Angelic Accord is useful with Chaplain's Blessing and Bishop of Wings. When you use Angelic Accord, then trigger it with Chaplain's Blessing, And, Righteous Valkyrie is another with Angelic Accord, considering that the token's toughness is 4, and even with Bishop of Wings it adds 4 more life, which makes for triggering Resplendent Angel. Also, I would definitely exchange Lyra Dawnbringer with Shalai, Voice of Plenty. The latter protects with hexproof, which is great against many types of threats, especially counter/burn decks. I would also get rid of Starnheim Unleashed with Starnheim Aspirant.
4 months ago
Hey, it's Dylan's friend, Justin. He asked me to weigh in on the list. So... Hello! The list looks very good, especially if it's your first time building a deck. Plus, Angels are always cool and fun.
If I was to offer any criticism, well, first even before I talk cards and strategy, I noticed the deck is labelled as being *Standard. It's not, but it is very close to being so. So you get to make a choice here. Do you want a deck that you could play against other people in a friendly, competitive environment or do you want just a fun deck to play casually that you wouldn't need to update? You are so close to the former, that I might just recommend that. But if you didn't want to do that, that's fine, too.
If you wanted a standard list you just need to replace the cards marked in red text. there are not many of them and some, I would recommend cutting altogether anyway. For instance, the one mana cards could go. Segovian Angel is an angel, but it's not very impactful and won't be worth the card if you draw it early or late. Soul Warden is an amazing card, but it only really excels when a lot of creatures are entering the battlefield (which your deck doesn't really support) or when cards are triggering by gaining any amount of life - Archangel of Thune is a great example of this, but your deck only has one. AND at that point, we might as well cut the non-standard cards. I would replace the Go for the Throat with Infernal Grasp and Vanishing Verse and I might go as far as playing 4 copies of each of those. I would play 4x Skyclave Cleric  Flip or Ambitious Farmhand  Flip (just to add some consistency with hitting land drops. Speaking of lands, definitely add some duals and maybe some utility lands. Emeria's Call  Flip Great Hall of Starnheim Brightclimb Pathway  Flip Scoured Barrens Shattered Sanctum Shineshadow Snarl Silverquill Campus Snowfield Sinkhole Are all in standard and you can choose how much $ you want to spend. I would settle on x8 dual lands and 0-2 utility lands from among those. I would also just play x4 Righteous Valkyrie, that to me looks like your best card and has the best synergy with the rest of the deck. The deck also looks soft to early aggressive decks... so I might consider adding in 1-2 Doomskar to help with that. Lastly, I might try to find room for a few of these cards, but they are more preference-based as I think they deck looks very playable already. I would try to jam maybe a few of these cards: Enduring Angel  Flip Starnheim Unleashed Haunting Voyage.
If you didn't want to worry about standard legality, I would find someway somehow to find room for some amount of Baneslayer Angel. Maybe a Linvala, the Preserver as a cool one-of and if you wanted to spend the $, Resplendent Angel seems like a perfect include as x1-x4 of.
Hope that was helpful! And... take what I say with a grain of salt, I'm not exactly what you would call an active Magic player.
8 months ago
As someone who started playing the game with a Core Set 19 Ajani planeswalker deck, lifegain is a theme that always appeals to me. Lathiel definitely has some potential to be a great lifegain commander! There are some cards I'd definitely recommend, though.
9 months ago
Personally I'd go for two extra secound subthemes, Legendary and devotion. Both of these together give you tutors and the mana needed to use them effectively. The angles and life gain are pretty solid at stalling stuff themselves.
I'd go for a core of 4 bishop, youthful and speaker. I'd also add 3 Weathered Wayfarer. 4 Search for Glory, Valkyrie, 3 Nykthos, Shrine to Nyx. All basics become snow. 3 on thin ice. 1 Winds of Abandon, 2 paths. One each of the legendary angles (as you already have) 2-3 frija retribution. 4 w/g boarder posts (gives you a way to activate shalie)
I'd also take a very good look at Resplendent Angel as it's probably an important include.
Emeria's Call is also probably worth running.
Also 4 Giver of Runes. (Devotion, a cleric and is much needed protection for your angels)
I'd also add in 1 sigada and Linvala in the sb
Load more