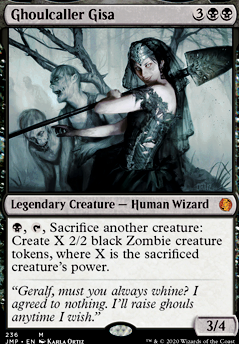 Ghoulcaller Gisa
Legendary Creature — Human Wizard
, , Sacrifice another creature: Create X 2/2 black Zombie creature tokens, where X is the sacrificed creature's power.
Latest Decks as Commander
Ghoulcaller Gisa Discussion
2 weeks ago
Rule 0 began as a hub idea, but quickly became it's own sub-format within the EDH community.
When you build a new deck, or update an existing deck, you can now select Commander: Rule 0 as an option for the format.
2 weeks ago
Thanks to the work of tiffanyann for this idea.
We often talk about "Rule 0"; What your deck does, what it's power level is, who your Commander is, if there are any infinite combos, etc.
But sometimes, Rule 0 is to ask the table if using an Unset Commander is okay. If using a Legendary Enchantment or Artifact or Planeswalker in the Command Zone is okay. If running Gisela, the Broken Blade  Meld Partnered with Bruna, the Fading Light  Meld is okay. Other examples are Stitcher Geralf and Ghoulcaller Gisa as Partners, or Hans Eriksson and Saffi Eriksdotter. Maybe you want to run Sword of Dungeons & Dragons in your D&D themed set. Maybe you want to run Surgeon General Commander. But there's more; Sometimes you want to play with a banned card. Maybe you have this killer Griselbrand build and want to see if it can withstand three opponents.
Rule 0 is important. It doesn't often "require" its own hub, but there are times when it could be useful. And, if the community accepts it as a unique hub, it could also open up more creativity because it pushes up against the boundaries of the RC.
After all, as long as your table is okay with it, then it's fine. If your table is fine with you running Iona, Shield of Emeria or Primevals' Glorious Rebirth, Garruk, Apex Predator or Grimlock, Dinobot Leader  Flip then there is absolutely no reason why you can't or shouldn't be able to. All of these are not legal for use as Commanders within the Command Zone, but if your table is okay with it, then suddenly they are. Similarly, Iona and Grimlock can't be in the deck, even in the +99. If your table is okay with it, then it's fine.
Similarly, sometimes players build decks that run non-legendary creatures as Commanders. One very popular build is Shaman of the Great Hunt, and to a lesser extent Brutal Hordechief. In fact, one of the most popular decks on this site itself would be classified as Rule 0: Dune: He Who Can Destroy a Thing, Controls a Thing, by FenIsABasicSwamp.
So with that said, I propose Rule 0 as a hub. Since we need to be able to describe it in one or two short sentences;
"There are many rules to EDH. Rule 0 decks ask the table beforehand if it is okay to run silver-bordered cards, banned cards or cards that would otherwise be 'illegal' in the Command Zone."
1 month ago
There are a bunch that I feel like would be fun, though possibly busted, together.
Two big pairings for me, Zedruu the Greathearted with Blim, Comedic Genius and Lonis, Cryptozoologist with Brudiclad, Telchor Engineer
Also just in general my playgroup has been floating the idea that you can pair up two legends that don't have partner, BUT they have to actually be connected by lore. So pairings like Ixidor, Reality Sculptor and any of the Akromas. Ghoulcaller Gisa and Stitcher Geralf, Karlov of the Ghost Council with any version of Teysa. The legends might pull your decks into different directions, but could make for interesting deckbuilding as you try to make them work together.
2 months ago
Housegheist - Thanks for the suggestions! If I wanted to power up the deck The Scarab God would would be my first choice for a new commander, but I really wanted to keep this deck snow zombie / GOT Night King inspired and Narfi makes the most sense at the helm even if he's sub-optimal.
Ghoulcaller Gisa is an interesting suggestion! I know she's a powerful commander but I'm not sure how well she'd work in the 99? Might have to pick up a copy to try out... Funny enough, I actually had Zombie Master in the deck for a bit but I swapped him for Master of Death . Still not 100% if I'll keep it that way.
3 months ago
Thank you very much your feedback and suggestions.
I really plan to cut out Breeding Pit and Aphemia, the Cacophony , I just feel I need more token factories and those are my only possibilities right now. Ophiomancer and Bloodline Keeper  Flip are brilliant cards for my deck, unfortunately I don't have money for them right now.
Ghoulcaller Gisa is a good call, but I really won't have big power creatures, I could sacrifice only 0-1-2 power creatures, and for 5 mana it's too much from a creature without ETB effects.
I don't want Glaring Spotlight and Daring Fiendbonder in my deck, since these cards are for attack support. I don't feel like attack at all with this deck. Probably all my creatures will defend my health and my PW's and they will be sacrificed before the summoning sickness wears off.
I made some changes tho, some cards arrived, what I ordered previously: Sword of the Animist instead of Sword of Body and Mind
Crypt Ghast instead of Solemn Simulacrum
and I took off some "targeted removals" for more Damge//Gain Life effects like: Blood Artist , Bontu's Monument and Vindictive Vampire
3 months ago
For a test deck you already seem to have a lot right. In terms of improvements you can make, I would definitely cut a few cards. Breeding Pit and Aphemia, the Cacophony are both extremely small impact token creators that take a long time to get considerable value, specifically aphemia who does nothing when faced with graveyard hate and likely won't have many enchantments to target in the first place. I would replace these with Ophiomancer , Ghoulcaller Gisa , and maybe Bloodline Keeper  Flip. I would also remove Sword of Body and Mind in favor of better protection at a lower cost, since its attack triggers are mediocre at best. I would recommend adding a few equipment pieces that give hexproof and indestructible, so that ayara can stick around during boardwipes and drain lots of life. Finally, two last cards I would attempt to make room for are Glaring Spotlight and Daring Fiendbonder .
Load more