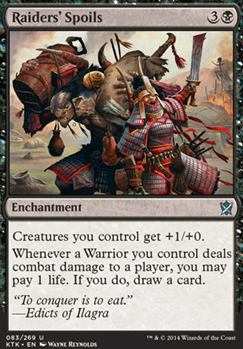 Raiders' Spoils
Enchantment
Creatures you control get +1/+0.
Whenever a Warrior you control deals combat damage to a player, you may pay 1 life. If you do, draw a card.
Browse Alters
Legality
| | |
| --- | --- |
| Format | Legality |
| 1v1 Commander | Legal |
| Block Constructed | Legal |
| Canadian Highlander | Legal |
| Commander / EDH | Legal |
| Duel Commander | Legal |
| Highlander | Legal |
| Legacy | Legal |
| Leviathan | Legal |
| Limited | Legal |
| Modern | Legal |
| Oathbreaker | Legal |
| Pioneer | Legal |
| Unformat | Legal |
| Vintage | Legal |
| Casual | Legal |
| Custom | Legal |
| Quest Magic | Legal |
Latest Decks as Commander
Raiders' Spoils Discussion
2 months ago
I like how the guy above this comment just casually strolls in and tells you to put in a bunch of moxen...
That said, warriors is one of my favorite tribes and I've made a ton of decks with them! Plus Najeela is such a badass commander! These are my suggestions that you haven't included and could serve as some better synergy with your deck than your non-warriors:
God-Eternal Oketra make huge 4/4 zombie warrior tokens on every warrior cast.
Oketra the True make warrior tokens and acts as a big beater itself.
Oketra's Monument tons and tons of warrior tokens.
Rush of Battle warrior themed overrun that gains you tons of life.
Herald of Anafenza gets bigger and makes warrior tokens at the same time.
Raiders' Spoils probably the best card draw you'll see for warrior tribal.
Gilt-Leaf Ambush elf warrior tokens with sometimes deathtouch.
Hunting Triad elf warrior tokens or modal +1/+1 counters.
Presence of Gond give a creature a tap for elf warrior token ability.
Lovisa Coldeyes more warrior lord buffs!
Obsidian Battle-Axe haste and auto-attach to warriors equipment!
Regna, the Redeemer and Krav, the Unredeemed act as a sac outlet and warrior token generation combo.
Lord Windgrace

deck filtering, color fixing, and generation of a ton of cat warrior tokens
Great Hall of Starnheim gets you a 4/4 angel warrior token in a pinch
Base Camp cheap 5 color land for warriors
Starnheim Unleashed make a ton of 4/4 angel warrior tokens!
Emeria's Call  Flip make angel warrior tokens and give your non-angel warriors indestructible or make it a land
Ascent of the Worthy pretty fun tricks on this.
Firja's Retribution make a 4/4 angel warrior token and give angels destroy and double strike.
Battle for Bretagard make warrior tokens, then make copies.
3 months ago
Normally in a goblin deck, I'd just suggest running my lords like Goblin King , Goblin Chieftain , etc., and adding more copies of goodstuff like Goblin Grenade and Goblin Chainwhirler . However, to preserve the multiple tribe theme, I think focusing on warrior synergy would be the best idea. A good percentage of your creatures are already warriors and Blood-Chin Fanatic looks like one of the stronger cards in the deck.
Base Camp , Blood-Chin Rager , Kargan Intimidator , Boldwyr Intimidator , Lovisa Coldeyes , Obsidian Battle-Axe , and Raiders' Spoils are some warrior tribal cards in Rakdos, and Chief of the Edge , Chief of the Scale , Arashin Foremost , Herald of Dromoka , Kargan Warleader , and Mardu Woe-Reaper also apply when dipping into Mardu. I know most of these cards are just humans though, so here are some good warriors that fall under the goblinoid umbrella: Bloodmark Mentor , Goblin Bushwhacker , Goblin Cratermaker , Goblin Piledriver , Goblin Rabblemaster , Goblin Trashmaster , Krenko, Mob Boss , Pashalik Mons , Reckless Bushwhacker , Battle Brawler , Brutal Hordechief , Zurgo Bellstriker , Kazuul's Toll Collector , Ogre Battledriver , and Furystoke Giant . Which of these cards is best definitely depends on what your primary strategy is.
Anyway, good luck with your deck!
4 months ago
Seems like a fun deck. Though I feel the draw wincons are not that necessary. Probably best to primarily go for combat victories. Cards I suggest for this are Cathars' Crusade through making your warriors large quickly. Beastmaster Ascension is also a pretty good card to run. When going for infinite combat combo wins, use Derevi, Empyrial Tactician. The combat phase is split into parts and the last part is called the end of combat phase, where you still have priority to do stuff before your creatures are removed from combat. Basically you just use Derevi's ability to untap your lands after your warriors hit and then pay Najeela's ability and keep repeating till you win. I also think you need to be very careful when using Kindred Discovery. It can very easily make you lose if you try going infinite with it up, or otherwise make you hesitant to go infinite and prevent you from winning because of it. You instead use the other combat based draw spells like Reconnaissance Mission, Coastal Piracy, Bident of Thassa and Raiders' Spoils, which also is a combat booster. You shouldn't be running all of them as you have other means of drawing, but at least one or two is good Edric, Spymaster of Trest is also a good choice, though its prone to removal. I also recommend Blood-Chin Rager, Brutal Hordechief and Mindblade Render as they all are very useful for their abilities (menace to all your warriors, making your opponents lose life even quicker, and draw power, albeit a bit limited compared to others). Also, Rubblebelt Raiders is a really good growing warrior.
6 months ago
Nice, really like the interactions between the cheap changelings and cost reduction from the party mechanic. Have you considered the cheaper "wizard" spells from Dominaria (Wizard's Retort/Wizard's Lightning)? Raiders' Spoils could also help refill your hand a bit in the mid game. Hope this helps.
1 year ago
I don't really follow your train of thought. What does the low amount of maindeck warriors (you left out Mindblade Render ) have to do with Oakhame Adversary?
More importantly, you kind of answered your own question: the fact that Adversary basically always costs 2 mana to cast is the big reason why it's so nuts. It's essentially another copy of Dark Confidant but with added upside. Efficiency is king. While I have strongly considered Raiders' Spoils , four mana at sorcery speed is kind of a turn off.
1 year ago
I understand oakhame adversary is a high value card to play for what it costs, typically 2. When it's the only warrior in the entire list minus maybeboard, I'm sure you'd find more use out of a Raiders' Spoils instead?
Not only does it grant more power, but the value in draw is much more significant than even the exponential growth one additional early warrior can give. It's one of the best bombs to chuck out when you're going for a tribal win, and it's never a dead card unless you're about to die anyways.
2 years ago
Hey, consider Warriors with Zurgo as Commander and Aurelia, the Warleader at the top of the mana curve?
There's many budget Warriors. Some that stand out are Mindblade Render , Rushblade Commander , Alesha, Who Smiles at Death , Ash Zealot , Bloodsoaked Champion , Blood-Chin Rager , Blood-Chin Fanatic , Arashin Foremost , Brutal Hordechief , Azra Oddsmaker ,etc. Aurelia is not a Warrior, but she can come into play after Zurgo for big double combat phases swings. Some budget pay offs for being tribal are: Raiders' Spoils , Shared Animosity , Obsidian Battle-Axe , Blood-Chin Fanatic , Arashin Foremost , Metallic Mimic , etc.
Zurgo benefits a lot from repeatable double strike being able to potentially do 14 or more points of Commander damage with one Zurgo attack. Arashin Foremost , Bruse Tarl, Boorish Herder , Duelist's Heritage , Fireshrieker , Ajani, Caller of the Pride . Boros Charm is also an excellent card in Commander.
Load more