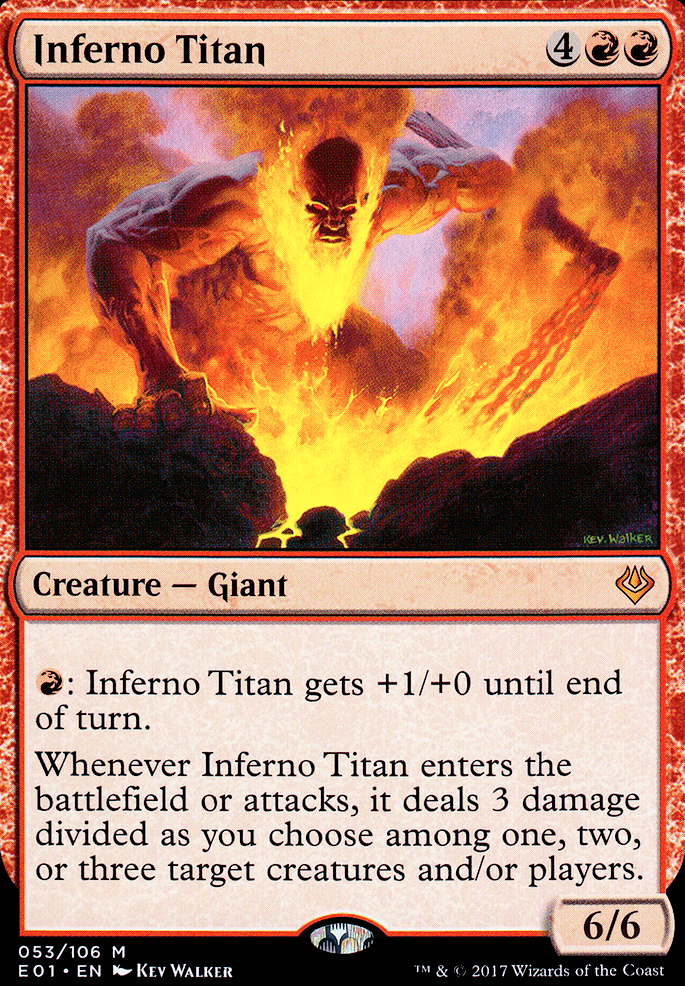 Inferno Titan
Creature — Giant
: Inferno Titan gets +1/+0 until end of turn.
Whenever Inferno Titan enters the battlefield or attacks, it deals 3 damage divided as you choose among one, two, or three target creatures, players and/or planeswalkers.
Browse Alters
View at Gatherer
Trade
Legality
| | |
| --- | --- |
| Format | Legality |
| Modern | Legal |
| Block Constructed | Legal |
| Oathbreaker | Legal |
| 2019-10-04 | Legal |
| 1v1 Commander | Legal |
| Canadian Highlander | Legal |
| Casual | Legal |
| Vintage | Legal |
| Leviathan | Legal |
| Legacy | Legal |
| Limited | Legal |
| Duel Commander | Legal |
| Highlander | Legal |
| Commander / EDH | Legal |
| Tiny Leaders | Legal |
| Unformat | Legal |
Latest Decks as Commander
Inferno Titan Discussion
6 days ago
Interesting deck +1
What is your meta like?
Proud Wildbonder - Seems too unimpactful for 4 mana
Essence Warden - Whats the purpose of this?
Beast Whisperer - Seems cool, I tried him in my build. Does he get a chance to stick around long enough to draw you atleast 2-3 cards?
Ravager Wurm - Is this meta against maze of ith?
Shivan Wurm - Reusing ETB effects or something I'm missing? Seems weak
Voracious Cobra - Gosh this card brings back memories from my childhood. Curious how it's been for you, seems like a card they need to burn removal on if they want a chance of attacking you unless they go wide
Windstorm - Meta?
Fog - Meta, if so, why not get the new green fog that came out recently?
Soul's Might - Return of the Wildspeaker would better serve you as you can draw cards in response to removal rather than your creature getting removed in response to might being cast.
Ancient Tomb , Castle Garenbrig are ramp
Goreclaw, Terror of Qal Sisma - Trample and ramp
Heroic Intervention - Protection
Selvala, Heart of the Wilds - Ramp and draw
The Great Henge , Somberwald Sage, Shaman of Forgotten Ways are all good ramp
Inferno Titan - Removal
Kogla, the Titan Ape - Removal
Deflecting Swat - Utility! Counter counterspells, redirect targetted removal/draw/extra turns. Very powerful
Rishkar's Expertise, Bonders' Enclave, Elder Gargaroth, Greater Good, Life's Legacy, are all amazing card draw options, especially greater good. Seriously, don't sleep on greater good
I hope the suggestions werent too overwhelming, I just didn't see that much draw and I figured that adding more never hurts.
1 week ago
For some of the Atla combos you can also do stuff like the following:
Ashnod's Altar + Atla Palani, Nest Tender

+ Purphoros, God of the Forge + Thornbite Staff. Or
Ashnod's Altar + Atla Palani, Nest Tender

+ Impact Tremors + Thornbite Staff. Or
Atla Palani, Nest Tender

+ Purphoros, God of the Forge + Thornbite Staff + Ulamog, the Infinite Gyre. Or
Atla Palani, Nest Tender

+ Marauding Raptor + Thornbite Staff + Ulamog, the Infinite Gyre.
You can optionally replace the damage trigger card or the shuffling cards with stuff like: Inferno Titan, Terror of the Peaks, and Kozilek, Butcher of Truth.
2 months ago
I also run a Xenagos deck! Lol, what are the chances! I will try to keep cards under $15 per your suggestion....
Enchantments....
Greater Good - BEST card you will ever add, if you listen to ANYTHING I say, this is it. Period.

Lurking Predators - With 1/3rd of your deck as creatures, this is like a sunbirds invocation that does something even if you pass the turn! Highly recomended!

Rancor - Nice to have, makes a 1/1 into a 6/4 trample with Xenagos. Providing trample cheaply and repeatedly is nice
Artifacts
The Great Henge - A bit over budget, but nice to have. Card draw, lifegain and ramp all in 1, usually for .

Gruul Signet - Nothing flashy, but another 2 mana ramp to help bring Xenagos out T3-4

Lifecrafter's Bestiary - Scry and card draw, not bad, definitely worth considering to help maintain gas
Sorcerries
Instants
Lands...Obviously none of these are needed, but they make the deck slightly better are relatively cheap. Worth the investment, IMO. You have lots of room in your landbase given you are playing green and already run an ok amount of ramp. Adding even more ramp will really make your utility lands shine.
Creatures
OVERALL: The deck is ok. I'm surprised how it has such a low CMC, but given your X spells. Once you replace those with 5+ CMC creatures, it will increase your AVG CMC to "normal". You want your AVG CMC to be around 4. Xenagos works as a sniper, you cast one big creature, give it haste and hope it doesnt eat removal. Given you spent all that mana on the creature, you don't do much else for the turn and then people usually swing at you because they are afraid of you casting another big creature out of nowhere.
As a result, having protection for them is crucial. In the form of heroic intervention, or another card out of budget such as Deflecting swat (which is SO powerful, counter counterspells, redirect targetted removal, targetted draw, targetted extra turns and more FOR FREE, so you can BLUFF INTERACTION). One more idea I'm thinking of is to replace Giant growth with Vines of Vastwood, similar function but provides protection as well. Also see Blossoming Defense for a similar function should removal/interaction is an issue in your meta as much as mine. Given you play against combo, they probably have interaction prior to them assembling their combo.
I got lots of ideas for cuts, so be sure to lmk what you think of each suggestion!
2 months ago
Hedron Archive - You have no ramp aside from Lotus bloom (which takes 3 turns) and sol ring, so more ramp is definitely needed. I think mindstone and this should be added because it can/will be used for card draw once you put your hand on the field. Having ramp also makes it more likely that you can cast cards from....
Ignite the Future and Light Up the Stage - There is always a chance you might exile a higher CMC card and be unable to pay for it, but keep in mind they both read until the end of your next turn, so it is much more flexible than other red "draw" spells.
Etali, Primal Storm- I get that, thats a real concern sometimes. As such, you might want to consider Inferno Titan instead. I just think Etali is great because he has won me several games and is a kill on sight card usually. Plus, it fits the idea of chaos so well.
Sunbird's Invocation - Perhaps meta dependent then? This is another kill on sight card for me as the value is too strong. But without that much ramp, it becomes hard to abuse, so you might be right.
Impending Disaster - Doesn't serve your gameplan, just makes people hate you
Molten Vortex - Given we are cutting lands, and even otherwise, this card is subpar
Pandemonium - In my experience, opponents always abuse this more than you. Living death, green beats, etc... Too much of a double edged sword
Shifting Shadow - Cool removal, but can backfire heavily. It might be nice, but I wouldn't run it personally.
Task Mage Assembly - Without enough ramp, this isn't good. Especially when your opponents can abuse it more than you
Vicious Shadows - If sunbirds is too slow, then this probably is too
Forgotten Cave - Bad land
Great Furnace - see above
Darksteel Citadel - see above
Springjack Pasture - see above
Brimstone Mage - Way too slow!
Squee, the Immortal - I dont see the purpose of this aside from skullclamp?
Workshop Assistant - Not enough artifacts to be justified
Crystal Chimes - Not enough enchantments
Lotus Bloom - If hedron is too slow, so is this
Storm Cauldron - You dont have any mana rocks/dorks to offset this. This just makes people hate you
Teferi's Puzzle Box - Doesn't actually net you card advantage
Uba Mask - I get this and puzzle box are supposed to be random and "mess" opponents up, but you need to further your own game plan first before adding room for "fun cards" that don't do anything useful
Indomitable Creativity - Too random, another red polymorph can seriously backfire.
2 months ago
A few things to start off with. you have a lot of 1 ofs. you want to maximize your consistency, which means 4 ofs for your important cards. you can have a bunch of 1 ofs, but only if you have some way of searching for them. Fierce Empath does that, but you only have 1 of those.
next lets talk about a game plan. a deck usually wants 1 main plan to focus on, with some decks going for a back up plan if they have a strategy that tends to get some frequent hate. now the plan can be fairly broad and you can have multiple types of cards that help your plan but there should be a very clear plan. I think there is a plan in your deck, but you have lots of cards in it that do not fit the plan very well.
so lets talk about what things we see in the deck and where you can go from here. I see a lot of big creatures and ways to get them out quicker. this is generally called 'stompy' and tends to fit in GR/GRx lists as it allows for ramp and aggressive beaters. cards like Goreclaw, Terror of Qal Sisma are great for this. blue is sometimes added to stall opponents out until you unleash your monsters.
when looking at your cards, you'll want to think "how does this help my plan?". for example, what does Elvish Reclaimer do for the deck? it doesn't ramp the deck unless you're grabbing bounce lands like Izzet Boilerworks but is vulnerable to your opponents removal unlike cards like Farseek. it can become a 3/4 but your goal isn't to play a few 3/4s and win via value cards, it's to get big scary things into play that end the game.
Since this is a deck revolving around winning with some big scary things, lets talk about big scary things. you have a lot of options. but you don't need that many. what you need is 1 or two very good ones and multiples of them to make sure that you get them when you need them. right now i'm not a huge fan of top end of your deck. mainly they are cards that are very expensive and either don't do much, or do it too slowly. Verdant Sun's Avatar is 7 mana 5/5 that gains a little bit of life. Roil Elemental requires triple blue which isn't always as easy, only has 3 power which is abysmal for a 6 mana card and you still need to play more land in order to get use out of it. Simic Sky Swallower at least can't be removed easily by an opponent where as most everything else in your deck loses to Terminate. you might want to consider cards like Carnage Tyrant, Terror of the Peaks, or Inferno Titan. these cards are harder/painful to remove or get some value when they come in so it's not a total loss if they are removed.
you have ramp in your deck which is good. that's something you want. the problem is that most of the ramp in your deck is too slow/expensive. Frontier Guide wont be able to ramp you unless you already have 4 mana. and if you have 4 mana Explosive Vegetation or goreclaw are better bets. the point of ramp is that you do it early, so that your big things come out faster than they normally would. so you want cheaper ramp cards. Sakura-Tribe Elder is a great card for this as it can be used as early as turn 2 and can provide a blocker if your opponent is being really aggressive against you in the early game.
counter spells can also help the plan. the reason people want to get big things out fast is mostly to get them out before your opponent has a chance to do something. so in a way, counter spells are almost like a form of ramp. so long as you play a land and counter your opponents spell for the turn, you've essentially just said that both players play a land. the problem with the counterspells you picked is that they are expensive. you need to be able to stop your opponents plays early on in order for the previous statement to work. and ideally you want to be able to do stuff on your turn besides just hold up mana to counterspells. for both these reasons you want less 4 mana counterspells and more 2 mana counterspells such as Mana Leak, or Remand.
you mention that you are playing burn. burn generally means using cards that deal damage directly to your opponent in order to get their life to 0. you play pretty much zero of those cards. i do see several cards that deal damage to creatures which is what i believe you were getting at.
theres a lot of work this deck needs in order to be ok. the ideas are there, but most of these cards would need to be switched out. i can try to put together a sample list of what i think you'd want this deck to look like but i'll have to do that tomorrow as it's 1:30AM here and i need sleep.
2 months ago
I like what you've got going so far, but it needs a little streamlining...a little focus. We're going to take a look at how many cards do these things you want to do in your description. Sorry if this gets a little long winded...
If you're going to be giving deathtouch, it would be great to have more creatures that would really benefit from it. To me, that's either more of Kelsien's type...'pingers' as my playgroup calls them...such as Blood Cultist, Goblin Sharpshooter, and Deathbringer Thoctar, OR it's some giant nasties such as Chandra's Incinerator, Inferno Titan or Sun Titan, (but only if they work with the deck). Of the creatures you currently have, only Kelsien and Kalmne really do anything neat with deathtouch, meaning multiples of deathtouch cards are kind of wasted.
By adding more ways to find our deathtouch, we add ways to find other useful things too, and trim the worse deathtouch cards. We can replace things like Gorgon's Head and Flail with Heliod's Pilgrim and Open the Armory, we gain access to way more options, both if we do or do not need deathtouch at the moment.
The Mardu colors are amazing at killing things. Your deck should be able to mow down normal creatures without much problem, so removal that just 'destroy target creature's something is not what we want. You've already got some great exile options, but those are also excellent at dealing with other things, so I'd like to suggest the tried and true Swords to Plowshares and Path to Exile, as well as Crackling Doom for really troublesome creatures. Despark and Generous Gift take care of everything else, and bonus points, Gift gives another creature for you to snipe. Shriveling Rot plays right into your strategy as well.
Like your deathtouch, I would really look at the quality of your reanimation. Is it better to have just a few really good pieces and consistently draw/tutor into it, or a lot and find that there isn't anything worthwhile to reanimate (I've been there)? A lot of these cards cost a bit of mana as well, so I would play some more mana rocks and card draw to help you get online faster. Signets like Rakdos Signet that come down before Kelsien are especially good (and I often run my rocks with Daretti, Scrap Savant, so I can turn them into important artifacts my opponents have destroyed later on). Black Market will also get us there in the long run. I like Torbran, Thane of Red Fell to really bulk up our 'ping' damage, and Sigarda's Aid just because it's awesome. Finally, Thrilling Encore does exactly what you want in this deck, and can even surprise your opponents after a board clear.
Load more