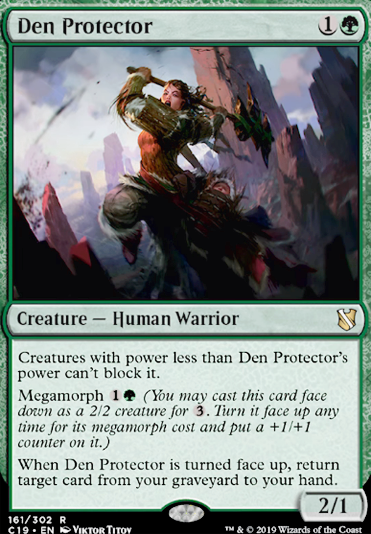 Den Protector
Creature — Human Warrior
Creatures with power less than Den Protector's power can't block it.
Megamorph (You may cast this card face down as a 2/2 creature for . Turn it face up at any time for its megamorph cos and put a +1/+1 counter on it.)
When Den Protector is turned face up, return target card from your graveyard to your hand.
Browse Alters
Trade
Tokens
Legality
| | |
| --- | --- |
| Format | Legality |
| Leviathan | Legal |
| Unformat | Legal |
| Pioneer | Legal |
| Limited | Legal |
| 2019-10-04 | Legal |
| Commander / EDH | Legal |
| Duel Commander | Legal |
| 1v1 Commander | Legal |
| Oathbreaker | Legal |
| Casual | Legal |
| Vintage | Legal |
| Block Constructed | Legal |
| Tiny Leaders | Legal |
| Highlander | Legal |
| Canadian Highlander | Legal |
| Modern | Legal |
| Legacy | Legal |
Latest Decks as Commander
Den Protector Discussion
5 months ago
I've seen talk on Discord that, in the face of cards like Notion Thief and Narset, Parter of Veils being more prominent these days, people have been cutting back on cantrip creatures in the deck. I'm not sure how I feel about that, since cantrip creatures contribute a lot to the storm-like aspect of the deck. People seem to drop Sea Gate Oracle and Raven Familiar pretty frequently, but those actually get around Narset and Thief. Wall of Blossoms is also a card that a lot of people feel ok cutting, so swapping that out for Loyal Drake is an option.
People seem to have mixed opinions on Siren Stormtamer. That could possibly be replaced with Fierce Guardianship. You run back into the discussion regarding the value of 1 cmc creatures in Animar with that one though.
There's the question of if you need a second recursion card in the form of Den Protector if you could just replace it with a free counterspell like Fierce Guardianship to help protect your stuff to begin with. Although, being able to flip it at instant speed to get Fierce Guardianship back for a second cast is pretty nice.
Phyrexian Revoker is a meta flex slot, but being able to use it to proactively shut down Hermit Druid or Nomads en-Kor in Hulk decks is useful for buying time, and hulk decks are pretty prevalent.
Animar's list has gotten pretty tight by this point. Cuts are hard.
5 months ago
Cool deck! You might like these: Pir, Imaginative Rascal, Toothy, Imaginary Friend, Cauldron of Souls, Cauldron Haze, Armorcraft Judge, Inspiring Call, Cathars' Crusade, Marionette Master, Flesh Carver, Abzan Ascendancy, Blade of the Bloodchief, Faeburrow Elder, Glen Elendra Archmage, Den Protector, Festercreep, Fertilid
8 months ago
A great card for green is Into the Wilds you get to look at the top card of your library upkeep if it is a land put it on the battlefield best part does not count as your land played for your turn so filters your land + can be ramp oh and is like 25cents
Abundance is another variation of filtering your deck also green
Den Protector budget eternal witness
Echoing Truth flexible bounce because if it is tokens it hits all the same tokens
Creature exile Reality Shift Crib Swap
Look at charms some are cheaper than others some will fit budgets some may not but see example below Sultai Charm
More removal Status / Statue Turn / Burn
Shenanigans Reins of Power ignore the $5 ones someone is trying to rip people off outside those they are all 50-85 cents
Look for value creatures like Savage Ventmaw Giant Killer Steel Hellkite
8 months ago
Your avg. cmc is astronomically high my man. Even with a more casual Animar deck your avg. cmc should be about 3.8 TOPS. As the deck stands, your first few counters on Animar will be very slow and inconsistent.
Sorry if that comes off as overly critical. I have several suggestions for you and I'll try to break it down by category and keep things budget and casual friendly (mostly).
Ramp: Rattleclaw Mystic , Shaman of Forgotten Ways , Rishkar, Peema Renegade , Wood Elves and Wild Cantor are all good options. Cloud of Faeries and Peregrine Drake are also very good here.
Bounce: Equilibrium and Cloudstone Curio are your best options but are a bit more pricey. Shrieking Drake , Dream Stalker , and Man-o'-War are great options to reuse etb's also.
Morph/Free Cast: Den Protector , Ainok Survivalist , and Stratus Dancer .
Feel free to check out my list for inspiration. Upvotes on any of my decks are appreciated. Animar, Gaea's Hemorrhoid
9 months ago
kpotrzuski: Bane of Progress has been in and out of the deck, but I am currently working on a variation that leans even more into the stax playstyle as I've noticed the more the game drags the stronger the deck performs as a whole. Currently working on putting in:
As for Greenwarden of Murasa and Den Protector , I don't really think they're necessary, out recursion package has been pretty great with 0 complaints about it.
Load more