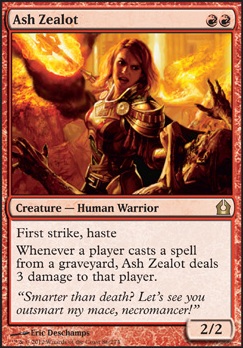 Ash Zealot
Creature — Human Warrior
First strike, haste Whenever a player casts a spell from a graveyard, Ash Zealot deals 3 damage to that player.
Latest Decks as Commander
Ash Zealot Discussion
10 months ago
I like how the guy above this comment just casually strolls in and tells you to put in a bunch of moxen...
That said, warriors is one of my favorite tribes and I've made a ton of decks with them! Plus Najeela is such a badass commander! These are my suggestions that you haven't included and could serve as some better synergy with your deck than your non-warriors:
God-Eternal Oketra make huge 4/4 zombie warrior tokens on every warrior cast.
Oketra the True make warrior tokens and acts as a big beater itself.
Oketra's Monument tons and tons of warrior tokens.
Rush of Battle warrior themed overrun that gains you tons of life.
Herald of Anafenza gets bigger and makes warrior tokens at the same time.
Raiders' Spoils probably the best card draw you'll see for warrior tribal.
Gilt-Leaf Ambush elf warrior tokens with sometimes deathtouch.
Hunting Triad elf warrior tokens or modal +1/+1 counters.
Presence of Gond give a creature a tap for elf warrior token ability.
Lovisa Coldeyes more warrior lord buffs!
Obsidian Battle-Axe haste and auto-attach to warriors equipment!
Regna, the Redeemer and Krav, the Unredeemed act as a sac outlet and warrior token generation combo.
Lord Windgrace

deck filtering, color fixing, and generation of a ton of cat warrior tokens
Great Hall of Starnheim gets you a 4/4 angel warrior token in a pinch
Base Camp cheap 5 color land for warriors
Starnheim Unleashed make a ton of 4/4 angel warrior tokens!
Emeria's Call  Flip make angel warrior tokens and give your non-angel warriors indestructible or make it a land
Ascent of the Worthy pretty fun tricks on this.
Firja's Retribution make a 4/4 angel warrior token and give angels destroy and double strike.
Battle for Bretagard make warrior tokens, then make copies.
1 year ago
Ash Zealot, Exava, Rakdos Blood Witch, Battle Brawler, Bloodmark Mentor, Goblin Spymaster, Grim Initiate, Kruin Outlaw  Flip, Neheb, the Worthy, No-Dachi, Rakdos Ringleader, Rustrazor Butcher, Shinka, the Bloodsoaked Keep, Splatter Thug, Viridian Claw, and Zada's Commando are the ones worth maaayayybe considering. In my opinion. Budget-permitting, of course.
1 year ago
Rain of Knowledge
Instant
Draw X cards, where X is 1 plus the number of charge counters on it.
Return a land to your hand: Put two charge counters on Rain of Knowledge. You may choose a new target for it. Any player may play this ability but only if Rain of Knowledge is on the stack.
---
So, yesterday, I posed this challenge to no reply, so I'll repost it.
Can I get a hatebear not in white, not like Gaddock Teeg or Lavinia, Azorius Renegade, but no white, like
Also not like a Magus of Stasis-type deal or Magus of the Moon, but like Yixlid Jailer, Melira, Sylvok Outcast, Vexing Shusher (kinda?), Stigma Lasher, Eidolon of the Great Revel, Ash Zealot, Tunnel Ignus, Harsh Mentor, and Immolation Shaman.
1 year ago
Mzuzi the Unlucky
Legendary Planeswalker - Mzuzi
Spells your opponents cast that target you or permanents or spells you control cost less to cast.
+2: Each opponent creates a 3/3 green Beast creature token. During each opponent's next turn, creatures that player controls attack Mzuzi the Unlucky if able.
+2: Target opponent gains control of Mzuzi the Unlucky.
-9: You get an emblem with "If you have cards in your graveyard, you can't lose the game." and "As long as you have 0 or less life, whenever you lose life, for each 1 life you lost, exile a permanent you control or a card from your hand or graveyard."
3
---
The static is based on Accursed Witch  Flip, the first +2 is based on Gideon Jura/goad as a mechanic, and other +2 is based on Harmless Offering as well as Gilded Drake-type effects. The ultimate is a mix of Worship, Phyrexian Unlife, and Lich's Mastery.
I couldn't really think of a green aspect, so I just gave everyone some beasts to attack Mzuzi with.
---
Can a hatebear not in white, not like Gaddock Teeg or Lavinia, Azorius Renegade, but no white, like
Also not like a Magus of Stasis-type deal or Magus of the Moon, but like Collector Ouphe (I'm aware is't Null Rod), Yixlid Jailer, Melira, Sylvok Outcast, Vexing Shusher (kinda?), Stigma Lasher, Eidolon of the Great Revel, Ash Zealot, Tunnel Ignus, Harsh Mentor, and Immolation Shaman.
2 years ago
Well, if you never had any problems with Kiln Fiend then keep it. There's no reason to change what has been working out fine. Just as a thought provoker, you can have Monastery Swiftspear to think about.
Maybe just bad wasn't the best thing to say about Rakdos Shred-Freak . It's just that it offers basically nothing more than haste. You have cards like Hellspark Elemental , as you mentioned, but also:
Earthshaker Khenra - Makes it easier to get to your opponent while also being reusable from the grave in the late game, and even bigger than before.

Ash Zealot - More of a Siboard card, but still, 2 mana for first strike, haste and punishes your opponent for playing cards from your graveyard.

Vexing Devil - Dont't know if you could fit this guy in your budget, but it's amazing. It's either a one mana 4/3 that your opponent will have to waste a removal spell or a one mana 4 damage spell.
However, the real reason I said Rakdos Shred-Freak is bad is because of...
Thunderkin Awakener - It can reanimate all of your (elemental) suicide bombers while attacking. So for only two mana, you can from 4 damage on board, with Thunderkin Awakener and Spark Elemental , to up to 8 damage with the Firecat. You could also put other cards in for him, like Lightning Skelemental and Spark Trooper , but those would require you to adjust the manabase.
Also, since you're playing these cheap suicide bombers you could use Unearth to reanimate them again and hit for a bunch. However, I'm not sure that splashing to black would appeal to you.
Another suicide bomber could be Impetuous Devils , though I don't have much to say about it. You can basically take out one of your opponent's creature by forcing them to block. Just here as an option for you.
Cards like Thud , Fling and Flesh / Blood (the blood half only) should prove themselves more useful than Soul's Fire . Since most of your creatures are dying anyway, there should be no problem in sacrificing them.
Manabasewise, if really want to keep Reality Smasher you can add lands that have a better utility than Rogue's Passage as most of your creatures have trample anyway, so your opponent will regardless always have trouble preventing damage.
I've been writing a lot today, so right now I won't go on too much detail about these "utility" lands. I'll just list some here and you can say if you liked any or none and I'll glady discuss about it.
Just as a curiosty, I've written so many cards in this comment that TappedOut won't let me mark more suggestions, while most not even appearing for me to suggest.
Load more