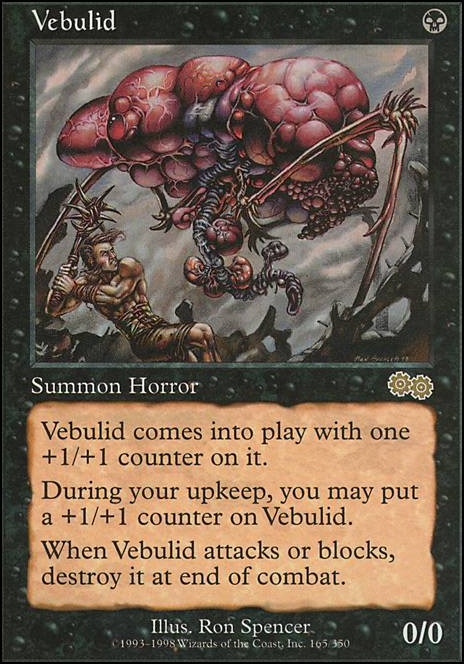 Vebulid
Creature — Horror
Vebulid enters the battlefield with a +1/+1 counter on it.
At the beginning of your upkeep, you may put a +1/+1 counter on Vebulid.
When Vebulid attacks or blocks, destroy it at end of combat.
Latest Decks as Commander
Vebulid Discussion
10 months ago
Thank you for your feedback.
Since I am not familiar with the commander rules yet, I overlooked the fact planeswalkers could not be commanders. I thought they were obvious commanders and did not look any further.
With your help, I decided that Athreos, God of Passage would make a good commander for this deck, with his ability to return died creatures to my hand. That is part of this decks "strategy" if you may call it that.
The 2nd bouncing card is Enduring Renewal, which also bounces a creature back from the graveyard to my hand.
I removed some cards that did not follow the main theme (disenchant and some like it) to make room for the suggested signets, as well as a few other cards.
The Ornithopter. Phyrexian Walker, Vebulid and Hangarback Walker have a prominent place in their deck. They fuel the strategy so to speak. This startegy bases on the following cards in synergy:
Enduring Renewal athreos (unless a player decides to pay 5 life he is an enduring renewal as well)
Ashnod's Altar, sacrifice a creature to gain colorless mana Phyrexian Altar, sacrifice creatures to gain colored mana
Lampad of Death's Vigil, sacrifice creature to drain opponents life Thoughtpicker Witch, sacrifice a creature to decimate opponents libraries Undercity Informer, see thoughtpicker witch, but faster Sadistic Hypnotist, empty opponents hands fast Spawning Pit, sacrifice creatures until mana runs out to create huge amounts of 2/2 tokens (infinite amounts once Ashnods Altar or Phyrexian Altar shows up on the battlefield) Admittedly, the most beautiful way out would be to generate a large amount of mana through enduring renewal, ashnods/phyrexian altar/0 mana creature and cast a Torment of Hailfire for 999BB
3 years ago
Realm Seekers, War Elemental,Vinelasher Kudzu, Verdurous Gearhulk, Verdeloth the Ancient, Vebulid, Undergrowth Champion, Primordial Hydra, Primeval Bounty, Phyrexian Scuta, Petrified Wood-Kin, Patron of the Vein